6 March 2014 12:07 (UTC+04:00)
936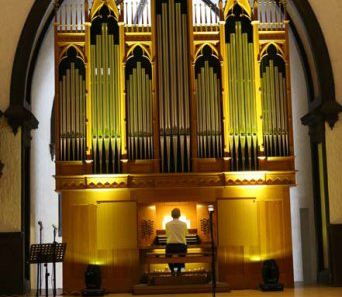 By Nazrin Gadimova
Baku hosted a concert as part of the 1st International Bach Festival on March 4.
Held in the Organ Hall of the Church of the Savior, the concert was organized by the ÜNS creative scene within the framework of the "BWV 2014" International Festival.
It was held at the initiative of the Cathedral of St. Louis of France in Moscow and "Art-November" International Festival of Arts with the support of "AR Production".
The event brought together Head of the Baku branch of Moscow State Lomonosov University, artistic director of the ÜNS creative scene Nargiz Pashayeva, Chairman of the State Committee for Family, Women, and Children Affairs Hijran Huseynova, Chairman of the Union of Theatrical Figures, Azerbaijan's People's Artist Azerpasha Neymatov, prominent public figures, and representatives of diplomatic missions.
Works by famous German composers were performed by the outstanding Norwegian organist and professor of the Norwegian Academy of Music Bjorn Boysen and singer Natalia Arkhipova.
Works of one of the greatest composers in the history of music has generated enormous interest in Baku; the hall was filled to the brim, and the audience was able to enjoy a great legacy of the composer.
The festival opened with the famous Passacaglia in C Minor, and then Šeši Šiublerio choralai was performed. The evening came to an end with the Prelude and Fugue in G major - one of the brightest works of the composer.
It was the first gift to the classical music lovers.
Azerbaijan State Chamber Orchestra, conducted by Teymur Geokchayev, will give concerts and suites for orchestra and soloists on March 18.
People's Artist of Azerbaijan and director of Azerbaijan State Philharmonic Hall Murad Adigezalzade, Honored Artist of Russia and Professor of Moscow Conservatory Alexander Trostyansky, and young singer Ilham Nazarov will perform at the clavier and violin concerts.
Johann Sebastian Bach was a German composer, organist, harpsichordist, violist, and violinist of the Baroque period. He enriched the established German styles with his skill in counterpoint, harmonic and motivic organization, and the adaptation of rhythms, forms, and textures from abroad, particularly from Italy and France.
Bach's compositions include the Brandenburg Concertos, the Mass in B minor, the Well-Tempered Clavier, two Passions, keyboard works, and more than 300 cantatas. His music is revered for its intellectual depth, technical command, and artistic beauty.