70 manuscripts of great female poet Ganjavi to be brought to Azerbaijan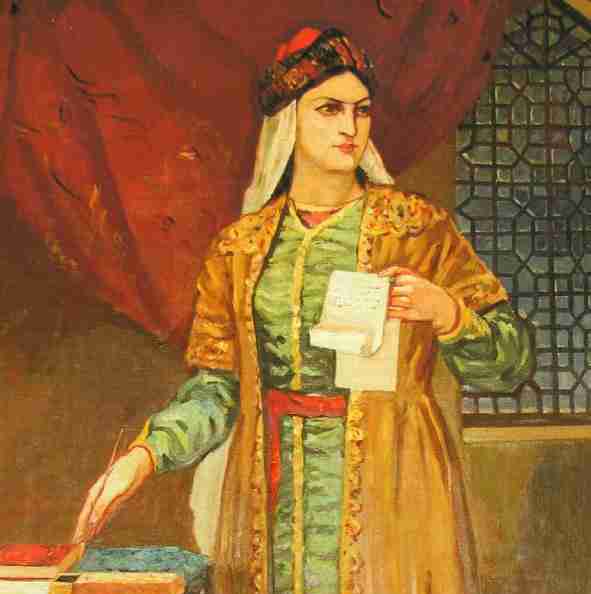 By Nigar Orujova
About 70 unique manuscripts by great Azerbaijani female poet Mahsati Ganjavi will be brought to Azerbaijan from world libraries next week, an official of the Azerbaijan National Academy of Sciences' department in Ganja has said.
Samir Pishnamazzade, Deputy Director for Scientific Affairs of the department, told the local press that up to 70 miniatures, illustrations and rubais date back to the 14th and 15th centuries. The masterpieces, kept in Egypt's Library of Alexandria, Metropolitan Museum of Art and Yale University in the United States, will be delivered by the Nizami Ganjavi International Center, which is based in Ganja, Azerbaijan's second largest city.
Pishnamazzade said that about 100 illustrations of Mahsati Ganjavi are held in a number of world libraries.
Six monographs dedicated to the poetess by well-known English researcher Paul Smith were brought to the country over Ganjavi's 900th anniversary. Currently they are under translation.
Earlier in March, Queen Sofia of Spain presented eight ancient miniatures and an illustration of Mahsati Ganjavi to the Nizami Ganjavi International Center.
Mahsati Ganjavi was a 12th century poet, born in Ganja, and a famous rubai writer, with her most productive period spent in the palace of Sultan Mahmud Seldjuk and that of his uncle Sanjar Seldjuk. Ganjavi commonly wrote rubai in Persian, with love as a key theme, and her work is distinguished by its humanism, epicurism and optimism.
The Nizami Ganjavi International Center hosts a global book forum and literature festival in May 2013 to widely celebrate the poet's anniversary. The Open Central Asia Book Forum and Literature Festival 2013 takes place on May 3-5 at the Ganja-based center, and will be opened by Roza Otunbayeva, ex-President of the Kyrgyz Republic, and fellow distinguished members of the Center's Council of Patrons and Board Members.
The event will bring together international, regional and local authors, publishing companies, government agencies, educational institutions, retailers, and readers, to help further develop the Azerbaijani and Central Asian publishing industries.
The event follows on from the first Open Central Asia Book Forum and Literature Festival, which took place on November 24-25, 2012 in Bishkek, Kyrgyzstan, with a total of 1,300 attendees. It featured appearances by international literary stars including Janusz Leon Wisniewski (Poland), Hamid Ismailov (UK and Uzbekistan), and Elchin Safarli (Azerbaijan).
Nizami Ganjavi International Center was established in September 2012 in order to increase awareness of the great works of poet Nizami Ganjavi, to help return his masterpieces back to his homeland, to serve as a depository for Nizami's works, and to further develop the values embodied in his works through community engagement.