10 February 2012 12:11 (UTC+04:00)
1 490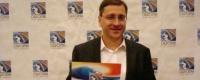 Azerbaijani filmmaker Ilgar Safat has won Gold Award of the 2011 California Film Awards with his film "The Precinct".
The 2011 California Film Awards Ceremony was held in San Diego, California. All award-winning films and filmmakers were announced publicly and to the media.
The California Film Awards honours new and cutting-edge American and foreign independent films in several competition categories. Partnering with notable film industry companies, film educators, directors, producers, and writers, competition provides a forum for talented filmmakers to be recognized for their work, creativity, and achievements.
 "The Precinct" is a co-production between Azerbaijan ("Narimanfilm") and Georgia ("Georgianfilm" & "Bagira Films") which was developed within the framework of the Independent Film-makers` Association – South Caucasus (IFA-SC) training program. The film starring Zaza Bejashvili (Georgia), Melissa Pappel (France), Vagif Ibrahimoglu (Azerbaijan) and others was shot by the Azeri film director Ilgar Safat. The movie unveils the mystical story of a famous photographer, who makes a trip to his childhood.
The production of the movie was funded by the Azerbaijan Ministry of Culture and Tourism and PASHA Bank.
Category News