YARAT presents Pink-Black exhibition about strong Azerbaijani woman [PHOTOS]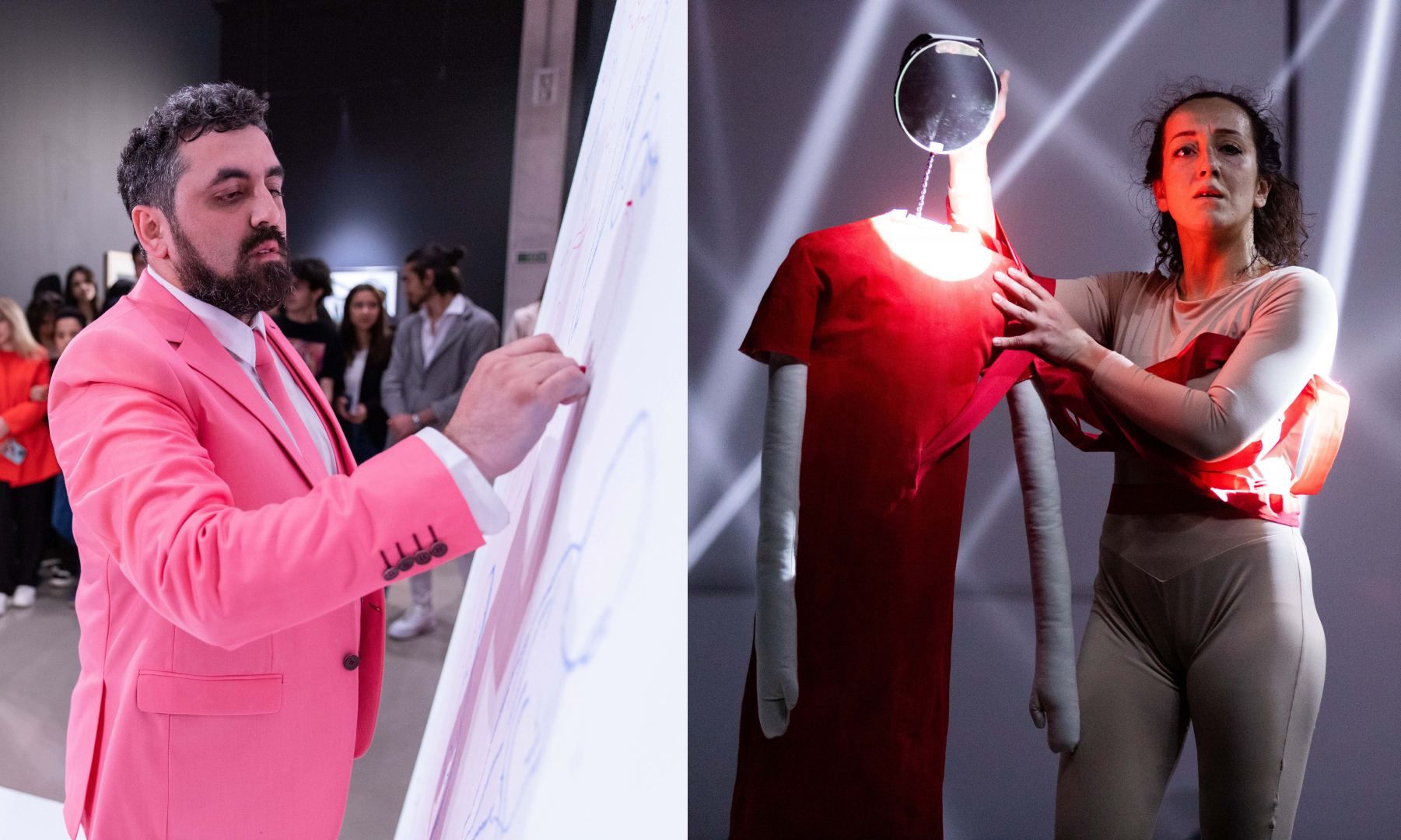 YARAT Contemporary Art Space has presented an exhibition "Pink-Black" at the Museum of Azerbaijani Painting of the 20-21st centuries.
The exposition displays art works of painting, graphics, and sculpture by prominent artists such as Agha Mehdiyev, Altay Hajiyev, Bayim Hajiyeva, Huseyn Hagverdiyev, Fazil Najafov, Farhad Khalilov, Elmira Huseynova, Alakbar Rzaguliyev, Ali Verdiyev, Azim Azimzade, Rasim Babayev, Togrul Narimanbekov, and Elmira Shahtakhtinskaya, as well as the works of painting, graphics, sculpting, installation, video and performance by the artists of the new generation: Soltan Soltanli, Shahnaz Aghayeva, Islam Hasanalizade, Erkin Alakbarli, Agil Abdullayev, Aiplague, and Vusal Rahim.
The colour pink is a widely acknowledged association/cliché of a pluralistic and modern society with the connotation of girliness. Although the semantics associated with the colour black vary across eras, cultures, and religions, its main associative impression carries a negative interpretation. Nonetheless, the title and concept of the exhibition, which symbolise femininity, explore the echoes of the invisible, sometimes neglected features and their negative aspects of female belonging.
The exhibition tells the story of a strong Azerbaijani woman. Despite the changes of era, it remains relevant in every excerpt of history. The exhibition emphasizes the important role that women play in society in spite of all existing prejudices, limitations, and hardships. The exposition furthermore conveys not only the attitude toward women in our society today but also the challenges they have encountered over the years in regards to their status, influence, and power.
The Pink-Black is a message about gender that has been conveyed over the years through the eyes of artists. It enables viewers to reflect on how gender has been perceived throughout different ages. The complexities and nuances of gender identity constantly found various depictions in our visual arts in the form of sculptures and paintings. Since the 1980s, feminine and masculine values, while distancing from the genderless propaganda clichés of the past, have now been taken into consideration. Following the fall of the Soviet Union, newly gained liberties, in compliance with existing neoconservative restraints, started to allude to historical allegories of femininity in order to highlight the political and social significance of female identity.
The exhibition comprises works of art from the collections of the Azerbaijan National Museum of Art, the Azerbaijan State Art Gallery, the Institute of Archaeology, Ethnography, and Anthropology of the ANAS as well as private collections of Elnur Babayev and Vusal Rahim.
Special thanks to the Azerbaijan Culture Ministry. The exhibition is curated by Farah Alakbarli.
The exhibition will last until September 24, 2023.
---
Follow us on Twitter @AzerNewsAz