4 July 2013 09:00 (UTC+04:00)
1 318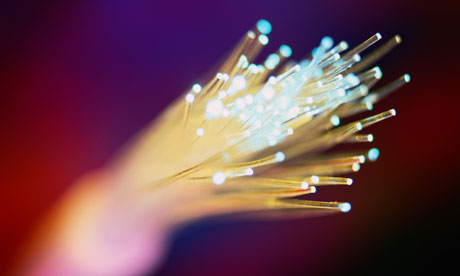 By Nigar Orujova
Azerbaijan is considering the establishment of a joint venture for the production of fiber-optic communication lines with Austria, Deputy Minister of Communications and Information Technologies Elmir Velizade said on July 3.
The issue is currently being studied. Azerbaijan has big plans for the next few years, and the main point is the development of infrastructure for broadband Internet, according to Velizade.
Velizade also emphasized that greater expansion of the fibre-optic infrastructure is envisaged under the broadband Internet development project.
"Currently, about 40 percent of villages in Azerbaijan are already covered by fiber-optic infrastructure. The project provides complete coverage [of the country]. This suggests that there is a demand for optical communications and it is possible to meet this demand through the deployment of production in the territory of the republic," Velizade said.
In May, the ICT Ministry said Azerbaijan plans to launch production of fiber optic cables.
Talks on this issue are underway with an Austrian company which is interested in building a plant to produce telecommunication cables in Azerbaijan.
The production capacity of the plant will meet both domestic demand and export needs.
Presently, ADSL is the most common technology to use the Internet in Azerbaijan, while the optical connection allows Internet access of higher quality.
Azerbaijan's State Oil Fund allocated 103 million manats ($131 million) for the development of broadband Internet in Azerbaijan this year. Funding will also be provided in the coming years. Thus, all regions of Azerbaijan are expected to be provided with high-speed access to the Internet by 2017.
The broadband internet is introduced under the Fiber to the Home (FTTH) project, which aims to build a fiber network for providing high-speed broadband internet services to consumers.
The traffic speed in the FTTH technology will vary between 10 and 100 Mbit/s, while with ADSL the private user can enjoy only 2 to 8 Mbit/s speed depending on the telephone line's condition and distance from the telephone exchange.
Azerbaijan reached the leading position among the CIS countries in terms of broadband Internet penetration over the past three years. Internet penetration rates increased from 65 to 70 percent in 2012.
Related News