9 April 2013 12:42 (UTC+04:00)
1 018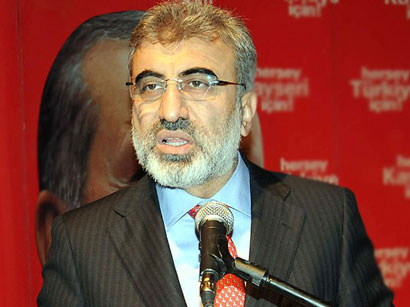 By Aynur Jafarova
Turkey is using energy resources and projects for the stabilization and development of the region, Turkish Energy Minister Taner Yildiz said at a meeting of the World Economic Forum (Davos Forum) in Baku on Monday.
The Azerbaijani capital is hosting the WEF meeting on Strategic Dialogue on the Future of the South Caucasus and Central Asia.
According to Yildiz, Turkey has restructured its energy sector two-fold during the past 10 years.
During this period, Yildiz said, the country's gross domestic product (GDP) has increased three-fold, which indicates the successful development of the Turkish economic and energy sectors.
Therefore, now Turkey can implement various energy and economic projects with many countries of the world, he noted.
"Along with the implementation of the South Stream project with Russia, Turkey is also successfully implementing the Trans-Anatolian gas pipeline (TANAP) project with fraternal country Azerbaijan," Yildiz said.
According to the minister, implementation of this project will benefit not only Turkey and Azerbaijan, but also the entire region.
TANAP project envisages construction of a pipeline from the eastern border of Turkey to the country's western border to supply gas from Azerbaijani Shah Deniz gas field to Europe through Turkey. Initial capacity of the pipeline is expected to be 16 billion cubic meters a year. About 6 billion cubic meters will be delivered to Turkey and the rest to European markets.
Economic relations between Turkey and Azerbaijan are at a high level. As of 2012, bilateral trade turnover amounted to $4.2 billion.
Speaking at a press conference in Baku, Yildiz said that Azerbaijan and Turkey can also jointly invest in third countries.
The minister noted that Turkey also continues its energy cooperation with Iran, despite the political problems of the latter, and is also developing partnership in the energy sector with neighboring Iraq.
The minister also mentioned the projects such as Baku-Tbilisi-Kars railway and Baku-Tbilisi-Erzurum gas pipeline, which are key projects for the transport and energy security of the region.
According to Yildiz, while connecting Asia's production capacity with European consumer markets, Turkey plays the important role of an energy transport bridge in the region.
However, Yildiz noted that there are very few countries with which Turkey cannot cooperate, and Armenia is one of them.
Turkey and Armenia have no diplomatic relations and the border between them has been closed since 1993. This was caused by Armenian claims for international recognition of the alleged World War I-era "genocide" in the Ottoman Empire and occupation of Azerbaijani territories.
Related News