22 February 2013 11:26 (UTC+04:00)
1 199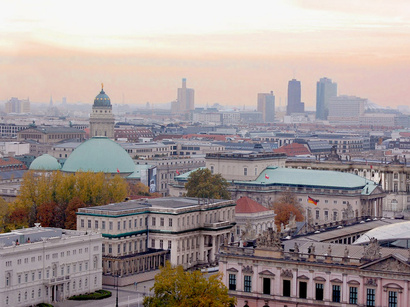 Ambassador of Azerbaijan in Germany Parviz Shahbazov made ​​a report at the meeting dedicated 72th anniversary of tourism potential of Azerbaijan in Tourism Committee of Bundestag on Wednesday.
At the beginning of the meeting a film displaying tourism potential of Azerbaijan was shown.
After that the ambassador told about beautiful and rich nature of Azerbaijan, of its landscapes, flora and fauna, historical and architectural monuments, of tourism potential created by rich culture, on the work done by the government in development of tourism field, as well as about the dynamics of development of Azerbaijani-German relations. Shahbazov also noted the damage caused by Armenian-Azerbaijani Nagorno-Karabakh conflict to tourism sector.
The invitation of the ambassador to Tourism Committee was due to the world's largest tourism exhibition ITB held in Berlin. Thus, at the initiative of the embassy of Azerbaijan in Germany Azerbaijan acts as a "partner on Congress and Culture" at the ITB exhibition this year in Berlin.
In this regard, Minister of Culture and Tourism of Azerbaijan Abulfaz Garayev is expected to speak at the opening of the exhibition. In addition to the stand about tourism, cultural program will also be presented at the exhibition.
In his speech the ambassador emphasized that the participation of Azerbaijan in ITB exhibition in Berlin as a partner is a great opportunity to show tourism potential of the country in Germany. Shahbazov highlighted the holding a large number of large-scale events in recent years in Azerbaijan. He noted that one of the indicators of Azerbaijan's tourism potential is the opening of a number of prestigious hotels.
After the speech Bundestag members approached him with their questions about tourism potential of Azerbaijan, as well as with issues related to Azerbaijan generally.
Among the topics of interest to members of Bundestag, there were questions about the directions of tourism development in Azerbaijan, future prospects of tourism, the language of communication for foreign tourists in Azerbaijan, as well as about existing of any union connecting foreign tourism companies in the country.
Member of Committee Helga Daub pointed out that it's a good opportunity for such country as Azerbaijan, where more than one million refugees live and 20% of the land is occupied, to participate in ITB exhibition as a "partner on Congress and Culture" not only for presentation of its tourism potential, but also to represent the country generally.
In addition the ambassador told German MPs about carrying out democratic reforms and the reform of socio-economic development of Azerbaijan.
Tourism Committee of the Bundestag prepares consultative responses to the questions of the plenary meeting of German parliament on tourism sector. The committee takes the reports prepared by the Ministry of Economics of Germany in the field of tourism, analyzes them and makes recommendations.
Related News