Cargo transshipment from Aktau port to Azerbaijan increases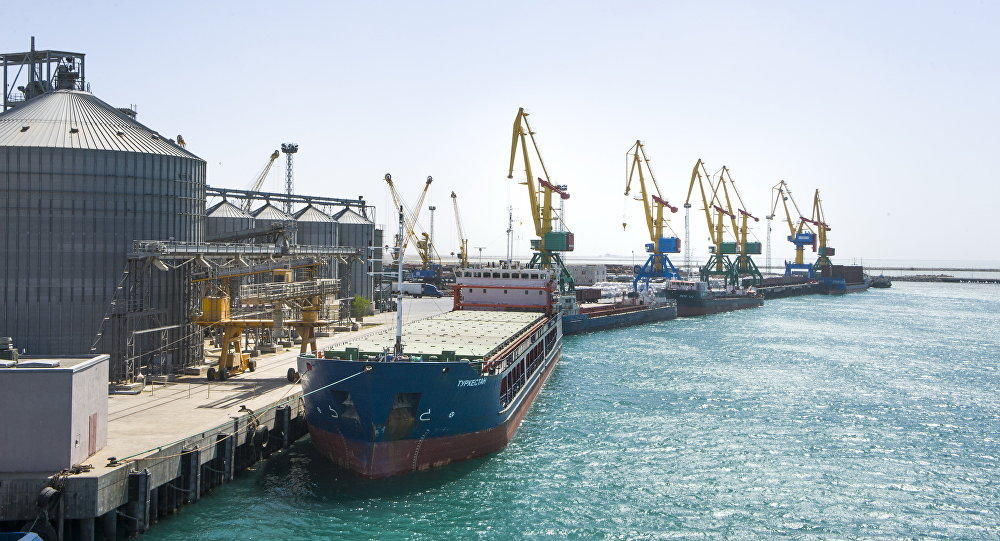 By Sara Israfilbayova
Cargo transshipment from Kazakhstan's Aktau port increased by 32 percent in the first eight months of 2018, compared to the same period last year.
The Ministry for Investments and Development of Kazakhstan told Trend that about 1.3 million tons of cargo were transshipped through the ports of Kazakhstan to Azerbaijan, including 202,000 tons from the Aktau port, 1.141 million tons from the Kuryk port, which is 66 percent more than in the same period last year.
The ministry noted that in 2017, 740,500 tons of cargo (266,800 tons of oil, 19,700 tons of dry cargo, 454,000 tons of ferry cargo) were transshipped from the Aktau port to the Baku port, which ensured an increase of 76,900 tons compared to 2016 (663,600 tons).
The main cargo item in this direction is ferry transshipment of cars, as well as oil and metals, the ministry said.
Partnership in the field of maritime transportation is regulated by the agreement between the governments of Kazakhstan and Azerbaijan on cooperation in the field of maritime commercial shipping dated April 11, 2012.
Diplomatic relations between the two countries were established in August, 1992. Both countries are full members of the Commonwealth of Independent States (CIS), Turkic Council, Joint Administration of Turkic Arts and Culture, Organization of Islamic Cooperation and the Organization for Security and Co-operation in Europe (OSCE).
Both Kazakhstan and Azerbaijan attach great importance to the development of bilateral trade and economic ties. There is a successfully operating Intergovernmental Commission, and business forums are held regularly.
For Azerbaijan and Kazakhstan the most important points of cooperation appear to be the contacts on energy issues, oil transportation, agriculture, and the use of the Caspian Sea as an important international traffic artery.
Currently, the two countries are working on promotion of a joint transport project - the Trans-Caspian International Transport Route (TITR), which involves cargo transportation from China via Kazakhstan, Azerbaijan, Georgia and further via Turkey and Ukraine to Europe.
The trade turnover between the states amounted to $142.1 million in 2017 and to $142 million for the seven months of 2018.
---
Follow us on Twitter @AzerNewsAz