World Chess Olympiad - Round 9 Highlights PHOTO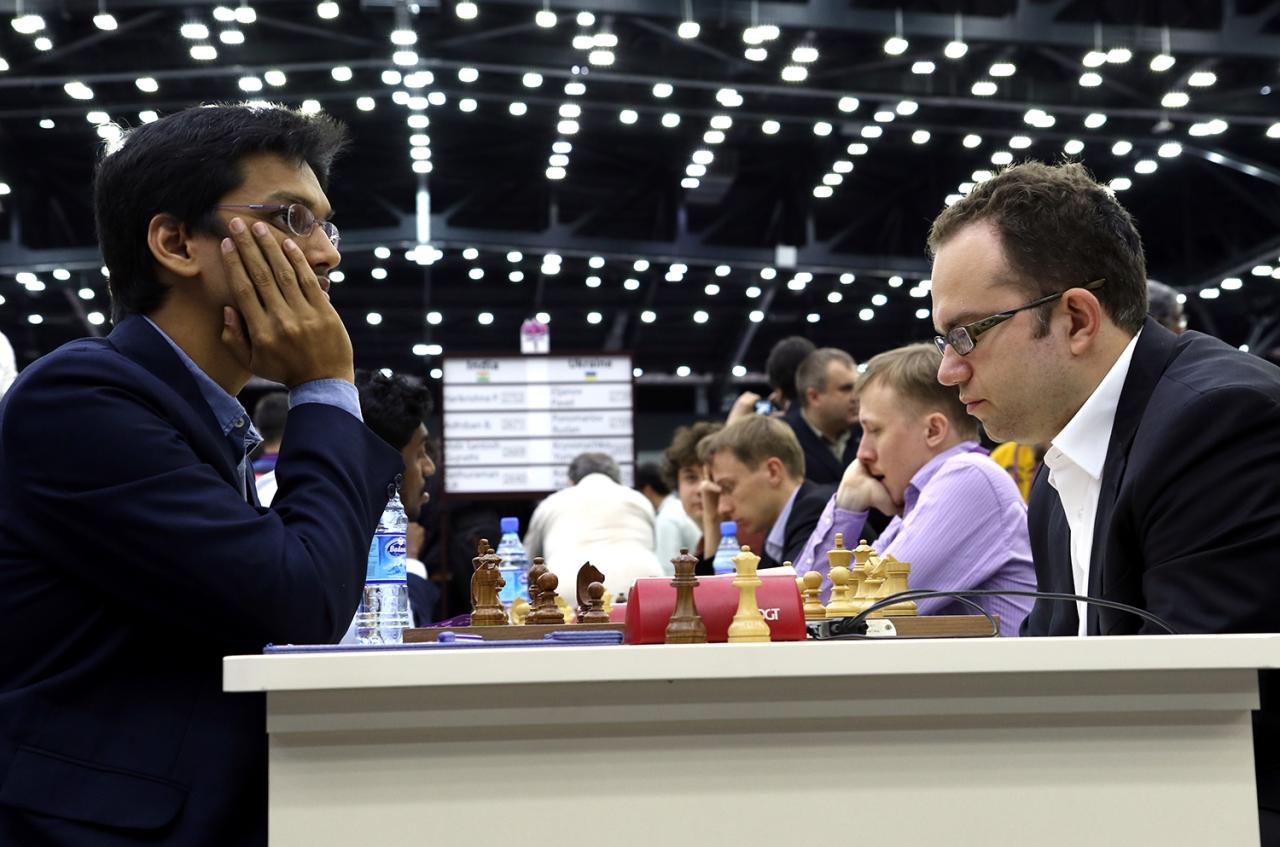 In round 9 of Baku Chess Olympiad the team of Ukraine found its way back to the top of the crosstable after narrowly defeating India. India's hero from the yesterday's round, Sethuraman, lost to Korobov in the only decisive game of the match.
USA beat Norway 3-1 in a very attractive match. On the top board Caruana and world champion Carlsen made a draw. Nakamura and Shankland clinched the victory for USA.
The young team of Iran held the experienced England to a tie. Lorparizangeneh beat McShane and Jones scored against Firouzja.
Russia defeated Azerbaijan thanks to the wins of Kramnik and Grischuk, both with white pieces, against Radjabov and Naiditsch respectively. Mamedyarov-Karjakin and Mamedov-Tomashevsky were drawn.
Latvia-Slovenia, Italy-Chile and Greece-Turkey all ended with even scores. Curiously, Greece is, along with USA, the only undefeated team in the Open section.
Just like yesterday, Laznicka scored the only win in the match to secure Czech Republic win against Netherlands.
Speaking of exceptional achievements, Jobava signed his third consecutive victory to contribute to Georgia's success against Hungary. With 7,0/8 points on the top board Jobava is performing over 3000 elo.
Azerbaijan 2 lost to Vietnam 1,5-2,5. Durarbayli lost to Le Quang Liem, while Abasov, Guseinov and Guliyev drew.
Azerbaijan 3 beat Honduras 3-1. Bashirli and Gasimov won, while Asadli and Gadimbayli drew.
USA and Ukraine are in the lead with 16 points each, followed by Russia on 15 points.
Top round 10 pairings are Georgia-USA, Czech Republic-Ukraine, India-Russia, England-Azerbaijan, Latvia-Canada.
In the Women section USA could not repeat the sensation from yesterday and lost narrowly to the top-seeded China. The only decisive game was a win by Ju Wenjun.
Poland crushed Israel 3,5-0,5, with victories by Socko, Zawadzka and Wozniak. Russia recovered from the shock and defeated Vietnam 2,5-1,5, thanks to Gunina on the second board.
2nd seeded Ukraine scored heavily against Azerbaijan. A.Muzychuk-Z.Mamedjarova 1-0, M.Muzychuk-Mammadzada 1-0, Gaponenko-Hojjatova 1-0, while G.Mammadova held Ushenina.
India signed an important 3-1 victory against Netherlands. On the next table Hungary and Bulgaria signed four draws.
Georgia surged ahead by defeating Turkemnistan 3-1, and by the same score Germany beat Serbia
Azerbaijan 2 lost 1-3 to France. Milliet won against T.Mamedjarova, as well as Navrotescu against Umudova. Khalafova and Fataliyeva made draws for their team.
Azerbaijan 3 split the points with Algeria. Balajayeva won, N.Mammadova and Beydullayeva drew, while Katanova lost.
China is on the top with 16 points, followed by Poland on 15 points.
Top round 10 matches are Poland-China, India-Ukraine, Russia-Georgia, Azerbaijan-Colombia, Mongolia-USA.
--
Follow us on Twitter @AzerNewsAz