Are Caspian seals in danger?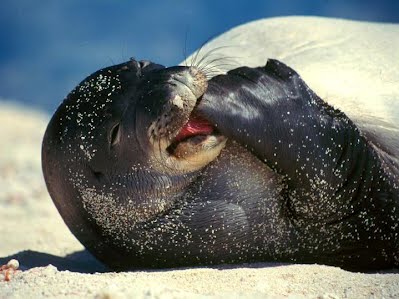 By Amina Nazarli
The Caspian seal, the only marine mammal in the Caspian Sea, may be in danger.
Recently, the bodies of several dead seals were found on the northern shores of the Caspian Sea in Azerbaijan.
The exact reason for the deaths is still unknown. Specialists from the Ecology and Natural Resources Ministry took samples from the carcasses and sent them to a laboratory for investigation and analysis, which will last approximately two weeks.
According to the preliminary information, the seals have been depleted and their stomachs were empty.
The ministry said the population of the seals has been stable for several years. Nonetheless, finding a fewer seal carcasses on the coast of the Absheron Peninsula in Buzovna and Mardakan, on the one hand indicates the restoration of the population, on the other hand it shows that the seals are in danger again.
The head of the National Center for Ecological Forecasting, Teman Zeynalov, told local media that it is too early to discuss what was the cause of death, saying "it might be both a virus and an increased oil content in the Sea."
Zeynalov also named plague as one of the possibilities of death for these unique mammals.
"At present, Mnemiopsis – gelatinous organisms that came into the Caspian Sea through ballast water from the Black Sea – are living in the Caspian Sea. These organisms feed on the plankton, which is the main food of the Caspian sprats, which in turn are the main food for the seals."
The expert also added that it's too early to talk about the mass death of Caspian seals, since the examination results will show the cause. For many years, there was not a single case of death among the seals on the coast of the Caspian Sea in Azerbaijan.
The geographical distribution of the Caspian seal, the only species in the Sea listed as endangered on the IUCN red list, is limited to the Caspian Sea surrounded by Azerbaijan, Iran, Russia, Kazakhstan and Turkmenistan.
Some specialists assume that Caspian seal had high population numbers – about 1 million at the end of the 19th century. However, its population has decreased by more than 90 percent since the start of the 20th century due to threats arising from human impacts on the Caspian Sea ecosystem.
Oil production along the Caspian is a big threat as it is believed that seals are most sensitive to oil pollution among all organisms of marine biota.
However, oil carbohydrates are not the only cause of damage to their population. Pesticides and heavy metals, which caused the death of many Caspian seals in 2000, are also among the great threats to these beautiful creatures.
The Caspian seal was included in the Guinness World Records as the smallest seal of the 32 existing seals species in the world.
National scientists have revealed that the maximum life span of the Caspian seal is 50 years. They reach sexual maturity at the age of 8 and physical maturity at 18-20 years
--
Amina Nazarli is AzerNews' staff journalist, follow her on Twitter: @amina_nazarli

Follow us on Twitter @AzerNewsAz