What hampers Turkmen gas supply to Europe?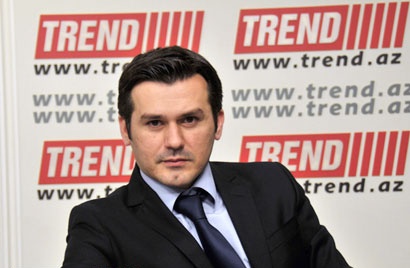 By Rufiz Hafizoglu
Today, the Azerbaijani gas supply to Europe is a reality that will be put into practice in the next five years.
However, given the current and future consumption of the EU and its aspiration to reduce dependence on Russian gas, 10 billion cubic meters of Azerbaijani gas is not enough for Europe.
Turkmenistan has the most realistic amounts for gas supply in the medium term.
The issue of the supply of Turkmenistan's gas to Europe was discussed during the talks between the presidents of Turkey and Turkmenistan, Recep Tayyip Erdogan and Gurbanguly Berdimuhamedov March 3.
Today, Turkey is a key participant of the Southern Gas Corridor, which is meant to transport Azerbaijan's gas to Europe.
From this point of view, Erdogan's remark that Turkmenistan is a key country for gas transportation from Central Asia to the European market and that Ankara and Ashgabat have similar point of views on this important issue, is a landmark statement.
The significance of this fact is that today, exactly, Turkey can hold the talks of such level with Turkmenistan, and make concrete proposals to Ashgabat.
Azerbaijan and Turkmenistan have long been discussing the Trans-Caspian gas pipeline project. Nevertheless, such important players of the Caspian Sea basin as Russia and Iran take countermeasures against this project.
Europe, which should take the initiative in this issue, is somewhat passive, apparently, because it doesn't want to exacerbate the problematic relations between Russia and Iran.
The region's only key player which has sufficient political influence, as well as good relations with all participants of this process is Turkey. Therefore, namely Ankara can be the best guarantor for Turkmenistan.
Today, the main export directions of Turkmen gas supply are China, Iran, and Russia. However, in recent years, Russia has reduced the purchase of Turkmen gas 10 times – from 40-45 billion cubic meters per year to 4 billion cubic meters per year in 2015. This is while Ankara has a contract with Turkmenistan for supplying 15.6 billion cubic meters of gas per year.
Only one link lacks for the delivery of Turkmen gas to Europe - the Trans-Caspian gas pipeline.
Today, Ashgabat is completing construction of East-West gas pipeline, which will make it possible to deliver gas from the giant fields of eastern Turkmenistan to the Caspian coast. In its turn, Azerbaijan has repeatedly stated about its readiness to provide Turkmenistan an opportunity to transport gas through its territory, especially since the infrastructure for the delivery of gas to Europe, the Southern Gas Corridor, will be created by 2020.
As for the Trans-Caspian gas pipeline and statements about its environmental insecurity, voiced in particular by the Russian side, a counter-question arises. Why ecological security, especially given a very aggressive underwater environment in the Black Sea, has not prevented Russia from building Blue Stream gas pipeline and doesn't hamper planning of the Turkish Stream project?
In any case, the project of delivery of Turkmen gas to Europe is more a political project than economic or environmental one. And, as shown by today's talks, the political will of Turkey in this issue plays an important role.
- - -
Follow us on Twitter @AzerNewsAz