President's visit to Lithuania: major points making Azerbaijan reliable partner of Baltic states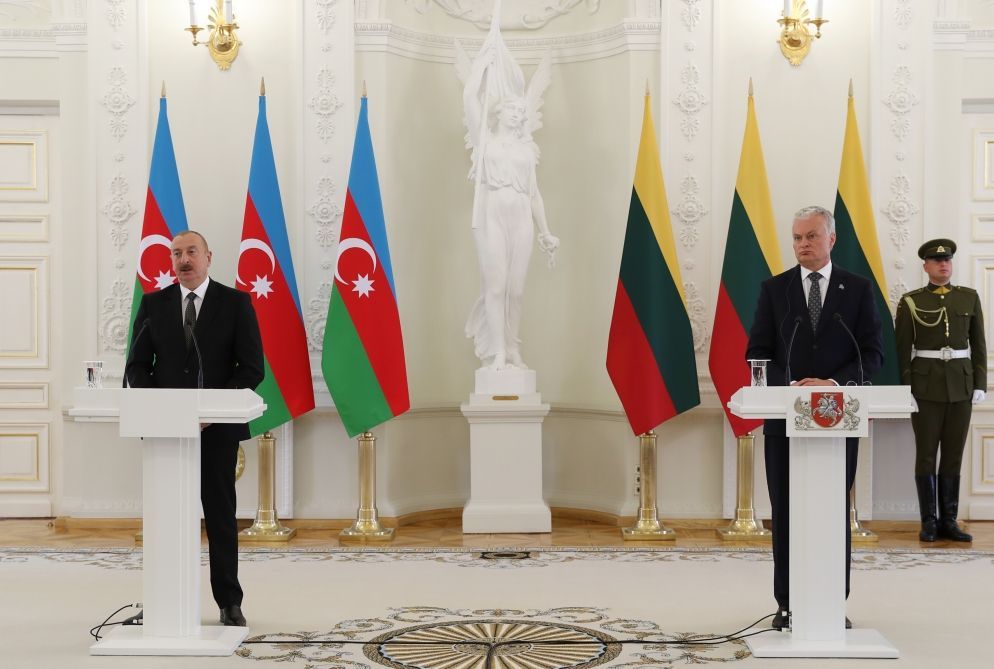 This week was very significant with the official visit of Azerbaijani Pesident Ilham Aliyev to Lithuania together with his wife Fist Vice President Mehriban Aliyeva.
First of all, it should be noted that the recent geopolitical processes have started to give a great boost to relations between Azerbaijan and Europe, the Balkans, and the Baltic states. Recognition and acceptance of Azerbaijan as the most reliable partner by European countries is of great importance.
The visit of the President of Azerbaijan to Lithuania is a part of the positive relations and great achievements in the past decade of Azerbaijan's economic thrive.
Besides, Azerbaijan's rapprochement with the European and Baltic states has a number of important aspects. One of them is the growing influence of Azerbaijan in the region and the expansion of its supporting circle. Meanwhile, Azerbaijan believes and trusts its European partners in the direction of normalizing relations between Azerbaijan and Armenia and restoring peace in the region which vital for the current geopolitical situation as well as Europe and other countries. It is also undeniable that Armenia is protected by a number of states. However, today the states that want to be with a reliable partner like Azerbaijan accord with its rightful struggle.
Thus, the official visit of Azerbaijani President Ilham Aliyev to Lithuania was also part of this confidence and friendly attitudes, and it was marked by a number of important meetings and signing of multifaceted documents.
Upon arriving at the Lithuanian airport, President Ilham Aliyev and First Lady Mehriban Aliyeva were first greeted with an official ceremony by the Minister of Environment of Lithuania, Simonas Gentvilas.
Besides, an official welcome ceremony has been held for Azerbaijani President Ilham Aliyev at the Presidential Palace in Vilnius. A guard of honour was arranged for President Ilham Aliyev.
Following the official ceremony, President Ilham Aliyev and First Lady Mehriban Aliyeva then were welcomed by President of the Republic of Lithuania Gitanas Nausėda and his spouse Diana Nausėdienė.
Furthermore, President of Azerbaijan Ilham Aliyev held a meeting with Lithuanian counterpart Gitanas Nausėda in a limited format in Vilnius. Then a ceremony of signing Azerbaijan-Lithuania documents was held with participation of both presidents and delegations of Azerbaijan and Lithuania in Vilnius.
As mentioned before, several important documents were signed with the participation of the ministers and heads of state bodies of both countries within a meeting.
One of the most important moments of the visit was the Azerbaijan-Lithuania business forum with participation of the heads of states in Vilnius. This part of the meeting was also marked by some points highlighted in the speeches of the presidents.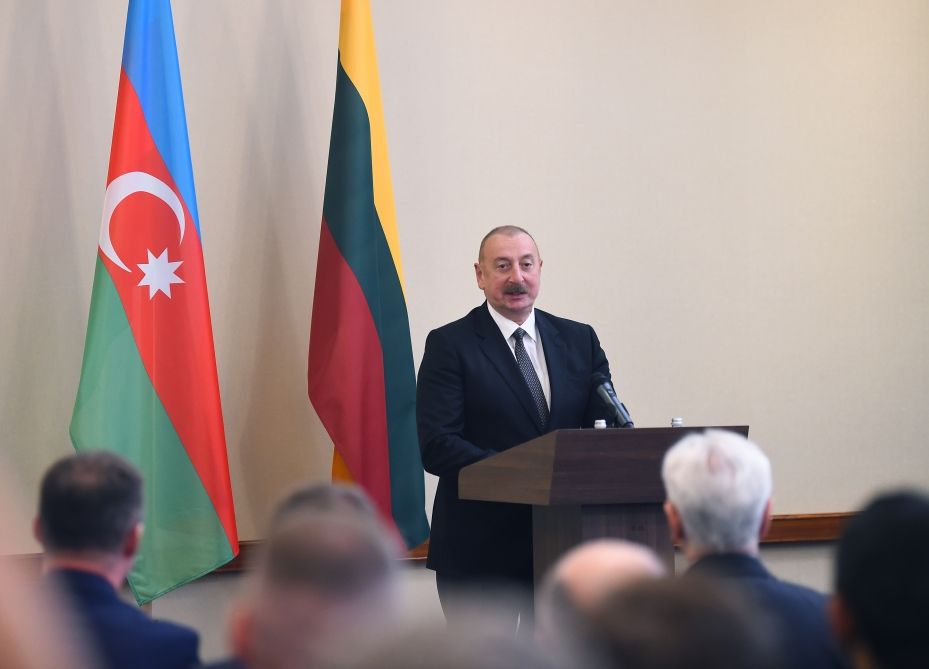 Addressing the forum, President of Azerbaijan Ilham Aliyev touched on several points praising the continuous development of Lithuanian-Azerbaijani relations as well as business opportunities in energy sector.
"With President Nausėda, I think, we laid down a very solid foundation for our cooperation and established a very active political dialogue. As I said, we met last May in Baku, then this January in Davos and now in Vilnius. So, it really demonstrates the dynamism of our cooperation. So, now it's time for business communities to engage in a long journey of mutually beneficial fruitful cooperation," Azerbaijani President Ilham Aliyev said while making a speech at the opening ceremony of the Azerbaijan-Lithuania business forum in Vilnius.
In addition, the head of state touched Nausėda on the green energy potential between the two countries. Emphasizing the opportunities of wind energy in the Caspian and Baltic seas, the President also underscored the investment prospects in the mentioned area.
"Today we broadly discussed with Mr. President the potential areas of cooperation, and President already mentioned them. I think that the potential is really high here because we are moving in the same direction with respect to investments in renewables," the President said, adding that the opportunities of both countries are immense.
"Both countries have enormous wind potential in the Baltic and Caspian Sea. And both countries have this on our agenda. In our case, though we are on the safe side with respect to energy security, but still, we want to save more natural gas for export and to use our nature - wind and sun - in order to produce electricity, especially taking into account that last July the European Commission and Azerbaijan signed a Memorandum of Understanding on strategic partnership in the field of energy," the Azerbaijani President noted.
Besides, the Azerbaijani President has touched on Azerbaijan's natural gas supply to Europe in the two years.
"In 2021, our natural gas supply to Europe was 8 bcm, this year it will be 12 bcm and by 2027 it will reach 20 bcm. I think this is minimum because the potential is here. We are producing more natural gas from existing fields. Very soon we will announce important production from one of the big fields of the Caspian. And also investments in renewables will allow us to save natural gas for export.
Therefore, Azerbaijan, as a reliable supplier to Europe, today exports oil, natural gas, electricity. We plan to export hydrogen, including green hydrogen. All that is part of overall strategic framework of our cooperation with European Union and we are grateful to our Lithuanian friends and partners for a constant support of Azerbaijan's efforts and European Commission's efforts to become closer," President Ilham Aliyev underlined while addressing the Forum.
During his speech at the forum, President Ilham Aliyev also touched on the future economic prospects of both countries. The head of state noted that alternative means should always be used for sustainable development and elimination of economic dependence.
"Azerbaijan's economy is stable, investments are friendly and is based on natural resources, but at the same time now, the main target is diversification. And I think that we will be able to largely diversify our economy and to reduce dependence on energy sectors. Though, energy sector will continue to play an important role for our energy security and energy security of Europe," the President said.
Emphasizing the reliability of Azerbaijan in terms of foreign investment, President Ilham Aliyev noted that the country's foreign debts are lower than the gross domestic product and added that the economy of Azerbaijan is able to maintain its economic stability thanks to the surplus of international trade turnover.
"We have very low foreign debt, it's below 10% of our GDP. We have a stable national currency and I'm sure, will continue to be stable because we have a surplus of our international trade turnover, substantial surplus.
And hard currency reserves, which we accumulated in our State Oil Fund and Central Bank reserves is 10 times more than our foreign debt. So, stability of our economy is an important factor for regional economic cooperation and for investment climate because good investment climate is created not only by having good legislation. It is not enough," the President added.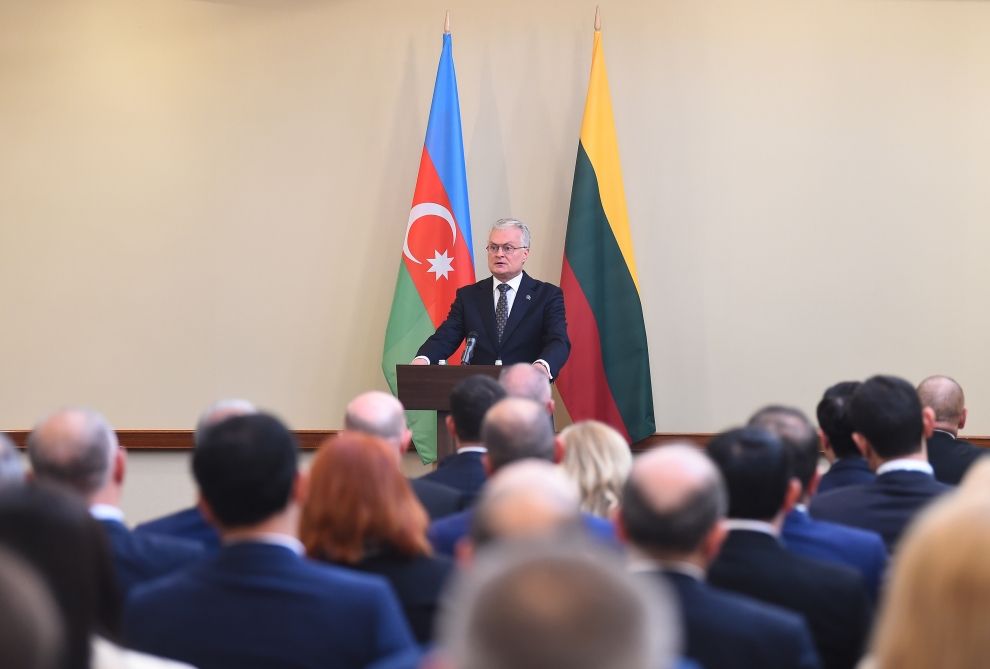 In his turn, Lithuanian President Gitanas Nauseda said during his speech at the Forum that Azerbaijan is the most reliable partner and added that Lithuania is always interested in exploring various opportunities for business cooperation in order to take advantage of Azerbaijan's wide economic potential.
"Azerbaijan is an important partner of Lithuania and we are interested in searching for mutually beneficial opportunities. We see Azerbaijan as a growing economic power with a huge energy potential and aspirations to diversify.
Various sectors of Azerbaijan's economy such as information technologies, logistics, manufacturing, advanced food industries and renewable energy attract Lithuanian entrepreneurs. This much we can bring to the table," the Lithuanian President noted.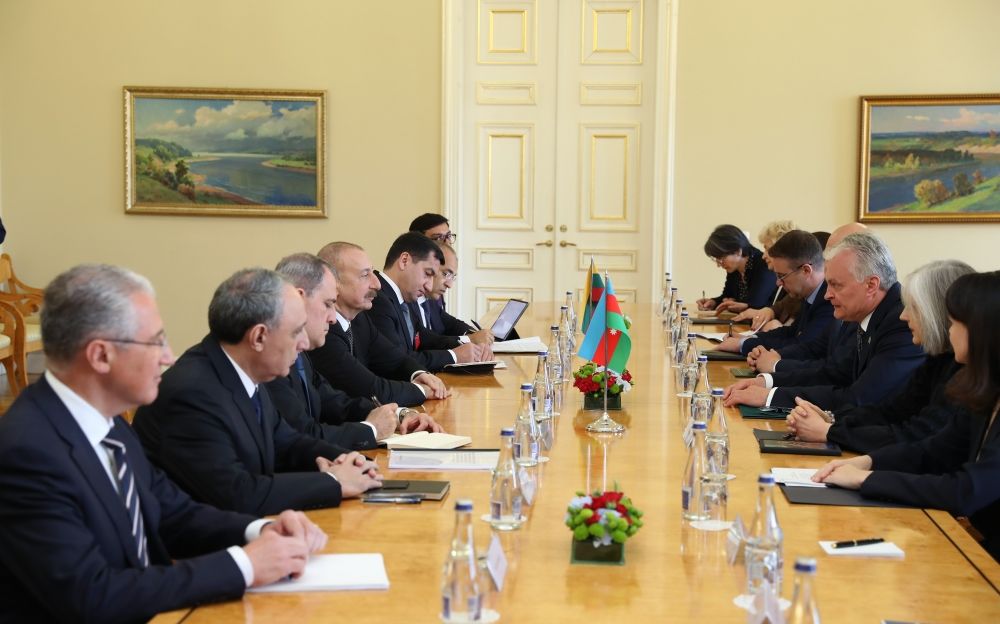 In addition, the President's visit to Lithuania was also held with an expanded format of meeting discussions.
The Lithuanian President expressed his value for Azerbaijan's accomplishments achieved for the past ten years in particular.
The importance of mutual visits of both presidents was underlined during the conversation. In this respect, the significance of the Lithuanian President's trip to Azerbaijan and meetings held as part of this trip were highlighted.
The sides discussed bilateral issues and underlined the importance of further expanding economic and trade relations, and increasing trade turnover even more. In this respect, the cooperation in information technologies, cybersecurity, renewable energy, investments, transport and other fields was discussed.
During the conversation, the discussions were held on the transportation matters including projects to connect the Caspian and Baltic Seas. The Lithuania's support for Azerbaijan's cooperation with the European Union and NATO was highly appreciated. The Lithuania's active role in the Twinning projects implemented as part of the Eastern Partnership Program between the European Union and Azerbaijan was highlighted. The sides also underlined the importance of three documents signed at the meetings.
At the same time, the significance of the Agreement on cooperation in the field of youth policy signed between the two countries was noted. The fact that more than 200 Azerbaijani students are studying in Lithuania and existence of joint cooperation between the two countries' educational institutions were commended as a positive factor with further expansion of cooperation in this field discussed by the sides.
During the meeting, the sides exchanged views on cooperation in the field of prosecution. The importance of signing the documents between the relevant prosecutor's offices of both countries was emphasized.
The fact that Azerbaijani community in Lithuania made contributions to the country's development and that they are loyal citizens of this country was hailed at the meeting.
During the meeting, both leaders also exchanged views on issues of bilateral relations and the normalization of Armenian-Azerbaijani relations.
President Ilham Aliyev informed his Lithuanian counterpart about the Azerbaijan's vision regarding the conduct of negotiations between Armenia and Azerbaijan as well as ensuring security in the South Caucasus.
---
Follow us on Twitter @AzerNewsAz