27 March 2018 17:31 (UTC+04:00)
6 664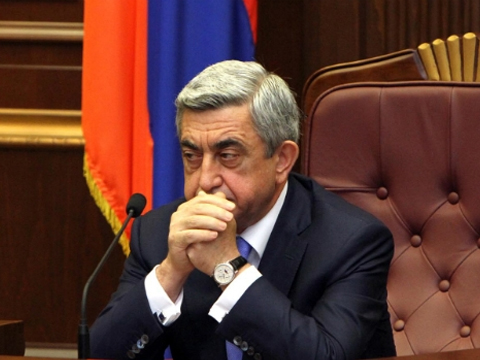 By Rashid Shirinov
Armenian media outlets have recently summed up the results of Serzh Sargsyan's decade-long presidency in the country, and they were, to say the least, gloomy.
Representatives of Sargsyan's Republican Party usually speak only about successes, but even the official statistics of the country show that Sargsyan failed in the economic policy. The facts speak for themselves – over the ten years of his rule in Armenia, the country's economy decreased from $11.9 billion to $11.5 billion. In such case, it is senseless to talk about economic activity or investment expectations, because the economy of Armenia, in fact, is in a state of stable stagnation.
Moreover, the state debt has been steadily increasing in Armenia over these years, without contributing to the development of economy or to raising people's well-being. It was $1.9 billion in 2008, but amounted to $6.7 billion at the end of last year. This, of course, exacerbated poverty in the country and further intensified emigration – most serious challenges that threaten the existence of Armenia today.
Official data say that as many as 30 percent of the Armenian population are poor, but the real figure may be much higher. As for emigration, the resident population of Armenia was 3,230,000 on January 1, 2008, but it dropped to 2,972,000 in the beginning of 2018. Thus, about 260,000 people left Armenia during the years of Sargsyan's rule.
In this context, his plan of 4-million-people Armenia by 2040 is nothing more than empty rhetoric, as there are no grounds that would indicate that the authorities have the desire to implement institutional changes in the country.
The authorities are much more concerned about the threat of a war with Azerbaijan in an event of failure of the peace process to resolve the Nagorno-Karabakh conflict. This scenario is becoming more and more realistic because of Yerevan's unwillingness to change the status quo that emerged as a result of the Armenian occupation of Azerbaijani lands.
It is also noteworthy that due to its groundless territorial claims against Azerbaijan, Armenia has turned into the black sheep of the region, and this causes even more damages to the country's economy. All regional and international transport, railway, oil and gas lines pass the country by.
Thus, the ten years of Sargsyan's rule in Armenia will be remembered for further deteriorated economic situation, the enlarged state debt, widespread poverty and mass emigration of people from Armenia. If Sargsyan is elected the prime minister of the country in April, Armenia's population will continue suffering under the rule of the amateurish head of state.
---
Rashid Shirinov is AzerNews' staff journalist, follow him on Twitter: @RashidShirinov
Follow us on Twitter @AzerNewsAz
Related News