High hopes pinned on Azerbaijani athletes joining Rio Games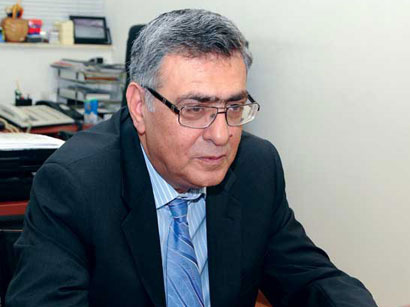 By Rashid Shirinov
Azerbaijan's Olympic medal hopes are placed on the shoulders of 56 national athletes, who will join the Summer Olympics in Rio.
Vice-President of the National Olympic Committee, Chingiz Huseynzade believes the national athletes will be able to bring home at least 10-12 medals from the 31st Summer Olympic Games.
"Almost half of the national team can win medals. We believe that the number and denomination of the medals will be greater than at the London Olympics," he told journalists last week.
At the London Olympics four years ago, the national athletes were able to win 10 medals, including two gold.
Huseynzade went on to say that the right to broadcast the Summer Olympic Games in Azerbaijan belongs to channel ITV, and the Games will be streamed live.
"We have introduced the innovation, and decided to publish the hottest news from Games on the Internet. So, all Internet resources of the NOC will be working at full capacity. News will be transmitted in spite of the time difference," Huseynzade assured.
The first group of Azerbaijani athletes has already been sent to Brazil. The second group will depart today. For this end, a solemn send-off ceremony will be held.
Huseynzade informed that the time of departure and arrival of the athletes has been identified based on the requests of Azerbaijan's sports federations.
"Moreover, there is a quota set for accommodation in the Olympic village. That is due to capabilities of the organizers," the NOC Vice-President said.
The 2016 Summer Olympics in Rio will begin on August 5 and last till August 21. A record number of countries will participate in a record number of sports. More than 10,500 athletes from 206 National Olympic Committees, including first time entrants Kosovo and South Sudan, are scheduled to take part.
With 306 sets of medals, the Games will feature 28 Olympic sports — including rugby sevens and golf, which were added by the International Olympic Committee in 2009. These sporting events will take place at 33 venues in the host city and at 5 venues in the cities of Brazilian Sao Paulo, Belo Horizonte, Salvador, Brasilia and Manaus cities.
The Azerbaijani Olympians managed to gain 57 licenses in 18 sports for the Rio Olympic Games. For the first time Azerbaijan will be represented in such sports as triathlon, archery, cycling and canoe slalom. Rio 2016 will be the first Olympic performance for 36 of 56 Azerbaijani athletes.
Not only athletes will represent the country at the Games in Rio -- three referees in wrestling, gymnastics and boxing will also join the Azerbaijani Olympic team. The team will be accompanied by 34 coaches, six doctors, physiotherapists and technical staff.
The sports delegation of Azerbaijan will return home on August 22.
---
Rashid Shirinov is AzerNews' staff journalist, follow him on Twitter: @RashidShirinov
Follow us on Twitter @AzerNewsAz