Czech parliament refutes to recognize "Armenian genocide"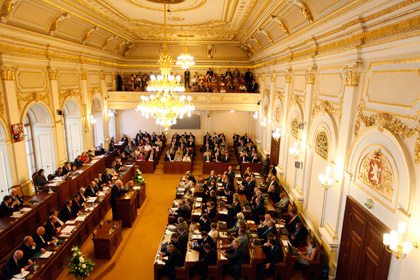 Head of the lower house of the Czech parliament Jan Hamacek has indirectly rejected President Milos Zeman's proposal on the Czech MPs' recognizing the "Armenian genocide", RIA Novosti reported on June 8.
Historians, but not politicians should speak about historical events, Hamacek tweeted on June 8.
Earlier, during a joint briefing with his Armenian counterpart Serzh Sargsyan, President of the Czech Republic Milos Zeman said he intends to propose the Czech parliament to consider the recognition of the 1915 events as "Armenian genocide".
Czech Foreign Minister Lubomír Zaoralek has also commented on the issue.
"I believe that first of all, independent historians should make assessment about who is responsible for this [1915 events]."
Armenia and the Armenian lobby claim that Turkey's predecessor, the Ottoman Empire allegedly carried out "genocide" against the Armenians living in Anatolia in 1915. Turkey in turn has always denied "the genocide" took place. While strengthening the efforts to promote the "genocide" in the world, Armenians have achieved its recognition by the parliaments of some countries.
---
Follow us on Twitter @AzerNewsAz