EU welcomes Georgia-Russia diplomatic ties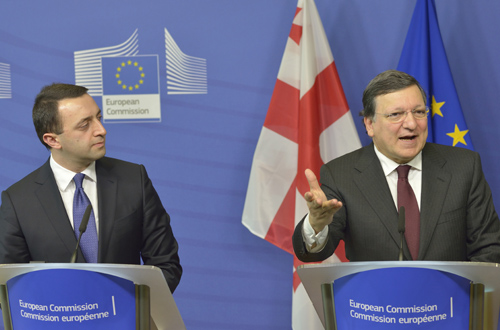 By Jamila Babayeva
The European Union welcomes continuous diplomatic contacts between Georgia and Russia, the President of the European Commission José Manuel Barroso said on February 3.
"It is an important way to assure stability and security for the region", Barroso said after a meeting with Georgian Prime Minister Irakli Garibashvili.
At the meeting the sides discussed Georgia-EU cooperation, integration process of Georgia and the important results obtained on this way. Attention was paid to the initiation of the EU-Georgia Association Agreement and issues concerning its signing in short terms.
Barroso expressed his concerns at the ongoing erection of fences and barriers on Georgia's internal administrative boundaries, which have a direct negative impact on the local populations.
"We remain committed to the country's territorial integrity within its internationally recognised borders. We are keen to support conflict resolution in Georgia, including through our co-chairmanship of the Geneva International Talks and our Monitoring Mission in Georgia," he noted.
Garibashvili, in turn, called the meeting with Barroso as important and interesting, where the main trends of the agenda of Georgia-EU cooperation were discussed at the joint press conference. He said EU's support to Georgia's European integration course should be appreciated.
Garibashvili noted that the main priority of Georgia is signing the Association Agreement in the near future.
Georgia initialed association agreement with the EU at a summit in Vilnius dedicated to the European Union's 'Eastern Partnership' countries - ex-Soviet states on November 29, 2013.
Garibashvili recently said Georgia will sign the EU association agreement in 2014.
Georgia and Russia, its giant northern neighbor, have maintained no diplomatic relations since a brief war in 2008. Tbilisi broke off relations with Moscow in August 2008 when Moscow crushed a Georgian assault to reassert control over two rebel regions -South Ossetia and Abkhazia- and later recognized the regions. Georgia announced the two unrecognized republics as occupied territories in September 2008.
Georgian Foreign Minister Maya Panjikidze said recently the restoration of diplomatic relations with Russia is not possible as long as 20 percent of Georgia's territories remain occupied by this country.
The Russian Foreign Ministry informed the Georgian side through the Georgian interests section at the Swiss embassy of the visa system simplification for Georgian carriers (drivers) on December 27.
Tbilisi welcomed Moscow's decision on visa facilitation for Georgian carriers.