Air pollution kills some 270 people in Iran monthly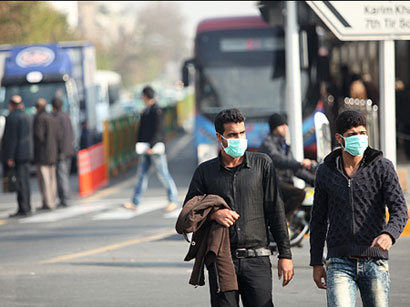 By Sara Rajabova

Tehran City Council member, Rahmatollah Hafezi has said some 270 people die in Iran monthly due to air pollution related diseases, Mehr news agency reported.
Hafezi said citing official statistics that some 2,722 people died in Iran last solar year (ending on March 21) due to air pollution.

He went on to note that air pollution damage cost the country up to $8 billion in 2006.

About 70 to 80 percent of air pollution is linked to cars as well as motorcycles, he added.

Member of the Iranian parliamentary committee on environment Mehrdad Lakhuti said recently that over 4000 people die each year in Tehran from diseases caused by air pollution.

Lakhuti said that overrun of the admissible levels of air pollution in Tehran creates big problems for the people and causes death among the population.

According to him, the main reason for the air pollution in the capital is the vehicles. He said currently only 40 percent of the population use public transport and 60 per cent use their own cars.

The air over Iran's capital is amongst the most polluted in the world, and experts say many Iranians suffer serious health problems as a result. According to official statistics, currently 12-13 million people reside in Tehran.

The problem of Tehran's air pollution has repeatedly forced the government to declare some days as holiday in the capital due to the high degree of pollution.

Tehran is wedged between two mountains that trap the fumes of its bumper-to-bumper traffic.

According to PSI (Pollutant Standards Index), last year Iran had 147 days during which the air quality was substandard. Two years ago this number stood at 217 days.

Other major Iranian cities also struggle with air pollution on a seasonal basis.
The fact that some big cities like Isfahan, Mashhad, Arak, Karaj, Qom, Tabriz, and Ahvaz are facing a somewhat similar situation backs up this view.

Iran had previously implemented some regulations for tackling the problem of air pollution, but none of them worked.