EU's Ashton says world powers ready for 'meaningful negotiations' with Iran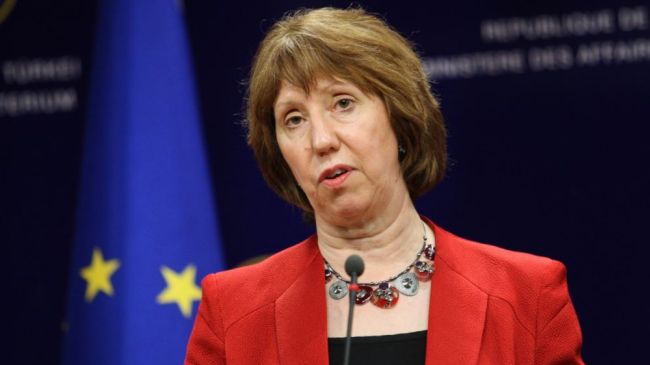 By Sara Rajabova
The election of Hassan Rohani as Iran's new president has given a positive signal to the world over the negotiations regarding the country's nuclear issue.
Thus, after the inauguration of the new president some countries expressed hope for further nuclear talks with Tehran.
European Union foreign policy chief Catherine Ashton expressed world powers' preparedness to engage in "meaningful talks" with Iran over Tehran's nuclear issue, Press TV reported.
In a letter to President Hassan Rohani on August 6, Ashton congratulated him on his inauguration and noted that the new Iranian president has won "a strong mandate to engage in dialogue and cooperation with the international community to seek a swift resolution to serious concerns about Iran's nuclear activities."
Ashton, who represents the six world powers in the comprehensive talks with Tehran, noted that together with the P5+1 she stands ready to continue talks to find a solution to Iran's nuclear issue as quickly as possible.
"I hope that we can schedule meaningful talks with your negotiating team as soon as practicable," Ashton said.
The letter comes on the same day that Rohani expressed Tehran's readiness to enter into "meaningful" negotiations with the P5+1 -- the United States, France, Britain, Russia, and China plus Germany.
"We are prepared to enter serious and meaningful negotiations with determination and without wasting time, and if our opposing party is equally ready, I am confident that the concerns of both sides will be allayed through dialogue," Rohani said at his first press conference since he took office on August 4.
Meanwhile, Russian Foreign Minister Sergei Lavrov urged support for Rohani's nuclear stance, saying Moscow "absolutely agrees" that Tehran's nuclear issue should be resolved peacefully, not via ultimatums.
"We absolutely agree with what Rohani said. We need to resolve this, like any other problem, not on the level of ultimatums, but on the basis of respectful relations with a partner," Lavrov said in Rome on August 6.
The Russian foreign minister added that now it is critical to support the constructive approach of the Iranian leadership.
He also called on the P5+1 group of world powers to throw their support behind the attitude of the new Iranian administration.
The P5+1 group and Iran have held several rounds of talks on a range of issues, with the main focus being on Tehran's nuclear energy program.
The West, led by the United States, has imposed sanctions against Iran, accusing Tehran of pursuing military objectives in its nuclear energy program.
Iran has repeatedly dismissed the Western allegations, arguing that as a signatory to the nuclear Non-Proliferation Treaty and a member of the International Atomic Energy Agency (IAEA), it has every right to pursue nuclear technology for peaceful purposes.
As a veto-wielding power at the UN Security Council, Russia has repeatedly expressed its support for Iran's nuclear energy program, voicing opposition to the sanctions imposed on Tehran.
Lavrov also voiced Moscow's opposition to US senators' latest call for additional sanctions against Iran.
"I think these ideas contradict the fundamental interests of the international community, the interests of ensuring a regime of non-proliferation," he said.