Iran to set up 20 polling stations in U.S. for June 14 elections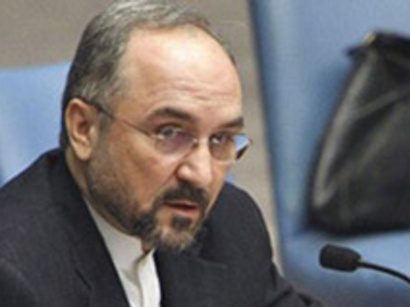 Iranians living in the US can cast their ballots at some 20 polling stations prepared for the upcoming presidential vote in Iran, Iran's permanent ambassador to the UN, Mohammad Khazaee said on June 12, IRIB News reported.

The number of polling stations across the states depends on the local population of Iranian expatriates, IRIB quoted Khazaee as saying.

"Six of these 20 stations will be set-up in California and the remaining 14 in the states of New York, New Jersey, Washington, Maryland and Virginia," he said.

The Iranian official went on to note that Iran represents the most notable example of a democratic state in the Middle East, and therefore the international community is following the election developments there very closely.

Iran's UN ambassador also said that a high voter-turnout will boost the government's ability in pursuing Iranians' national interests at the international arena.

Iran is preparing to hold the 11th presidential election on June 14. The voters will select the successor of the current President Mahmoud Ahmadinejad, who is not able to participate in the elections for the third term according to the country's constitutional laws.

The president of Iran is elected for a four-year term in a national election and the Guardian Council vets the candidates for qualifications.

There are six presidential candidates active in the race: Secretary of Expediency Council Mohsen Rezaei, Supreme National Security Council Secretary Saeed Jalili, former Foreign Minister Ali-Akbar Velayati, Tehran Mayor Mohammad-Baqer Qalibaf, President of the Strategic Research Center of the Expediency Council Hassan Rohani, and former Telecommunications Minister Mohammad Gharazi.

Over 420 journalists from 39 countries will be covering the presidential elections in Iran, according to country's Public Relations and Information Center of Ministry of Culture.

Such countries as Azerbaijan, Germany, Australia, Russia, Japan, UK, UAE, France, Turkey, Iraq, Ukraine, USA, Syria, China will be covering the elections in Iran.