Presidential candidate Haddad-Adel: Principlist to definitely win elections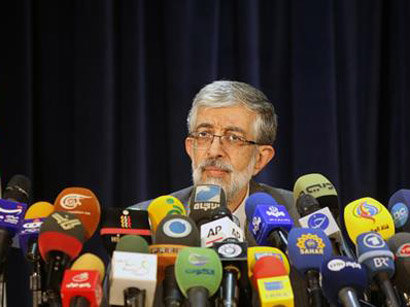 The principlist camp has huge public support and will definitely win the June 14 vote, Presidential candidate Gholam Ali Haddad-Adel has said.

Talking to his supporters in East Azarbaijan province, the principlist candidate said he signed up for the race out of duty and for that matter, he has no intention of stepping aside in favor of other contestants, Fars news agency reported.

The former parliament speaker said the nation will not retreat from its rightful position despite Western sanctions and restrictions, which are designed to sow the seeds of discord in the country.

Haddad-Adel is a member of the principlist Coalition of Three, along with Tehran Mayor Mohammad Baqer Qalibaf and the senior advisor to the Leader of the Islamic Revolution Ali Akbar Velayati.

Iran will hold the 11th presidential election on June 14.

The voters will select the successor of the current President Mahmoud Ahmadinejad, who is not able to participate in the elections for the third term according to the country's constitutional laws.

The president of Iran is elected for a four-year term in a national election.