24 June 2010 01:45 (UTC+04:00)
2 398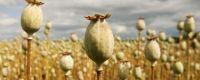 Azerbaijan is a major transit link of trafficking in heroin and other drugs transported from Afghanistan to Europe, a UN body claims.
The UN Office on Drugs and Crime says the so-called "northern Balkan route", a relatively recent variant on the Balkan route which transits the Caucasus rather than Turkey, crosses Azerbaijan. The organization identifies several drug trafficking routes, including some running through the Caucasus: Iran – Azerbaijan – Georgia – Black Sea – Ukraine and/or Bulgaria; Islamic Republic of Iran – Caspian Sea – Russian Federation/Caucasus – Black Sea – Ukraine and/or Bulgaria; Afghanistan – Central Asia – Caspian Sea – Azerbaijan/Caucasus, says the 2010 World Drug Report released Wednesday.
Other, smaller routes include trafficking from Iran into Azerbaijan and onward to Dagestan in Russia, and a small heroin flow originally shipped to the Ukraine via the Caucasus region for transport to Romania and beyond to West Europe. An extension of the Northern route, perhaps 4 mt per annum (4%), is also reported to reach Europe via Russia.
Heroin crosses from the Azerbaijan-e-Khavari province of Iran into Turkey and traverses Turkey's Hakkari and/or Van districts. An estimated 95 mt of heroin are shipped across Turkey's borders every year, says the UN report, adding that Bulgaria is a link in one of those routes: Hakkari/Van – south-eastern cities – central Anatolian cities – Istanbul – Edirne to Bulgaria/Greece.
Iran and Turkey are said to have achieved progress in limiting the flow of heroin from Afghanistan, the world's largest heroin producer. In contrast, Russia, Central Asia and the Balkan states have failed to achieve progress.
According to the report, every year, approximately 9 metric tons of heroin are estimated to be trafficked from the Islamic Republic of Iran along this route. Joining this flow is a smaller volume of about 2 metric tons from Central Asia. In all, 11 tons of heroin are estimated to enter the Caucasus. Some 4 metric tons are either consumed or seized. The remainder, around 7.61 tons is thought to be trafficked to Europe. Through one branch of this route, an estimated 6 metric tons are shipped from Georgia and then to Europe (Bulgaria) via the Black Sea. A smaller flow of 1 ton also travels through Georgia, but moves northward across the Black Sea to Ukraine.
The report also noted that the territories controlled by separatist regimes, in particular, the Armenia-occupied Upper (Nagorno) Garabagh region of Azerbaijan and Georgia's breakaway republic of Abkhazia, represent hubs of heroin trafficking in the Caucasus and the entire region. These conclusions are supported by the increasing volume of narcotics trafficking through Abkhazia and the Black Sea region following the brief war fought by Russia and Georgia in 2008.
As for drug consumption, the UN estimates that 0.2 percent of the people in Azerbaijan aged 15-64 use opium, while 3.5 percent smoke hash. Thus, one per 500 people reportedly uses opium and one per 33 people smokes hash.
Overall, about 250 million people, or up to 5.7 pct of the world's population, used drugs at least once in 2009.
The report said that Afghanistan is the main exporter of hashish and heroin in the world, with up to 90 pct of opium grown in the country. Narcotics are then transported to Iran, Pakistan, Central Asia and China.
Up to 60 pct of raw hashish is consumed in Iran, Afghanistan, Pakistan, Russia, India and Central Asian states. The biggest consumer of opium is Afghanistan itself, with 7 pct of grown opium consumed domestically, the report said.
The rest of the opium is mainly processed into heroin and transported to Russia and West Europe. Russia is said to be the biggest consumer of heroin – 70 tons per year, followed by western European markets, with 88 tons consumed.
In total, revenue from the sale of heroin to Europe is presumed to exceed $20 billion.
Another widely used drug – cocaine – is chiefly consumed in South America, while the targeted markets for its traffickers are the countries in North America and West Europe.*
Category News