Turkmenistan seeks to deliver its hydrocarbons to West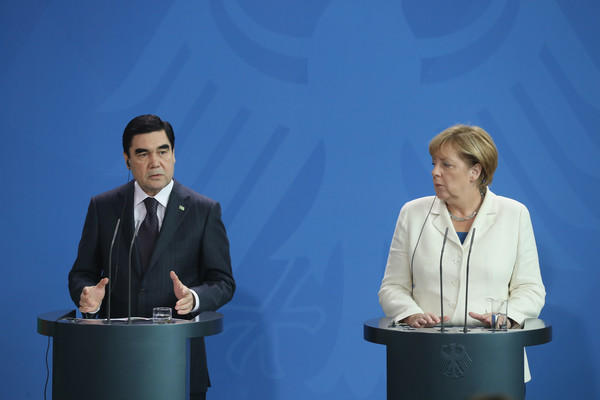 By Nigar Abbasova
Turkmenistan, an energy-rich Central Asian nation with abundant hydrocarbon reserves, is keen to diversify the routes of its gas export. Being the sixth in the world for the volume of natural gas reserves, the former Soviet republic is considering Europe as one of the most promising markets for the supply of energy resources and continuously studies opportunities for entering it.
Turkmenistan is discussing diversifying its gas exports and selling gas to European Union countries, Turkmen President said Gurbanguly Berdimuhamedov said at a joint news conference with German Chancellor Angela Merkel in Berlin on August 29.
Turkmenistan has been in talks with the EU countries on the deliveries of Turkmen gas to Europe since 2011.
The Turkmen president said his country was also hoping to sell gas to Europe and had been in discussions with EU leaders to resolve legal and technical issues.
"We in Turkmenistan are interested in delivering our energy resources to the West," Berdimuhamedov said, adding that his government had presented the European Commission with proposals for how to proceed.
"We hope that Germany, which is a respected and authoritative member of the EU, will further render its support in this regards," he said, underlining that "there are a lot of legislative issues that depend on the EU".
Merkel, in turn, said she hopes "remaining obstacles" could be resolved soon to allow gas imports from Turkmenistan.
"I hope the problems that still exist can be overcome," she said.
The Turkmen gas deliveries to the EU would come via the Caspian Sea, which will also require approval by Russia and Iran.
A project on construction of the Trans-Caspian gas pipeline through the Caspian Sea to the coast of Azerbaijan is considered to be the most optimal and promising project for delivery of Turkmen resources to the European market. Then Turkmen fuel can be delivered to Turkey, which borders with European countries.
Energy-rich Turkmenistan, producing about 70-80 billion cubic meters of gas a year, is interested in the construction of the Trans-Caspian gas pipeline, as it will create an additional guarantee for the reliable and stable export of Turkmen energy resources to international markets.
Azerbaijan is also interested in the construction of the Trans-Caspian Pipeline as it can get huge benefits from the transportation the Turkmen gas via its territory. The country has repeatedly voiced its readiness for the allocation of its territory, transit opportunities and infrastructure for the implementation of the project, the length of which is expected to reach 300 km.
Most of Turkmenistan's proven gas reserves are located in the Amu Darya basin in the south-east and in the Murgab South Caspian basins in the western part of the country. The Central Asian country has also been lately engaging in gas talks with China, India and Afghanistan.
--
Nigar Abbasova is AzerNews' staff journalist, follow her on Twitter: @nigyar_abbasova
Follow us on Twitter @AzerNewsAz