12 July 2016 18:08 (UTC+04:00)
1 974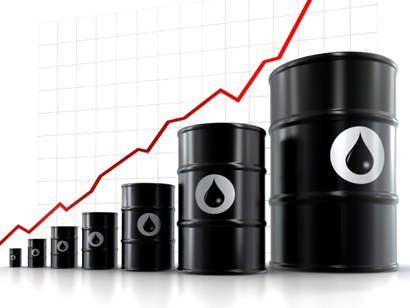 By Rashid Shirinov
Preliminary statistics show that global oil supply increased by 0.4 million barrels per day to average 94.33 million barrels per day in June 2016 as compared to the previous month, says OPEC Monthly Oil Market Report (MOMR) for July.
The increase of both non-OPEC supplies by 0.13 million barrels per day and OPEC crude oil production by 0.26 million barrels per day in June led to the increase of global oil output.
The report says that oil production in OPEC countries in June increased by 264,000 bpd compared to the data of May -- up to 32,86 million bpd overall. Nigeria, Iran, Saudi Arabia, Libya and UAE had a rise in their oil output for the last month, while Venezuela and Iraq decreased their production.
Azerbaijan
Azerbaijan's oil production for 2016 is anticipated to average 0.85 million barrels per day, which is by 10,000 bpd less than in 2015, OPEC's latest report says.
In its June report, OPEC forecast a decline of Azerbaijani oil production in 2016 on 20,000 bpd – around 0.84 million barrels per day.
As for 2017, OPEC expects a decline by 40,000 bpd due to a lack of new projects in the country.
June 2016 oil output in Azerbaijan decreased by 10,000 bpd compared to May -- 0.78 million bpd. However, the figure exceeds the results of last June by 20,000 bpd. Total liquids output also reduced by 10,000 bpd in June 2016 -- to average 0.86 million bpd.
Today, the main site of oil production in Azerbaijan is the Azeri-Chirag-Guneshli field. This field produces Azeri Light oil with 0.15-percent sulfur content and 35 degrees API. The contract for the Azeri-Chirag-Guneshli development, with proven reserve of nearly 1 billion tons of oil, was signed in 1994.
In 2015, Azerbaijan produced 41.69 million tons of oil and gas condensate, which was 0.8 percent less than in 2014, according to Azerbaijan's State Statistics Committee.
Overall, Azerbaijan's proven oil reserves made up 7 billion barrels at the beginning of 2016, BP's Statistical Review stated.
---
Rashid Shirinov is AzerNews' staff journalist, follow him on Twitter: @RashidShirinov
Follow us on Twitter @AzerNewsAz
Related News