Altay Hasanov: Gymnastics in Azerbaijan achieves great heights due to First Lady's efforts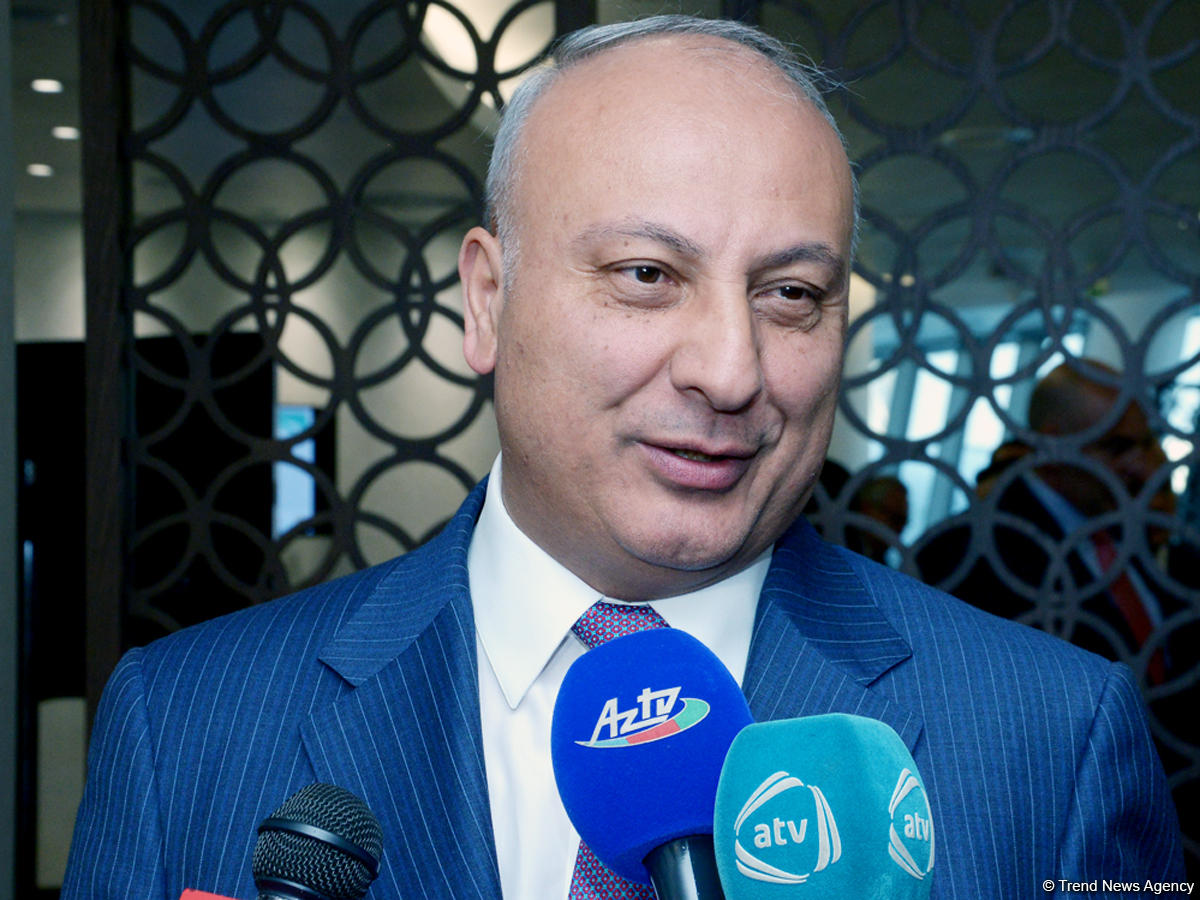 Thanks to efforts of Azerbaijan's first lady, president of the Heydar Aliyev Foundation, head of the Azerbaijan Gymnastics Federation (AGF) Mehriban Aliyeva, the sport of gymnastics was able to achieve such great heights in the country, AGF Vice-President Altay Hasanov told reporters on Dec. 24.
"I am proud to state the Azerbaijan Gymnastics Federation has passed a successful path to make great achievements," he noted, stressing a huge role of the AGF management led by Mehriban Aliyeva, as well as AGF employees, athletes, coaches and all those who are part of the process.
Hasanov also highlighted the success achieved by Azerbaijani athletes at the first-ever European Games held in Baku this year.
Azerbaijani gymnasts won seven medals, especially in those gymnastic disciplines that have only recently began to develop in the country, he noted.
"Any athlete, coach, and management set a task to improve results," added Hasanov. "Thus, after such a success, it will be harder and harder to cope with that. We are reckoned with on the world arena, we've been recognized as a gymnastics country."
He noted that Azerbaijan is represented in all seven disciplines of gymnastics registered by the International Gymnastics Federation (FIG).
"When we first started, we had only three disciplines, and now we are a full-fledged member of the world gymnastics process," Hasanov said. "We are reckoned with, people learn from us, athletes from all continents visit our training sessions. While this is happening only in rhythmic gymnastics, I hope the same to occur in other disciplines in Azerbaijan as well."
He underscored that pleasant atmosphere and team at the AGF are very important factors.
"The Federation created a system that I am proud to speak of," said Hasanov. "This system rejects alien elements. This is not just a sport but a system of human communication. It implies that everyone – from management to ordinary athlete and an ordinary member – stand up for common cause. Everyone is happy for other's success."
"This isn't something that often happens in life, and it must be preserved," he said.
"Apart from our results, it is very important that we have been able to create such an atmosphere at the federation, among athletes, foreign instructors, and coaches," noted Hasanov. "This, in reality, is an important achievement for us."
Hasanov further said the AGF's work and the success made by Azerbaijani gymnastics have ensured a significant influx of young people into sports classes.
This is one of the major tasks that President Ilham Aliyev has always put before sports managements – people have to go in sports, do sports, and the results will come, he noted.
Speaking about the prospects of Azerbaijani athletes at the upcoming Rio 2016 Olympics, Hasanov underscored that participation in competitions at this level has always been a difficult challenge for athletes.
"Just like at previous Olympics, the one in Rio will also be tough. I believe our gymnast Marina Durunda will make a good performance," he said.
Hasanov reminded that Azerbaijan has one license in rhythmic gymnastics for the upcoming Olympic Games.
"Gymnast Oleg Stepko has gained a license in artistic gymnastics and has opened up the way for the second one," said Hasanov, adding that another gymnast will compete for a license during the test tournament in Rio de Janeiro in April.
"We won a medal in artistic gymnastics [Oleg Stepko grabbed a bronze medal during the World Championships in Glasgow] and now we are reckoned with, and we are being "hampered" because we have become "a threat" for the gymnastics family members, who always made a success," Hasanov said.
The AFG vice-president also touched upon the importance of psychological preparedness of athletes for the Olympics, noting that first of all, in terms of responsibility, it is the most difficult competition.
"This is the toughest one, since an athlete has great responsibility - one step to go down in history. It is where even split seconds make a difference," he said. "Therefore, the most important component is the psychological readiness, including, of course, the athletic one."
He said that undoubtedly, the Gymnastics Federation expects good results from its athletes, but the competitions themselves will be very difficult.
Speaking about the prospects for the rhythmic gymnastics, Hasanov said that the attitude to Azerbaijani athletes in this gymnastics discipline has remained unchanged for over 10 years.
"We feel strong "love", and everything possible is being done to prevent us from showcasing what we can do," said Hasanov. "We show it, but don't always get the deserved grade."
He noted that unfortunately, athletes in rhythmic gymnastics end their careers early and the lack of achievement is disappointing.
"Nevertheless, we've strengthened," Hasanov said. "I reiterate that we should be the strongest among others to get the most precise grade. Everyone tries to achieve that – the whole federation, its leadership and each ordinary member makes contribution to this victory."
He said that today the major objective is to attain the level of worldwide athletes, inscribe the names of Azerbaijani athletes in history and always raise high the Azerbaijani flag.
Speaking about the sports events in Azerbaijan, Hasanov said that three stages of the World Cup will be held in Baku in 2016: artistic gymnastics in February, trampoline in March and rhythmic gymnastics in July.
Athletes from 25 countries from various continents are expected to take part in these competitions, he added.
Currently, preparations are underway and these competitions will be organized at the highest level, according to Hasanov.
He pointed out that Azerbaijan already has experience in organizing such events and there is a grand National Arena and a team.
Hasanov said that in 2002, after the Gymnastics Federation was rebuilt, its activity covered four kinds of gymnastics – rhythmic gymnastics, men's artistic gymnastics, tumbling and acrobatics.
"And today, all the seven kinds of gymnastics, recognized by the International Gymnastics Federation, are developing in Azerbaijan," Hasanov stressed, adding that since late 2013, the first European games in Baku has been a great momentum for development of artistic gymnastics, trampoline and aerobics in Azerbaijan.
"As a result of this development, our athletes for the first time performed at the Gymnaestrada this year in Helsinki, Finland, which is known around the world as a gymnastics celebration," he said, adding that laid a foundation for a non-competitive kind of sports – "gymnastics for all."
"Our national teams train on all these kinds of gymnastics in the main and auxiliary halls of the National Gymnastics Arena, commissioned in April 2014," he said.
Hasanov added that during training sessions, the conditions created at the Gymnastics Arena are available not only for Azerbaijani athletes, but also, along with European athletes, for gymnasts from Asia, Africa, North America and even Oceania.
"Along with all the conditions for training and rehabilitation procedures, there are a gymnastics education school, a library, choreography and fitness halls, a hotel and a dining room," he noted.
"Impressions from the conditions created for major competitions are discussed for a long time by foreign guests after events there," said Hasanov, adding that over 11 million manats was invested in developing gymnastics in Azerbaijan over the last five years.
"These funds were used to open new gymnastics sections in the regions, purchase modern equipment, enhance medical support to athletes, recruit coaches, ensure the participation of our experts in various courses in order to improve their professional skills," said the vice-president.
Hasanov also spoke about the Federation's plans.
Baku will host the stages of the World Cup on men's and women's artistic gymnastics, trampoline and rhythmic gymnastics in 2016, he said, adding that the country will host the World Cup stages on artistic gymnastics and trampoline for the first time.
"We have also nominated our candidacy for hosting the meeting of the International Gymnastics Federation Council in 2017," said Hasanov. "We are running to host the European Championships in Trampoline in 2018."
He pointed out that the World Rhythmic Gymnastics Championships in 2019 have already been awarded to Azerbaijan.
On behalf of the gymnastics community, Hasanov expressed special gratitude to President Ilham Aliyev for the mentioned achievements and the conditions created for developing gymnastics and noted that the president's care and attention is evident.
"Naturally, during the period of development, we had difficulties," he said. "However, we overcame them thanks to the guidance and wise advice of the country's first lady, President of Azerbaijan Gymnastics Federation Mehriban Aliyeva."
"I express gratitude to Mehriban Aliyeva for her continuous support," said Hasanov. "Her each meeting with gymnasts turns into a celebration and inspires the athletes even more."

Hasanov thanked Mehriban Aliyeva once again for heading the Organizing Committee of the First European Games, their high-level organization and for the sense of pride before Europe.
---
Follow us on Twitter @AzerNewsAz