Azerbaijan calls on PACE to impose sanctions on Armenia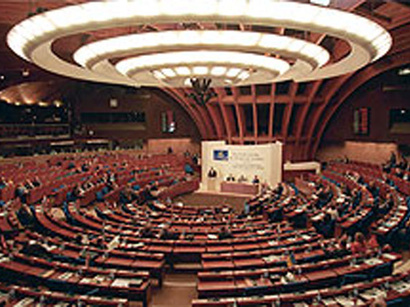 By Sara Rajabova
A member of the Azerbaijani delegation to the Parliamentary Assembly of the Council of Europe urged the organization to impose sanctions against Armenia.
MP Rafael Huseynov voiced such a call during the first working day of the PACE summer session on June 22.
"I'd like to draw your attention to one very troubling issue," said Huseynov, recalling that the PACE Bureau unanimously appointed Robert Walter as the rapporteur on the topic 'Escalation of violence in Nagorno-Karabakh and other occupied territories of Azerbaijan.'
Huseynov, however, stressed that Armenia ignores Bureau's decisions and impedes its work.
"Armenia doesn't recognize the Bureau's decision, and isn't letting the rapporteur to enter its territory and Azerbaijan's occupied territories," he said.
Huseynov went on to say that it is difficult to logically explain the Bureau's tolerant attitude towards Armenia.
"At a time when sanctions are imposed against Russia, why aren't serious and decisive steps taken with regard to Armenia? It was necessary to apply such sanctions against Armenia at least 10 years ago," he said.
"What prevents the Bureau to do so?" he asked.
Ahead of the session, another member of the Azerbaijani delegation, Rovshan Rzayev said the delegation will raise the issues concerning the territorial integrity of Azerbaijan and the occupation of its lands by Armenia.
He noted that all international organizations, including PACE, should adhere to internationally-recognized decisions on the fact of occupation of Azerbaijani territories and be interested in solving the problem.
PACE Resolution 1416, adopted in 2005, reiterated that "the occupation of foreign territory by a member state constitutes a grave violation of that state's obligations as a member of the Council of Europe," and demanded the unconditional withdrawal of troops from the occupied territories.
Armenia occupied over 20 percent of Azerbaijan's internationally recognized territory, including Nagorno-Karabakh and seven adjacent regions, after laying territorial claims against its South Caucasus neighbor that had caused a lengthy war in the early 1990s.
Peace talks brokered by the OSCE Minsk Group co-chairs representing the United States, Russia and France have been largely fruitless so far.
The negotiations are underway on the basis of the peace outline dubbed the Madrid Principles, also known as the Basic Principles. The document envisions a return of the territories surrounding Nagorno-Karabakh to Azerbaijani control; determining the final legal status of Nagorno-Karabakh; a corridor linking Armenia to the region; and the right of all internally displaced persons to return home.
--
Sara Rajabova is AzerNews' staff journalist, follow her on Twitter: @SaraRajabova

Follow us on Twitter @AzerNewsAz