U.S. Embassy hosts iftar ceremony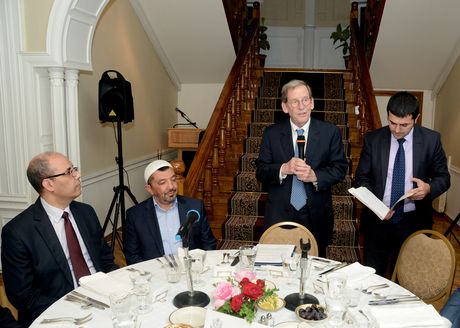 By Sara Rajabova
The U.S. embassy in Azerbaijan has hosted an iftar ceremony attended by Azerbaijani officials, heads and representatives of religious confessions in Azerbaijan, and heads of the diplomatic corps in the country.
Addressing the ceremony, U.S. ambassador Richard Morningstar congratulated the event participants and Azerbaijani people on the occasion of the holy month of Ramadan.
Morningstar said he was honored to host the iftar party.
He hailed mutual respect between religious confessions in Azerbaijan.
Deputy Chairman of the Caucasian Muslims Office Salman Musayev, in turn, noted that iftar parties create opportunities "to celebrate joint values" together. He said that the religions tolerance in Azerbaijan could be an example to many other countries.
He also hailed President Ilham Aliyev`s role in preserving and strengthening tolerance in the country.
The U.S. embassy in Baku organizes iftar parties on a regular basis during the Ramadan.
Ramadan plays an important role in Muslim's life. As fasting is observed during the month of Ramadan, it is called "Fasting of Ramadan". Ramadan is considered as the most merciful and holiest month of the year for Muslims.
In metaphoric sense, it is called "the Sultan of eleven months", because at one of the nights of this month, the holy Koran was revealed.
Ramadan conveys the sense of emotional enthusiasm and religious eagerness among Muslims. Ramadan highlights Muslim brotherhood and customs and brings about a special feeling of closeness.