EU proposes Azerbaijan to get closer to the block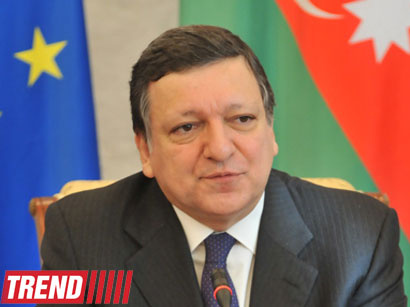 By Nigar Orujova
Azerbaijan is a country that has undergone some radical and rapid changes in a way that would have been unimaginable 25 years ago.
This was said by President of the European Commission Jose Manuel Barroso during his speech at the Azerbaijan Diplomatic Academy University on June 14.
"Baku is a vibrant and modern city with energy in more than one sense of the word; building on its rich history but with an eye on the future, with skyscrapers sprouting on the shoreline of the Caspian Sea," he said.
Barroso also touched upon the globalization issue, which represents a new world order, but not a panacea for peace and collective prosperity.
He called the European Union a laboratory for globalization.
"70 years of stability and democracy. We have grown from six countries in 1957 to 28 in 2014; from individual countries, like Sweden, Hungary and the Czech Republic, with population sizes similar to your own, to a collective 507 million; representing 23 percent of the world's GDP, and 12.6 trillion EUR economy, the largest in the world," he said.
"Despite recent events, the EU has remained open for business and open for membership," Barroso noted.
Speaking about cooperation with Azerbaijan, Barroso noted the common challenges to the EU, the Eastern Partnership, and Azerbaijan.
"Azerbaijan was always historically a gateway. It is a land of in-betweenness where the West meets the East. What we have proposed to you is a partnership that reinforces that status; that brings Azerbaijan closer to Europe while remaining a bridge to other parts of the world," he said.
Barroso said the EU remains Azerbaijan's main trading partner with bilateral trade flows worth € 17.9 billion in 2013, which is more than 42 percent of Azerbaijan's trade. "50 percent of your exports go to the European Union, and 30 percent of your imports come from the EU. But I think we can do better," he stressed.
The president also noted that the EU is ready to sign the Strategic Modernization Partnership, which can serve as a guiding document for practical cooperation. Negotiations on this project are expected to be concluded in the next months.
Speaking about the Southern Gas Corridor, Barroso said, this project can encourage greater economic cooperation, improve energy security and create over 30,000 jobs in all countries along the Corridor.
"Our objective remains that the entire infrastructure project along the corridor will be operational in time (by 2019). This is as important for European energy security as it is for the future economic development of Azerbaijan," he said.
Touching upon closer cooperation between societies, he referred to works done to press ahead visa facilitation, readmission and mobility partnership agreements.
"This coming year is an exciting year for Azerbaijan, a year where big decisions can be made. A year that will offer European countries and the world a better view of Azerbaijan, with next year's first ever European Games a wonderful opportunity to showcase what you have to offer," he stressed.
However, Barroso said that Azerbaijan and the countries of the region will not be able to prosper fully if a solution for the conflicts that still affect the region is not found.
He said that the status quo in the Armenian-Azerbaijani Nagorno-Karabakh conflict is unsustainable.
"The EU calls on Azerbaijan and Armenia to embark on result-oriented negotiations with a view to reaching a peace agreement and stands ready to do all it can to play a constructive role and bring about this peace and its implementation," he said.
Armenia captured Nagorno-Karabakh and seven surrounding districts from Azerbaijan in a war that followed the Soviet breakup in 1991. More than 20,000 Azerbaijanis were killed and nearly 1 million were displaced as a result of the war.
Large-scale hostilities ended with a Russia-brokered ceasefire in 1994, but Armenia has continued the occupation in defiance of four UN Security Council resolutions calling for their immediate and unconditional withdrawal.
Peace talks mediated by Russia, France, and the U.S. have produced no results so far.