Azerbaijani gymnasts are among world's elite: EUG President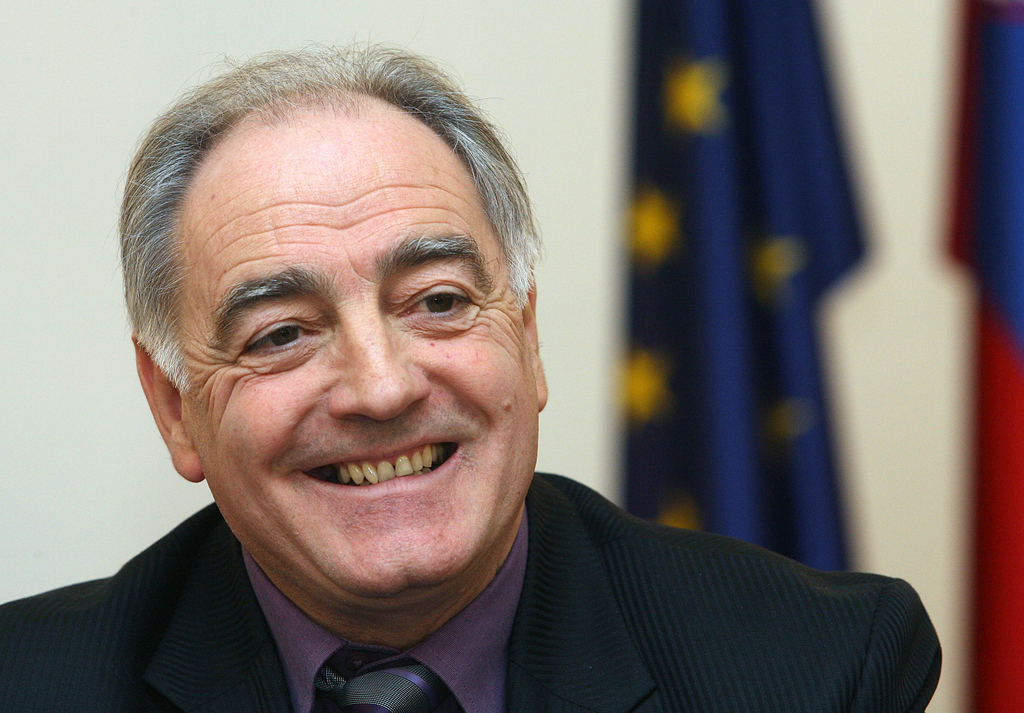 By Gulgiz Dadashova
The most-awaited European Rhythmic Gymnastics Championship will open in Baku in June, 2014.
The contest will bring together the best gymnasts from 30 countries around the world.
Being the host of such a prestigious sports event for the third time is believed to be Baku's gift for a great holiday to all the gym-lovers.
"The real innovation will be the hall that will host this competition, because it is a totally new complex and we will be the first to use it," President of the European Union of Gymnastics (UEG) Georges Guelzec told AzerNews ahead of this great event.
"I think it would be hard not to like this new hall which is absolutely amazing! A huge complex, quality infrastructures, shops, restaurants, and rooms for 9,000 spectators! We are very lucky that gymnastics can benefit from such installations," Guelzec underlined.
Rhythmic Gymnastics will be honored to use this exceptional venue, because this hall will also be used for the 2015 European Games, he added.
Noting that the Azerbaijan Gymnastics Federation will organize the European Rhythmic Gymnastics Championship for the third time after 2007 and 2009, Guelzec said these editions were extremely well organized.
"We would like to say 'things always come in threes'!" he said.
The UEG delegation, led by Guelzec, went to Baku for several meetings in mid-January, which allowed for reviewing the future European Games in 2015, cooperation with the Kapital Bank which is the main sponsor , and of course the European Championships in Rhythmic Gymnastics taking place from June 13 to June 15, 2014.
"Things seem to fall into place naturally and with great professionalism. We have absolute trust in the organizing team and are at their disposal in case they have any doubts whatsoever on any subject," Guelzec said.
"However, I must admit that we are not often solicited at the moment; everything is turning out for the best," he noted.
Speaking about the expectations for the Championships, Guelzec said the organizers will do the same good job they did twice before.
"I have no advice to give to them, except to do their best to welcome, under the best conditions, the European gymnasts who represent the global elites of the Rhythmic Gymnastics, and will distinguish themselves at these Championships in the middle of the Olympic cycle, two years after London, and two years before Rio!" he said.
Guelzec also underlined that with the help of Eurovision, their partner, they proposed a Web platform last year that allows the European public to view the finals of these Championships Live, an additional service which will be provided by the organizers in order to give the events an international scope and make them accessible to as many people as possible.
Guelzec said partnership with Kapital Bank is going very well and ought to continue for some time. "The fact that these Championships are held in our sponsor's country of origin can only delight Kapital Bank, which can be proud of the country's commitment and investment in Rhythmic Gymnastics and this event."
Guelzec also noted that no specific changes will be made to the program of the event that includes competitions for seniors (individuals and groups) and juniors (individuals and teams).
The competition will take place from June 13 to 15, with qualifications organized in the two first days and the Finals organized on Sunday.
The individual juniors will compete in a team competition, followed by an apparatus final, while the seniors will compete with groups and individuals.
These 20 individuals are the best gymnasts of Competition I of the 2013 European Championships in Vienna.
The slots (a maximum of 2 gymnasts per Federation) are not nominative and the invited nations are AUT (with 2 gymnasts) - AZE (2) - BLR (2) - BUL (2) - ISR (2) - RUS (2) - UKR (2) - ESP (with 1 gymnast) - FRA (1) - GEO (1) - GRE (1) - HUN (1) - and ROU (1). The reserves are CZE - ESP - and ITA.
Guelzec believes that holding these inaugural Games in Baku in 2015 will be a very exceptional event. "The UEG is very involved and participates actively in the development of the gymnastics competitions. We shall be present with the Olympic disciplines that are Women's Artistic Gymnastics, Men's Artistic Gymnastics, Rhythmic Gymnastics and Trampoline, but that's not all; we will also present Acrobatic Gymnastics and Aerobic Gymnastics, and it is a success to be able to include these two disciplines in the gymnastics program of the European Games."
"The competition formats will be very different from what we usually present during our European Championships", he stressed. "The disciplines will be presented in alternation in order to offer an original, dynamic, and varied show during the week. Gymnastics will have its own gala. A few surprises are in store.... can we say that the first European Games are like a springboard for the future of gymnastics?" he said.
Highlighting development of gymnastics in Azerbaijan, he said Azerbaijani gymnasts are already present in some disciplines, and their participation will increase in the future and on an international scale.
"Referring again to Rhythmic Gymnastics, Azerbaijani gymnasts are already among the world's elite, and success seems assured now (based on the results of the international tournament Miss Valentine 2014). All this enthusiasm and dynamism will undoubtedly lead them to Rio," he said. "This is all thanks to the infrastructure which we know and which the Azerbaijan Gymnastics Federation makes available to its athletes."
"We expect, among other things, to set up future partnerships with our member's Federation for training gymnasts, coaches, and judges of different disciplines for the next Olympic cycle," Guelzec underlined.