Azerbaijani nominee may be awarded with Nobel Peace Prize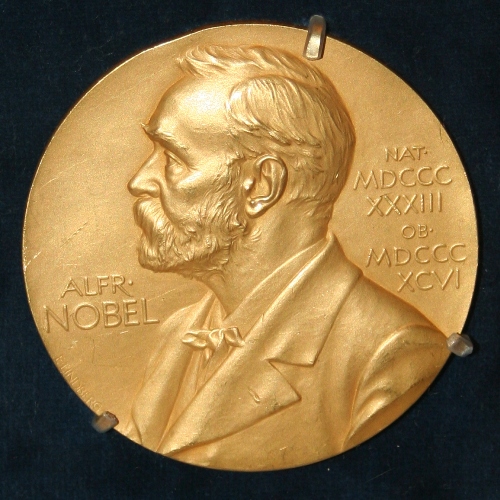 By Nigar Orujova
An Azerbaijani nominee may be awarded with the Nobel Peace Prize 2014.
Norwegian Nobel Prize Committee has requested Azerbaijan to submit the list of its suggested candidates for next year's Nobel Peace Prize, the Azerbaijan National Academy of Sciences (ANAS) reported on November 18.
ANAS science department is in charge of submitting the name of nominees to the Norwegian Nobel Committee by February 1, 2014.
The Committee, consisted of five members appointed by the Norwegian parliament, will assess the candidates' works in order to prepare a short list.
Nobel Laureates are chosen at the beginning of October by vote, and their names will be released later. The Nobel Peace Prize Award Ceremony takes place on December 10 in Oslo, Norway.
The Nobel Prize consists of a Nobel Medal and Diploma, and a document confirming the prize amount.
According to the Nobel Prize official website, the Nobel Peace Prize has been awarded 94 times to 126 Nobel Laureates between 1901 and 2013, 101 individuals and 25 organizations.
In 2013, the Prize was given to the Organization for the Prohibition of Chemical Weapons (OPCW) for its extensive efforts to eliminate chemical weapons.
The European Union, the United Nation, International Atomic Energy Agency and U.S. President Barack Obama were also laureates of the prize.
Peace Prize is one of the prize areas, along with such prizes as Physics Prize, Chemistry Prize, Medicine Prize, Literature Prize, and Prize for Economic Studies.
About 12 percent of the money designated to establish the Nobel Prize by Alfred Nobel came from his shares in the Petroleum Production Company Nobel Brothers Limited, an oil-producing company set up by Ludvig Nobel and Baron Peter von Bilderling in Baku, Azerbaijan, in 1876.