Azerbaijan mulls agricultural technology parks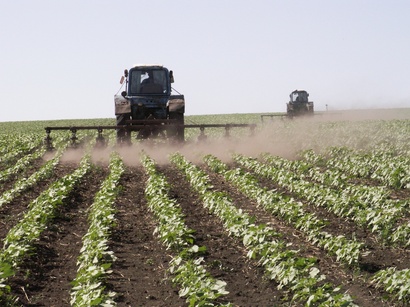 By Nigar Orujova
Creating agricultural technology parks would be reasonable in Azerbaijan, Head of the Parliamentary Committee on Agrarian Policy said on November 13.
Eldar Ibrahimov made the remarks at a parliamentary debate session on the 2014 budget package.
"The government must provide financial support for the creation and development of processing enterprises in agriculture, which will also help to expand the country's export potential," Ibrahimov said.
According to him, the funds allocated to the agricultural sector in Azerbaijan will be increased by nearly 16 percent and reach 539 million manats ($688 million) in 2014.
"About 131 million manats ($167 million) of this fund will account for subsidies to farmers," Ibrahimov said.
He also said that tax concession for agricultural producers in Azerbaijan will be extended once again.
Tax and customs benefits for industrial and technological parks were also introduced in the country.
According to the amendments made to the Tax Code in 2013, residents of industrial and technological parks will be exempt from paying income tax, land tax, property tax, and the payment for customs duties on imports of machinery, installations, and technological equipment.
These benefits will be valid for seven years from the date of the resident's registration in the industrial and technological park.
The managing companies and operators of industrial and technological parks are also exempt from paying income tax for the portion of income that is used for the construction and maintenance of the infrastructure parks.
Earlier in October, Ibrahimov said that the tax benefits for agricultural producers may be extended for another five years. Tax benefits for agricultural producers have been applied since 2001.
The tax benefits applied in Azerbaijan have allowed agricultural producers to save a total of 1.4 billion manats ($1.7 billion), and agricultural production in the country has increased from 1.2 billion ($1.5 billion) to 4.8 billion manats ($6.1 billion) since then.