Defense chief: Azerbaijan reserves right to free its occupied lands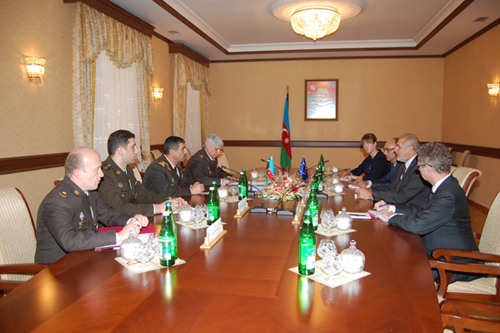 By Sara Rajabova
Azerbaijan supports a peaceful liberation of its occupied territory, but also reserves the right to liberate its lands, the Azerbaijani defense minister has said.
Colonel-General Zakir Hasanov made the remarks at a meeting with European Union Special Representative for the South Caucasus Philippe Lefort on October 28, according to the Defense Ministry.
Congratulating Hasanov on his recent appointment, Lefort wished him success in his future endeavors. He also emphasized that Azerbaijan is one of the EU's important partners.
The situation in the region and the Nagorno-Karabakh conflict were discussed at the meeting.
Hasanov said that the goals set by the Supreme Commander of the Armed Forces, President Ilham Aliyev, are unchanged, adding that the main task is having a strong country and army.
President Aliyev also met with the EU Special Representative (EUSR).
Lefort congratulated President Aliyev on his recent re-election, and they exchanged views on the cooperation between Azerbaijan and the EU and the settlement of the Nagorno-Karabakh conflict.
The Nagorno-Karabakh conflict emerged in 1988 when Armenia made territorial claims against Azerbaijan. Since a lengthy war in the early 1990s that displaced more than one million Azerbaijanis, Armenian armed forces have occupied over 20 percent of Azerbaijan's internationally recognized territory, including Nagorno-Karabakh and seven adjacent regions.
The UN Security Council's four resolutions that call for Armenia's withdrawal have not been enforced to this day.
Peace talks, mediated by Russia, France and the U.S. through the OSCE Minsk Group, are underway on the basis of the peace outline proposed by the Minsk Group's co-chairs and dubbed the Madrid Principles.
The negotiations have been largely fruitless so far.