Large number of twins born in Azerbaijan this year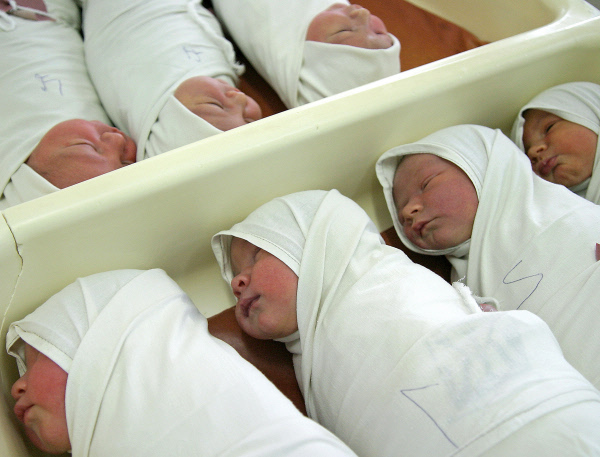 By Nigar Orujova
A large number of twins were born in Azerbaijan over the nine months of 2013.
According to the State Statistics Committee, 1,456 twins and 30 triplets were born in January-September.
In total, about 125,000 newborns, or 458 kids a day, were registered in Azerbaijan. Thus, the birth rate in the country was 17.9 per thousand of the population in this period.
More than half of the babies, 53.6 percent, are boys.
In comparison with the same period of last year, the number of newborns decreased this year. Thus, in the first nine months of 2012, 131,200 babies with an average of about 479 kids a day were born in the country.
Overall, the highest birth rate in the last 17 ​​years was recorded in Azerbaijan in 2012, when 175,400 children were born.
This year, the number of registered marriages increased in January-September to reach 62,000. The divorce rate was 8,700, according to the statistics committee.
The number of marriages increased and made up 8.9 per thousand people. This indicator is higher than that in the same period of last year. The number of divorces in the country remained unchanged and made up 1.2 per thousand.
The population of Azerbaijan reached 9,442,500, with an increase of 86,000 since the beginning of the year. 49.7 percent of the people are men.
Some 53.1 percent of the people live in urban areas and 46.9 percent reside in the regions of the country.
The average age of the population is 32.6 years and the average life expectancy is 73.9 years. Male life expectancy in the country is 71.3 years, while for women the figure is 76.6 years.
Some 40,900 deaths were registered in this period; the mortality rate in Azerbaijan is the same as in 2012 at 5.9 per thousand people.
The Azerbaijani population has been growing annually by an average of 1.2 percent since 2005.