Azerbaijani official makes speech on Karabakh conflict in Cairo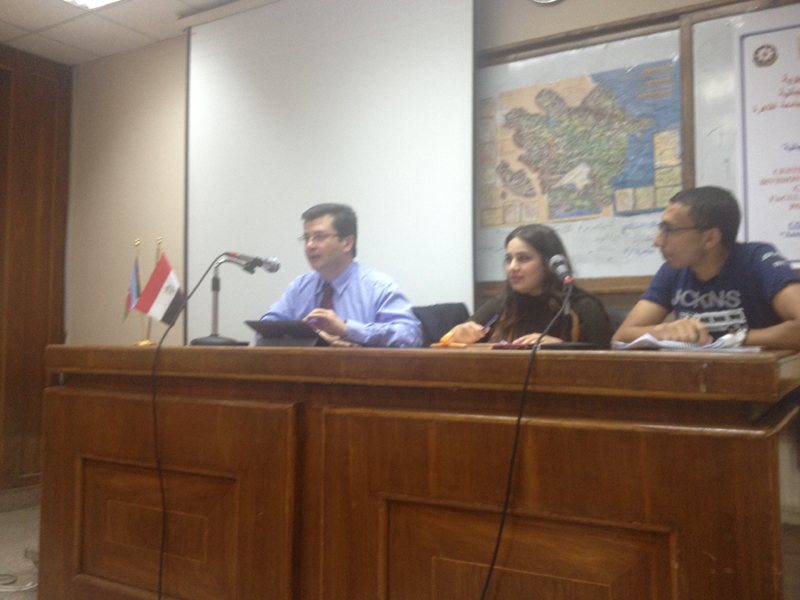 By Sara Rajabova
Azerbaijan's historic development, its traditions of statehood and the current regional role was a key topic of the speech of Azerbaijani Foreign Ministry spokesman Elman Abdullayev at the Cairo University on May 15.
The ministry reported that Abdullayev addressed the participants of Azerbaijani Studies Program at Cairo University's Department of Economic and Political Sciences on the theme of Azerbaijan's foreign policy and the conflict between Armenia and Azerbaijan over the Nagorno-Karabakh region.
Speaking about the history of the Nagorno-Karabakh conflict, he said that as a result of the Czarist Russian expansion to the East which resulted in the occupation of the South Caucasus region, Armenians have been resettled at historical Azerbaijani lands through artificial policies.
The current conflict between Armenia and Azerbaijan takes its root from these policies and went on to further elaborate on Armenian territorial claims against Azerbaijan during the twentieth century, he said.
Abdullayev also spoke about the Armenian aggression and terror, ethnic cleansing committed by Armenia and the Khojaly Genocide.
He informed about Azerbaijan's stance on the solution of the conflict, as well as its contributions to the prosperity and progress in the region and beyond.
Armenia occupied over 20 percent of Azerbaijan's internationally recognized territory, including Nagorno-Karabakh and seven adjacent regions, after laying territorial claims against its South Caucasus neighbor that caused a lengthy war in the early 1990s. Long-standing efforts by US, Russian and French mediators have been largely fruitless so far.
The UN Security Council has adopted four resolutions on Armenia's withdrawal from the Azerbaijani territory, but they have not been enforced to this day.
Speaking about Azerbaijan's regional role, Abdullayev informed the participants about Baku's special role in establishing and developing successful trilateral energy and transport cooperation among Azerbaijan, Georgia and Turkey.
He said that Armenia's aggressive policies led to its isolation from the regional development, and social, demographic and economic hardship that Armenia faces is taking the country towards total collapse.
Abdullayev also highlighted Azerbaijan's role as a non-permanent member of the UN Security Council, particularly its contributions to finding solutions to global challenges.
Earlier Abdullayev met with Head of Public Diplomacy and Media Department at Egyptian Foreign Ministry, Baher Helmy.
The meeting mulled the conflict between Armenia and Azerbaijan and its consequences.
Abdullayev emphasized the political significance of the resolutions adopted regarding the conflict at Sharm Al Sheikh Ministerial Meeting of the Non-Aligned Movement and Cairo Summit of the Organization of Islamic Cooperation.
He said that Azerbaijan highly values Egypt's position on this matter.
Abdullayev went on to say that the two countries share historic friendly ties, and can also cooperate on common objectives of the public diplomacy.
In that regard, he touched on the issue of Palestine and said that Azerbaijan will be hosting donor conference for Palestine in Baku in June.