Azerbaijani Parliamentary Speaker, Turkiye's First Lady mull relations in New York [PHOTOS]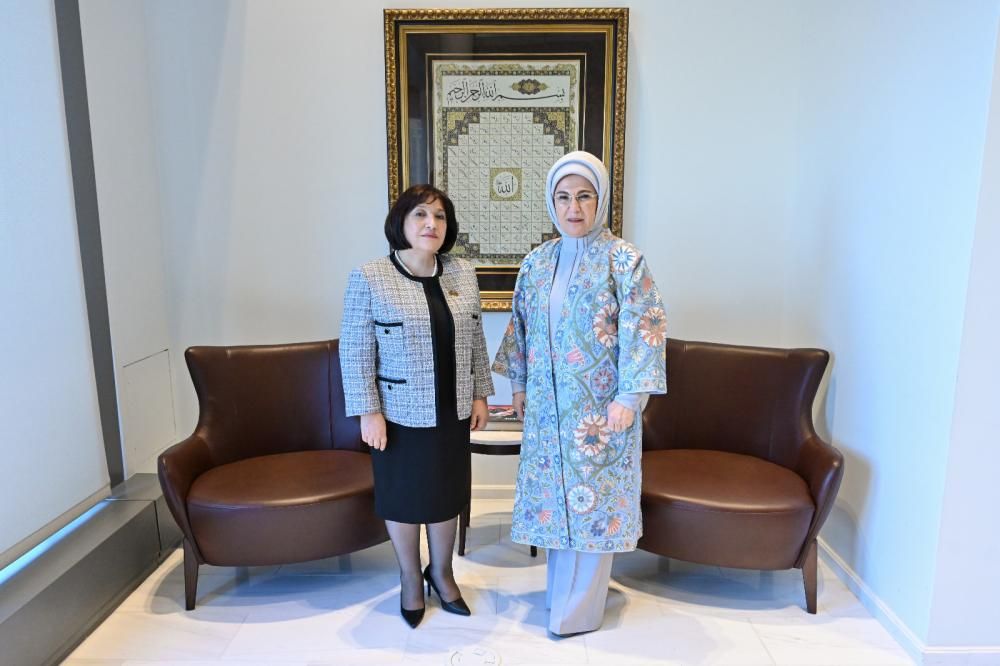 Azerbaijani Parliament Speaker Sahiba Gafarova met with Turkiye's First Lady Emina Erdogan during her visit to the USA, Azernews reports, citing the press release of the Milli Majlis.
Sahiba Gafarova expressed her pleasure with the meeting as well as taking part in the high-level UN gathering convened upon Emine Erdogan's initiative.
Sahiba Gafarova noted that environmental protection has evolved into one of the biggest global challenges of our time and the initiative is essential for world protection and passing our world down to coming generations in the better state that it is in right now.
The Speaker also mentioned the signing of the Declaration on Global Commitment to Zero Waste for the World, Our Common Home by Azerbaijan's First Lady Mehriban Aliyeva at her meeting with Emine Erdogan on the margins of the IX summit meeting of the Organisation of Turkic States in Samarkand.
Once again, Sahiba Gafarova expressed her deepest condolences to the families and relatives of people who died in the devastating earthquake on February 6 and wished those wounded in the cataclysm speedy recovery. Noting that Azerbaijan and Turkiye are always together, both in joy and in misery, she spoke about the aid campaign provided by the Heydar Aliyev Foundation.
She pointed out the visit of Azerbaijani President Ilham Aliyev to Turkiye to show support for it and the urgent summit meeting of the Organisation of Turkic States in Ankara on 16 March on Ilham Aliyev's initiative.
Sahiba Gafarova also brought up the legislatures' role in boosting the relations between the two countries, the fruitful and advancing cooperation between the Azerbaijani Milli Majlis and the Turkish Grand National Assembly, the corresponding significance of reciprocal visits of parliament speakers and delegations, last but not least, our parliamentarians' mutual backing in influential international organizations.
First Lady of Turkiye Emine Erdogan stressed the promotion of brotherhood and friendship between the two countries before praising and thanking Azerbaijan and her people for the support provided to Turkiye over the earthquake.
The high level at which Azerbaijan was represented at the UN meeting about the Zero Waste Initiative had also been both encouraging and valuable, said Emine Erdogan before moving on to the significance of the initiative for environmental protection and solution of global ecological problems.
Emine Erdogan commented on the importance of bilateral and international meetings between Turkish and Azerbaijani officials in terms of further strengthening of ties. She wished the Azerbaijani state and people peace, tranquillity, and prosperity.
---
Follow us on Twitter @AzerNewsAz