2 October 2021 12:10 (UTC+04:00)
1 224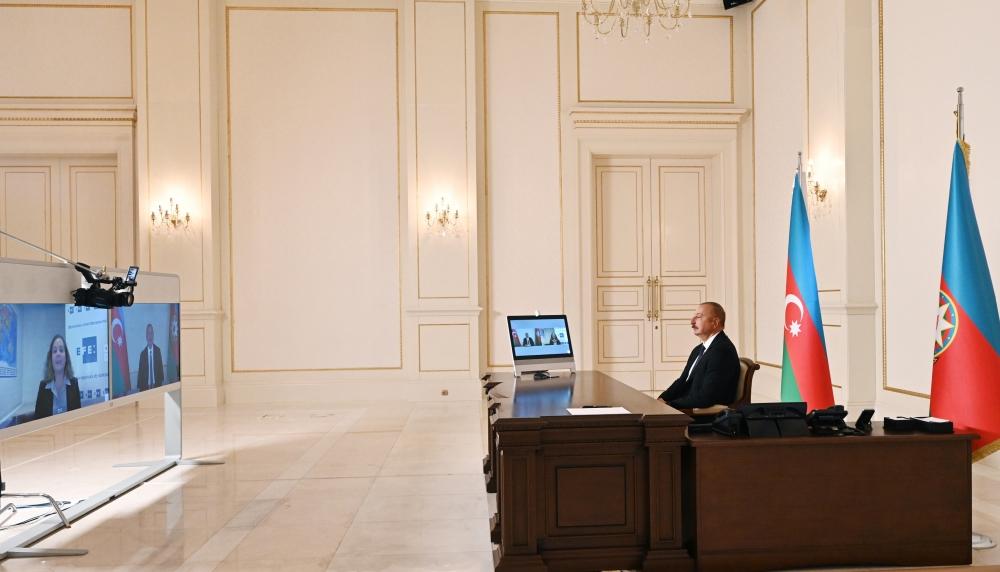 By Vafa Ismayilova
President Ilham Aliyev has described as very constructive and promising a recent meeting between the Azerbaijani and Armenian foreign ministers in New York, Azertag reported on October 2.
He made the remarks in an interview with the Spanish EFE news agency.
"Recently on the sidelines of the UN General Assembly session foreign ministers of Armenia and Azerbaijan met. That was for the first time since the war ended. I think that the meeting as far as I was informed by our minister was very constructive and promising. Our position remains unchanged since the war ended, we want to establish normal relations with Armenia based on mutual recognition of the territorial integrity of both countries," Aliyev said.
He added that there is a format of cooperation on the level of Azerbaijani, Armenian and Russian deputy prime ministers, which is dedicated to the issues related to the opening of communications.
Aliyev stressed that Azerbaijan is ready "to start immediately the process of delimitation of our borders. And, of course, after that process is ended-demarcation".
Peace agreement
He noted that Azerbaijan also expressed a willingness to start working together with Armenia on the future peace agreement.
"All these initiatives have been articulated on many times by me and by other Azerbaijani officials, but unfortunately, have not been yet positively responded by the Armenian side. So our position is unchanged and there are certain steps, but I think during this year we could have made much bigger progress," Aliyev added.
Aliyev said that he is ready to meet Armenian Prime Minister Nikol Pashinyan.
"I am ready, and I already expressed this position if the Armenian side is ready, I am also ready. We had one meeting that was in trilateral format at the invitation of the President of Russia Vladimir Putin, at the beginning of this year. I am ready to talk to Mr. Pashinyan any time when he is ready. So, I am open to these discussions and I think that could be also a good indicator that the war is over and that page has been turned down. This is very important," he stressed.
Commenting on revanchist statements by Armenia's political establishment and future plans to regain back territories which belong to Azerbaijan by history and international law, the president said: "Therefore, the willingness of the Armenian government, the serious willingness, not only words but statements and actions will demonstrate that the war is over, and we are moving towards the period of peace".
Turkey, Russia behind regional stability
The head of state highly evaluated Turkey's and Russia's role in ensuring stability in the region.
"Turkey supported us from the very beginning. We are very grateful to the Turkish government for the political and moral support they expressed from the first days of war and now after the war is over. Turkey is playing a very important role in future regional development and regional stability in the region, as well as Russia," he said.
The president stressed that "today I think about Turkey and Russia as two neighbors of Azerbaijan, and one of them is a neighbor of Armenia, plays a very important role in the stability, security and future development".
Commenting on the latest meeting between his Turkish and Russian counterparts, Aliyev recalled that among other issues they discussed the situation between Armenia and Azerbaijan.
"We consider the role of both countries as a very positive stabilizing role and I think this is the bulk of the new regional cooperation configuration," he said.
Aliyev underlined the presence of a joint Russian-Turkish monitoring center in Karabakh's Aghdam region.
"Russian peacekeepers are providing peacekeeping operations in the area which is inhabited by the Armenian population. So, new realities already are in place, every country has to take into account these realities. The balance of powers between Azerbaijan and Armenia have been changed many years ago. We knew our potential, we knew Armenian potential," he said.
No status for Karabakh
Aliyev ruled out any status for Karabakh in the future.
"Today after the war ended, and the conflict has been resolved, and this is not only my position, this is the position of the majority of the world international community, there is no room to talk about any status for the so-called entity which does not exist. Because Nagorno-Karabakh does not exist. We do not have this administrative unit on our territory. On 7 July this year, I issued a decree about the new configuration of economic zones of Azerbaijan and we have created two economic zones: Karabakh and Eastern Zangazur economic zones which cover all the area," the president said.
He noted that about 25,000 ethnic Armenians, who live in Karabakh today, are Azerbaijani citizens.
"About 25,000 ethnic Armenians who live today in Karabakh area, in the area which is now in the responsibility of Russian peacekeepers, are our citizens. They will enjoy the same rights and privileges and responsibilities as any other citizen of Azerbaijan of different religious and ethnic origins. So, to put it shortly, no way to go back to the status, no status, and everybody should forget this issue," he added.
"Prisoners of war"
The president dismissed the presence of any Armenian POWs in Azerbaijan. He underlined that under international conventions those who had been detained or captured during the war had been handed over back to Armenian immediately after the war ended.
Aliyev stressed that those, who are currently in detention or already sentenced, "whom Armenia and some others claim as prisoners of war, do not belong to this category" as they had been sent to liberated territories in late November, that is more than two weeks after the war ended.
"They have been detained on the territory which we liberated at the beginning of December. Sixty-two persons and some of them committed crimes, they attacked our military servicemen and killed four of them. So, they are not prisoners of war. They are terrorists, they are members of a sabotage group who've been sent in order to attack Azerbaijani civilians and military servicemen," the president said.
Aliyev noted that Azerbaijan returned some of the detainees as a sign of goodwill.
Mines
The president noted that Azerbaijan will respond adequately if Armenia submits accurate mine maps to Azerbaijan.
"So what we are demanding is that Armenia gives us the accurate maps, the map which can be easily identified not the area where they are planted, they are planted everywhere, but a particular place. They have this particular information which they refuse to give us. If they do it, if they show the goodwill, of course, we will respond adequately," he said.
Aliyev noted that the accuracy of mine maps supplied by Armenia is 25 percent.
"During the time since the war ended, during this almost one year, we had close to 150 casualties of civilians and military servicemen who either were killed or seriously injured due to the fact that Armenians do not give us the maps. Some maps have been given relatively recently but the accuracy of those maps is only 25 percent," he said.
Active regional cooperation
The head of state noted that Azerbaijan supported the Turkish president's proposal of a regional cooperation platform - 3+3.
"Armenia did not respond yet. You see, again the unconstructive position of Armenia. But we fully support that and that will be very important for not only post-war settlement but in general for regional development in our area," Aliyev said.
He stressed that Azerbaijan can create this format of cooperation between six regional countries.
"That will be the main guarantee against any kind of new hostility, that will be an important factor for regional cooperation and it will generate a lot of benefits. Only due to the opening of the communications which Azerbaijan strongly advocates for, we can immediately increase the trade turnover between the countries of the region, we can create maybe 10,000 new jobs, only by the opening of communications," he said.
Aliyev noted that if the mutual trade is enhanced and the region will transform from a region of tensions to a region of stability and peace.
European gas exports
Asked if Azerbaijan is going to increase gas exports to Europe, the head of state said that the country needs to start negotiations is there is additional demand from consumers.
"If there is additional demand from European consumers we need to start negotiations because first you have to sell the gas and then you have to extract it. In the gas business, it's a common consequence of actions. And the deposits of the proven reserve of natural gas in Azerbaijan are 2.6 trillion cubic meters. So, it will be enough for at least 100 years for our consumption and for exports," he said.
Aliyev noted that Azerbaijan is in the phase of new discoveries.
"The interest of Azerbaijani oil and gas sector among the big energy companies is growing. So, we can increase the output and increase the production, but for that, we need to start the negotiations now and sign new contracts and then we will invest to produce more," the president said.
--
Follow us on Twitter @AzerNewsAz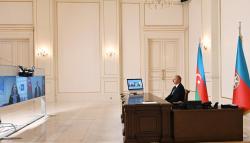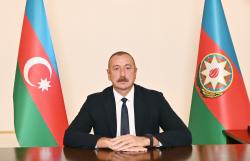 Related News