Conference on State Program on regions' socio-economic development in 2019-2023 underway [UPDATE]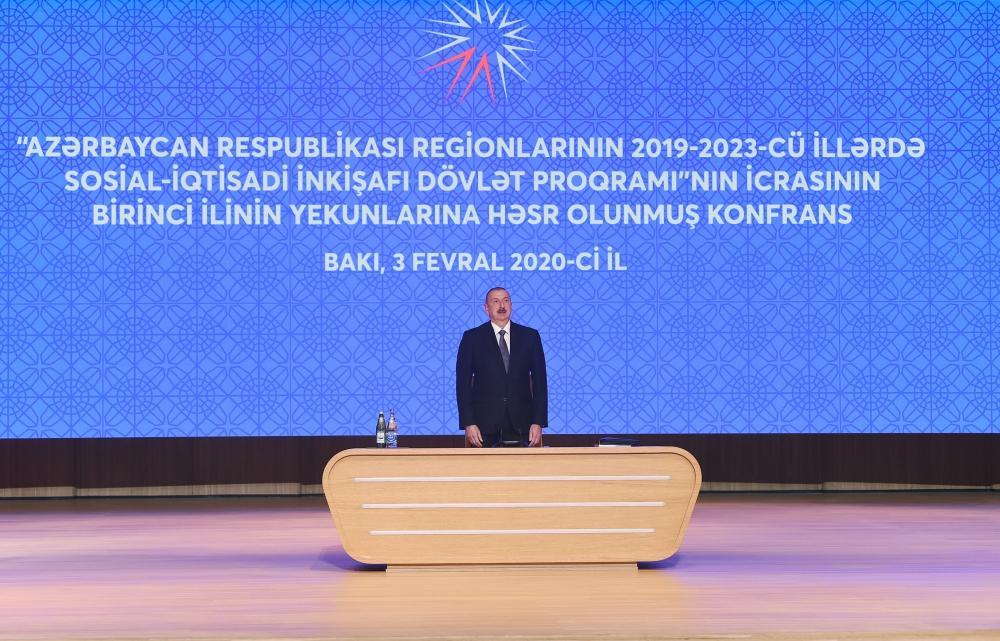 A conference dedicated to the results of first year implementation of "The State Program on socio-economic development of the regions of the Republic of Azerbaijan in 2019-2023" has been held.
President of Azerbaijan Ilham Aliyev attended the conference.
The head of state made an opening speech at the conference.
Opening speech of President of the Republic of Azerbaijan Ilham Aliyev
- Today we will discuss the results of the first year of the implementation of the fourth state program on the socioe-conomic development of the regions of Azerbaijan. We will also talk about the work to be done this year. The program was adopted a year ago. The fourth program is a logical continuation of previously adopted programs. A lot was done within the framework of the first three programs but much still remains to be done. I believe that the key infrastructure goals facing the country will be met within the framework of the fourth program and thus better opportunities for the further development of our country will emerge.
Last year, all necessary steps were taken to implement the program. I can say that the program has been exceeded. All the issues provided for in it have been resolved. However, there are certain delays in some issues. Therefore, special attention must be paid to these issues. I believe that all the measures to be implemented under the program this year will be implemented.
In general, our country developed successfully last year. Azerbaijan followed the path of development and stability. But the developments unfolding in the world are of concern to us, of course. There are new hotbeds of conflict and new zones of tension in the world. Existing problems are not being addressed. On the contrary, they are topped with new ones. We can say that there are certain tensions everywhere in the world – in Europe, Africa, Asia, Latin America, in our region, in post-Soviet republics. In some cases, it takes on more severe forms. However, Azerbaijan has been on the path of stability for many years. The stability prevailing in our country is underpinned by the will of the Azerbaijani people. Our policy is supported by the people. It is a policy that is measured by concrete deeds. Our policy is based on specific deeds, on real development, not words but actions, and each given word is reflected in life. Therefore, the confidence shown to us by the people is at a high level, and this is the main condition for stability and calm.
I believe that good results were achieved in the economic sphere last year. Today, Azerbaijan is on the path of economic development and serious reforms that are highly valued in society. These reforms are improving the standard of living for our people, accelerate economic development of our country and play a very important part in resolving the unpleasant problems of the country. Fundamental economic and political reforms are usually fraught with major problems. In other words, sometimes or rather in many cases, these reforms negatively affect people's way of life. In Azerbaijan, reforms are carried out in a consistent manner. It is a sound policy. We have simply entered a new phase of reform. Therefore, the reforms carried out both in the economic and political spheres serve the interests of our people and state. At the same time, very serious structural and personnel reforms have been carried out.
All this shows again that the main goal of our economy is to strengthen the state, ensure a better life for our people and create stability. We are achieving all these goals. This is once again confirmed by last year's economic and social achievements. Our economy grew by 2.2 percent. I think this is a good result. Oil prices are stable, but oil production in Azerbaijan has somewhat dropped. I believe that the 2.2-percent increase in the gross domestic product is a good result, especially when we consider that growth in the non-oil sector is 3.5 percent. Industrial production has increased by 1.5 percent. The reason for this is precisely oil production. However, the non-oil sector, which is our top priority, has grown by more than 14 percent. A special role, of course, was played by the launch of giant industrial enterprises commissioned last year, as well as the development of small and medium enterprises and the improving business environment. The improvement of the business environment is also acknowledged by the World Bank. According to the Doing Business report, Azerbaijan was ranked among top 20 most reforming countries last year. Of course, all businesses are seeing and feeling this. Tax and customs administration and state support for businesses make themselves felt in the non-oil industry too, of course.
Thus, our non-oil industry, which has grown by more than 14 percent, means creation of jobs. I should note that 98,000 jobs were created last year. I have repeatedly said this before and I want to say it again: this process should become permanent because the population of Azerbaijan is growing fast, so the economy, economic development, including job creation, should always be ahead of demographic development. Therefore, we must always pay special attention to this issue. However, it is true that the creation of every job requires major funds both from the state and the private sector. Because job creation doesn't happen out of nowhere, it requires infrastructure, conditions and opportunities. Of course, the private sector as the main sector creating jobs speaks its word, as it should.
So such are our key economic indicators. If we add to this the investments made in our country, the picture will be even more beautiful. Last year, $13.5 billion was invested in our country. Azerbaijan is a very attractive place for both foreign and local investors. A part of these investments was made by the state. And this is natural because public investment still plays an important role in economic growth, especially if we consider that a lot remains to be done in connection with infrastructure projects. Therefore, state, local and foreign companies have invested $13.5 billion in our country. I think this is a very good result.
The macroeconomic situation is quite stable. Inflation was only at 2.5 percent, while population incomes grew by 7.4 percent. So population incomes, as always, exceed the inflation. Our foreign exchange reserves increased by $6.4 billion. I can say that this is a record figure in recent years. Although our budget has reached a record high, we have increased our foreign exchange reserves again. It should always be the case. Even in the most difficult crisis years for us, when the price of oil on world markets fell fourfold, we managed to increase our foreign exchange reserves. However, last year's growth of $6.4 billion is a reflection of our sound policies, of course. We are saving our money. We invest public funds only in projects of strategic importance. At the same time, we are receiving major funds from the management of our foreign exchange reserves. Many factors manifest themselves here because Azerbaijan enjoys great respect on a global scale, both politically and in the economic sphere, in terms of business development. My recent 14th participation in the Davos World Economic Forum, the negotiations held within the framework of the forum and the events I attended once again show that Azerbaijan is treated with great interest and sympathy. More than 20 meetings were held. I can say that all the meetings took place on the initiative of the opposite side. So I am saying this because there is indeed a lot of interest in the development of our country. The number of companies interested in working in Azerbaijan is growing. As you know, the companies participating in the Davos Forum are the biggest companies on a global scale. In other words, many criteria need to be met to enter the forum, and one of them is capitalization, of course.
Thus, the investment of major funds and the growth of our foreign exchange reserves once again indicate that we are on the right track and will continue to follow this course. Taking into account January, our foreign exchange reserves have already reached $52 billion. Over the past month alone, they have increased by $1 billion. This is our strategic reserve, which ensures our economic and, to a large extent, political independence. Today, Azerbaijan is one of a handful of countries in the world pursuing an absolutely independent policy. In order to pursue an independent policy, many factors are necessary – territory, potential, gross domestic product, military power, etc. We know what countries of the world are powerhouses. Of course, in terms of its size and geographical territory, Azerbaijan cannot compete with large countries and doesn't have such intentions. But, despite this, we have enough opportunities to pursue an independent policy. The main one is the support of the people, the support and trust our policy enjoys. Of course, economic indicators, our activities in the political arena enhance our strength and Azerbaijan becomes and will become stronger every year.
Our exports have also increased, in particular, in the non-oil sector. Our foreign trade has increased. In a word, all issues related to the economy have been resolved.
At the same time, major initiatives were put forward in the social sphere last year. More precisely, these programs were prepared in the second half of 2018 and began to be executed at the beginning of 2019. Large funds were provided for martyr families. In general, the social and material situation of 4.2 million people was improved because the huge social package reached out to 4.2 million people. The minimum wage has doubled and the minimum pension has grown by more than 70 percent. Currently, Azerbaijan ranks first in the CIS in terms of the purchasing power of the minimum pension. Some benefits were increased by 50 percent, some were doubled, scholarships were raised, one-off financial assistance was provided to the families of martyrs. In addition, monthly benefits for families of martyrs and internally displaced persons were increased. So all these are issues requiring major funds and cost several billion manats. But we are doing that. First of all, because our policy is centered on the citizens of Azerbaijan. And secondly, we have opportunities to do this. If there was a desire but no opportunities, how could we have done this? By mobilizing our economic strength, we have secured today's reality, and this is why we can do it. I can say that there is no other country in our immediate surroundings that would take up such a social initiative. If there is, do let me know. There isn't! We are doing this and believe that it is right. The people of Azerbaijan should live better every year. Our growing economic power should first of all be aimed at improving the well-being of the people, and we are doing this. Therefore, the work done in the social sphere once again reflects our policy, demonstrates our strength, and this sphere will continue to be in the spotlight.
At the same time, important steps were taken last year to create social infrastructure – 84 schools and 60 medical facilities were built and renovated. This process is also ongoing. We have completed the repairs of most of the schools. But there are still schools in disrepair, and specific steps will be taken to repair them in the coming years.
We are seriously dealing with the implementation of infrastructure projects, in particular in the field of electricity. Serious progress has been made in this area as well. I can say that last year we managed to obtain an additional 800 megawatts of electricity. Of these, 400 megawatts are due to the new "Shimal-2" station and the other 400 megawatts are the result of the restoration of lost capacity. These capacities were once lost due to improper operation of the stations. But this work is now under way and a significant part of the 400 megawatts was obtained due to repairs and restoration at the Mingachevir thermal power plant. Of course, the lost power was also restored at other stations, which is how we received 400 megawatts. This process continues. This year, generating capacity will be restored approximately at the same level. Today we have become an electricity exporting country.
The process of gasification has been continued. Gas supply is available practically throughout the country. The level of gasification has reached 96 percent. This is one of the highest indicators on a global scale. A total of 1,300 kilometers of roads have been built with a plan of 1,000 kilometers. However, on the basis of the appeals I received during my visits to the districts over the year, as well as the letters people sent afterwards, we managed to build an additional 300 kilometers. In terms of the quality of roads, Azerbaijan today ranks 27th in the world, ahead of many developed countries. I am sure that we will go even further as a result of the forthcoming work.
Land reclamation measures also have an important place among infrastructure projects. Water is supplied to approximately 80,000 hectares. More than 300 sub-artesian wells have been drilled. This process will be continued this year.
These infrastructure projects were implemented through the state investment program. This once again shows that favorable grounds are being created for the sustainable development of our country. All this work, as well as the reforms carried out, have certainly given a powerful impetus to the development of agriculture. Agricultural production has reached a record high compared to recent years. That is, growth rate exceeds 7 percent, in particular, growth in crop production amounted to more than 10 percent. The exports of our agricultural produce are growing. Domestic needs are met by local products because all these issues are closely interrelated.
Major projects were also implemented in the transport sector last year. Among them, I want to specifically note the construction of a suburban railway line in Baku. We have restored the railway transport, which was once called the "electric train", at the most advanced level. We have delivered trains produced by the leading company. Railway stations have been built in suburban settlements, and this process will be continued. The main stage of construction of the suburban railway will be completed this year, i.e. the ring will close. Following this, there are plans to build railway to settlements where it is not available yet. At the same time, reconstruction work is under way on the railways connecting us with our neighbors in order to increase their speed. We have largely achieved this, in particular, in the western direction. Preparations are under way for work to be carried out in the northern and southern directions, and this process will go even faster this year.
Of course, noting the successes of the past year, we must definitely mention the TANAP project reaching the border with Europe. This is a historic event, a historic project. TANAP, which is the main part of the Southern Gas Corridor, has been practically commissioned in full. At a ceremony held on the Turkish-Greek border in November last year, we celebrated a complete commissioning of this project. Prior to that, we had celebrated TANAP reaching Turkey. This is a truly historic project. It determines the successful development and completion of the fourth segment of the Southern Gas Corridor – the TAP project. I am sure that this gigantic infrastructure project, the Southern Gas Corridor with a length of 3,500 kilometers and connecting several countries, will be fully commissioned this year. This will be our next historic victory.
Many other events happened last year. It is impossible to mention them all now. I believe that the questions and figures I have mentioned provide enough information about the processes taking place in our country, and these are our successes. We must talk about these successes, promote them, but at the same time we cannot be content with them. We must always step up our efforts around unresolved issues, and we are doing that. Therefore, the main goal of this traditional conference is to sum up the work done and give impetus to the work to be completed during the year. We have been following this path since 2004. The first program adopted in 2004 was a historic event. At that time, this program was an integral part of my election program. When I was first elected as president, I told citizens that if I was given confidence, I would seriously engage in regional development as well. Because I knew that the situation in the regions of Azerbaijan wasn't very good. There were, of course, natural reasons for that - the infrastructure was out of date, it was practically out of service, many enterprises had been shut down, agriculture was stagnant. Therefore, I believed that the regional development program would be a program that would give the main impulse. In addition, most of the population of Azerbaijan lives in the regions, districts, villages. It was necessary to improve their lives. Therefore, I want to say again: the adoption of this program was a historic event. Ever since that time, we have been annually discussing the implementation of this program. As I said, three programs have been adopted and implemented, and the fourth program is being implemented now.
I can say that from 2003 to the present, the economy of Azerbaijan has grown 3.4 times as a whole. This is a record high in the world. One can study the statistics, but I don't believe that there are similar growth rates elsewhere. Over these 16 years, industrial production has grown 2.7 times, agriculture has doubled, foreign trade turnover has increased 6.4 times, exports 7.6 times, including non-oil exports 5.2 times. Our foreign exchange reserves have grown 27 times. In 2003, foreign exchange reserves amounted to $1.8 billion, last year to $51 billion and now constitute $52 billion. This in itself is a high indicator. Poverty has declined from about 50 to 4.8 percent. This indicates that oil revenues were distributed reasonably and fairly. Using these revenues, we have resolved a significant part of the key infrastructure problems of our country, while also improving the well-being of our citizens. Over the past 16 years, the average wage has grown 11 times and the average pension eight times. More than 300,000 internally displaced people and 6,700 martyr families have received houses and apartments. In other words, these major social programs require a lot of money. Just imagine – we have built houses and apartments for 300,000 people. Over the years, we have built a city equal to Sumgayit or Ganja. This required political will, sound policies and opportunities.
As for infrastructure projects, 33 power plants with a generating capacity of 3,000 megawatts have been built over the years. If these stations hadn't been built, half of our country would be in darkness now. We would still be importing electricity and spending a lot of money on it. However, having built these stations and received 3,000 megawatts of generating capacity, we now export electricity. Last year, our country earned about $60-65 million from these exports.
In 2003, the level of gasification in Azerbaijan was 51 percent, while in the regions there was no gas at all. Currently, this figure has reached 96 percent. There is not a single district where there is no gas. There is no district where gas supply is below 70 percent. In the districts, it is at 100 and 95 percent. We have built 16,700 kilometers of roads. We have modern highways connecting us with all neighboring countries. Roads in hundreds and perhaps even in more than a thousand villages have been landscaped.
Land reclamation measures. Two large water reservoirs have been built – Takhtakorpu and Shamkirchay. If we didn't have them, there would be a shortage of water today in these districts. If the Takhtakorpu reservoir had not been built, it would hardly have been possible to provide the city of Baku with water last year because last year's drought may have never happened before. By ensuring the supply of water collected specifically from Takhtakorpu to Jeyranbatan, we achieved uninterrupted water supply to Baku. No-one in Baku even felt that there was such a severe drought.
We are doing all this for people to live better. Every major project is underpinned by a thought-out policy. To improve water supply in the villages, more than 1,500 artesian wells have been drilled over the years, and this process continues. Modular-type water treatment plants have been built in hundreds of villages. Therefore, infrastructure projects occupy a special place in the implementation of our program. By carrying out these projects in parallel with social initiatives, we have achieved today's realities.
Over the years, Azerbaijan has become a space-faring nation. We have three satellites. Sixteen years ago, we couldn't even dream about it perhaps. But today it is a reality. We have not only three satellites. In two years, Baku will host a top global event – the International Congress of Astronautics, almost 50 years on, because the only congress in the Soviet Union was held in Baku in 1973. And now, 49 years later, this event will be held in Baku again, this time Baku as the capital of an independent state of Azerbaijan.
To the transport sector. Seven airports have been built, six of them are international. According to the Davos report, Azerbaijan ranks 11th in terms of air services. Heydar Aliyev International Airport is already known as a five-star. There are about 10 such airports in the world. One of them is Heydar Aliyev Airport.
The Baku-Tbilisi-Kars railway has been built. This is our historic victory. Not only because Armenia remains in an eternal impasse, although this is important, but because this road brings a lot of income today and, at the same time, expands our international cooperation. Currently, this railway transports goods from locations that were not provided for at the beginning of its construction. So the railway has become a very important infrastructure project for international cooperation, and Azerbaijan is the leading country here. We have played a special role in creating the East-West and North-South transport corridors. We are a country involved in both projects. The Alat international seaport is the largest port in the Caspian. A shipbuilding plant can produce tankers, cargo and any other vessels for us. Today, our money stays in Azerbaijan and does not go abroad. Currently, we produce tankers and cargo ships ourselves. I have mentioned only the main highlights of the work done over 16 years.
In the field of energy, in the oil and gas industry, the Baku-Tbilisi-Ceyhan oil pipeline was commissioned in 2006 and the Baku-Tbilisi-Erzurum gas pipeline in 2007. If they hadn't been built, who would have ever invested in the oil industry of Azerbaijan, especially in offshore oil production? No-one! Investments would be nil. What would we be doing? We would be buying oil abroad. We built these pipelines in a difficult geopolitical environment, with minimum risks. Then the Baku-Tbilisi-Kars railway was built. Because if those pipelines had not been built and that corridor had not been opened, there would never have been a railway corridor. And we would not have had money to build this railway. We could not have provided Georgia with a loan of about $800 million. Then the Southern Gas Corridor. It is also one of the largest infrastructure projects in Europe worth about $40 billion. It connects several countries. It is a giant project with a length of 3,500 kilometers and consisting of four segments. Political skill, diplomatic steps, our economic power, our relations with international banks and fruitful cooperation with countries along this path have all played a role here. There were so many difficulties in the implementation of this project. We would need to have a separate event just to talk about this. But we brought it to the end. And Azerbaijan initiated it. For several years now, meetings of the Advisory Council of the Southern Gas Corridor have been traditionally held in Azerbaijan. The next meeting of the Council will be held at the end of this month.
So everyone agrees that we, Azerbaijan, are the leading force, the initiator, the organizer of these projects, the country that has taken up the main financial burden, and we have done this. Each of these projects has historic significance. All these projects and the work done in general represent a great contribution to the Azerbaijani people. As I said at the beginning of my remarks, it is our policy and the steps taken that determine successful development and stability and form a positive mood in society. We did everything we promised. There is not a single unfulfilled promise. No-one can find anything of the kind. In 2003 and the following years, I did everything I promised. Therefore, people have great confidence in both our words and our deeds. I have always said that our words must be underpinned by our deeds, and it is the case today.
Of course, it is impossible and unnecessary to talk about all the work done over the past 16 years. I believe that I have highlighted the main points for you and the Azerbaijani public to know. And now let's move on to discussions.
Other speakers at the event included Minister of Economy Mikayil Jabbarov, head of Gabala District Executive Authority Sabuhi Abdullayev, director of "Mingachevir Tekstil" LLC in Mingachevir Industrial Park Mehman Huseynov, head of Ganja District Executive Authority Niyazi Bayramov, director of Nakhchivan Salt Prodiuction LLC Anar Asadullayev, head of Guba District Executive Authority Ziyaddin Aliyev, director of the Brightman Business Managment Consultants enterprise for the production of canned fruits and vegetables Afat Ahmadova, head of Astara District Executive Authority Gazanfar Aghayev, Executive Director of Aghstafa Agro Industrial Complex Anar Orujov and head of Kurdamir District Executive Authority Jeyhun Jafarov.
President Ilham Aliyev then made a closing speech at the conference.
Closing speech of President of the Republic of Azerbaijan Ilham Aliyev
- In the second part of the conference, four panels will be organized to discuss the issues that cover all areas, including economic, agricultural, infrastructure, banking, loans and others. Both local executive authorities and entrepreneurs together with representatives of the central executive bodies will discuss these issues and existing problems. Of course, discussion will also revolve around the work to be done this year. It is necessary to make sure so that all the issues provided for in the program are resolved. Certain issues arose in 2020, quite recently, and resources are required to resolve them. The State Investment Program has been approved. It is quite extensive. At the same time, there are some reserves because issues emerge during the year that also need to be resolved.
And now I would like to dwell on the key upcoming issues and projects, so that the program and the development of our country as a whole are ensured this year as well. First of all, I would like to start with infrastructure projects, despite the fact that great success has been achieved in this area and most of the issues have been resolved. However, life does not stop. The needs, population and the industrial potential of our country are growing, new enterprises are being commissioned. Therefore, the implementation of infrastructure projects should continue to be ensured.
In my opening remarks, I provided some data regarding the production of electricity. I want to add that an important event took place in January this year. Two major foreign investors signed a protocol of intent with Azerbaijan on the production of renewable energy. This is actually called an executive agreement, and more detailed work will be carried out on these contracts over the course of the year, for several months. I am sure that relevant contracts will be signed by the end of this year. This issue is very important because it is renewable energy that will be produced exclusively with foreign investment. Of course, as I noted in my opening remarks, if our credit rating were not high and if Azerbaijan were not among top 20 most reforming countries in terms of the business environment, foreign investors would not invest here.
When meeting with the executives of these major companies, I was also convinced that the key reason behind this decision was, first of all, the stability and calm prevailing in our country and investors' faith in the long-term development of Azerbaijan. These are very large projects. Two power plants will be built – wind and solar. Their total generating capacity is at 440 megawatts – very large stations. About $400 million of foreign investments are envisaged. Therefore, I am sure that other investors will also show interest after this. I can say that we received proposals from nine leading companies in the world for the implementation of this project. Work is already under way on an individual basis and with companies that, if I may say so, have remained on the sidelines. New proposals are being prepared for them. I am sure that the share of renewable energy in our total generating capacity will and should gradually increase.
In parallel, "AzerEnergy" will begin the construction of a large new power station with a generating capacity of about 350-400 megawatts. There is a need for this because, as I have already noted, our export opportunities are expanding and domestic needs will gradually grow. So domestic consumption must be always taken into account. We now have about 1,000 megawatts of generating capacity that is not used in the country. A significant part of that is exported.
"AzerEnergy" should also begin the construction of a new wind farm. A station with a capacity of 50 megawatts was commissioned recently. The generating capacity of the second station is 84 megawatts. And this is another manifestation of renewable energy in Azerbaijan. Several countries of the world, especially those not rich in natural resources, are implementing similar projects now. Our policy is this: despite the fact that we have both oil and gas, we must use renewable energy in order to ensure their economical use and exports, especially since we have ample sun and wind.
At the same time, construction and restoration work will be carried out at the other three blocks of the Mingachevir Thermal Power Plant. Five blocks have already been repaired, which means an additional about 400 megawatts of generating capacity. Therefore, in the next two to three years we will significantly increase our energy capacity. At the same time, of course, issues of installing transformers, launching new substations and updating power lines are also on the agenda.
As for gasification, as I have already noted, although we have reached 96 percent, the state investment program provides for the allocation of 130 million manats from the state budget of the State Oil Company of Azerbaijan for gasification. Using these funds, many villages that are not receiving gas today will have gas supply.
Several important projects related to the construction of roads are being implemented. One of them is the expansion of the Ganja-Georgian border highway to four lanes. Work is under way and, I am sure will be completed. A new four-lane road from Sumgayit to the border with Russia is under construction. I believe that it will also be commissioned by the end of the year. The construction of the Astara-Iranian border highway is also on the agenda. Currently, the highway runs south in a completely new direction, but it passes through the city of Astara. Therefore, it creates inconvenience for people and reduces the cargo handling capacity. In this regard, there are plans to build a new highway from the territory of the district to the border with Iran bypassing the city of Astara, including the construction of an automobile bridge. This project should also be completed before the end of this year.
In addition, there are plans to restore and expand the Shamakhi-Ismayilli-Gabala road. It passes through a landslide zone, so it was impossible to restore it for many years. Only on the basis of new technologies and as a result of work on the determination of a new direction are there plans to expand this road and improve its quality.
The construction of new roads in the suburban settlements of Baku will be of particular importance this year. Last year, we started to do this work on a larger scale. Of course, roads in some settlements are in terrible condition, and this is unacceptable. We are building beautiful roads to the most remote mountain villages, but here, in the suburbs of Baku, roads are in poor condition. Therefore, appropriate instructions have been issued. More attention was paid to this area last year. It will be a priority among road construction programs this year.
In general, there are plans to build a thousand kilometers of roads this year. A thousand kilometers were also planned last year. But, as I said, 1,300 kilometers were eventually built. It is not ruled out that the length of the roads that will be built this year will also exceed the plan.
Regarding the restoration and construction of railways. There are plans to increase the speed of the Ganja-Georgian border railway. The construction of the Baku-Ganja railway has been fully completed. While visiting Ganja, I promised that this would be achieved. And it happened. Today, one can travel from Baku to Ganja on a very comfortable high-speed train. And now it is necessary to complete the restoration of this railway to the border. Also on the agenda is the reconstruction of the Baku-Yalama railway, which is an integral part of the North-South transport corridor. Along with this, there are plans to lay a railway line from Khudat to Shahdag. The Shahdag ski resort is known today not only in the CIS, but also throughout the world. After the commissioning of its second phase, interest further increased. Therefore, a railway line must definitely be built to this resort. This will bring comfort to those living in the district, foreign visitors and residents of Baku. A relevant order has already been issued and funds have been allocated.
Work is under way on the reconstruction of the Alat-Astara railway, changing its route and distancing it from the coast. Funds are also envisaged this year. Among intercity railways, there are plans to launch the Laki-Gabala railway this year. As I said in my opening remarks, the suburban railway to Baku settlements is to be extended.
In connection with drinking water projects, I should note that the implementation of drinking water and sewage projects has not started in only five cities of our country to date. In all other cities, this work has either been completed or is under way. Therefore, it is necessary to take into account the problem of drinking water in these five cities. The implementation of these projects should be started this year. I am sure that there will not be a single city in our country left without round-the-clock supply of drinking water that meets the standards of the World Health Organization in the near future. At the same time, we must also ensure the drilling of more than 400 sub-artesian wells for irrigation this year. The number of such wells is increasing every year, there is a need for that, and we will do it. This is provided for in the state investment program.
The focus is always on improving the environmental situation. Very important measures are being taken in this direction. The Ministry of Ecology and Natural Resources has built modular treatment plants in many villages along the rivers. However, according to information coming from some places, several such installations have failed. Therefore, first of all, it is necessary to conduct monitoring related to the operation of these facilities, analyze and report to me what state they are in. Secondly, proposals on their operation should be submitted. Unfortunately, these installations are left to the mercy of fate now. Local executive bodies and municipalities should actually deal with the operation of these facilities. In many places this is not the case. The Ministry of Ecology and Natural Resources has built these facilities and completed its work, as it were. Therefore, it is necessary to conduct monitoring, build such facilities in new villages if necessary and determine the specific agency responsible for their operation.
The process of planting trees will be continued. Last year, 650,000 trees were planted in one day in connection with the 650th anniversary of the birth of Nasimi. The number of trees planted in recent years may have exceeded 10-20 million. This is a very positive fact. In particular, this process has and should gain momentum in regions where nature is not very rich in trees. At the same time, the process of cleaning up contaminated areas and land reclamation continues. This work is and will be carried out on the Absheron Peninsula. The process of cleaning up the existing lakes should be expanded. So far, we have cleaned only a part of Lake Beyukshor. This is also a very large project. Cleaning up the other part, as well as other lakes, is on the agenda today.
A lot of work has been done in this direction in recent years. Residents and visitors to Baku feel that air quality has improved significantly. Due to what? Due to the fact that we have eliminated many sources of air pollution. One of them was the Bibiheybat area, which represented a site of environmental disaster. There is a park there now, there are sports facilities, alleys have been created, the boulevard has been extended to this zone. Secondly, air and the environment were largely polluted by the Black City. At present, there is a White City in its place. This is also a large urban development project. In the near future, as a result of the relocation of the oil refinery from this territory, the length of the boulevard will be increased and the environmental situation in this area will become even better. Of course, it is possible to say that the Balakhani dump was poisoning the air because it was impossible to extinguish the household waste burning there. At present, there is a large incineration plant and a segregation landfill there. This territory has become an ecologically clean area.
In other words, we are doing everything for the environmental situation in Baku to improve and not cause any harm to people's health. At the same time, Sumgayit, where the environmental situation was once difficult, is an environmentally clean city now. When visiting there, I tell the people of Sumgayit that air in Sumgayit is cleaner than in Baku. But the air in Baku has also become significantly cleaner. Our focus is mainly on large cities, in particular the Absheron Peninsula and those where industrial enterprises are located. In other places of Azerbaijan, nature is inviolable, we must protect it. Nature must be protected in all our regions because it is our asset. Sometimes trees are cut down and buildings are erected in their place. This should not be allowed! Relevant instructions have been issued. The protection of nature should become the cause of every citizen because this is our country, our life.
This year, the state investment program envisages the allocation of funds for the restoration of historical monuments. We must pay attention to this as well. All our main historical monuments have been restored and preserved. But there are many historical monuments in Azerbaijan, and each of them is dear to us. Therefore, the restoration of historical monuments to their original state and in some cases their preservation is of particular importance. Maximum attention should be paid to these issues.
The transport system of Baku is improving. It operates more efficiently both in the public and private sectors now. I would like to note the private sector in particular, because they also see that the buses imported by the state meet the highest standards. The buses they use have long fallen into disrepair. Therefore, responsible entrepreneurs quickly began to engage in this business. I am sure that both private entities and the public sector will be active in this in the future. However, unlike Sumgayit, the situation in other cities leaves much to be desired. City transport is in terrible condition. Buses do not meet any criteria. Therefore, I instructed both local executive bodies and the Ministry of Transport, Communications and High Technologies to provide me with detailed information on the state of the existing bus fleet. We must resolve this issue as well. Transport should be good in all our cities. The roads are good, transportation should be good, so that people could comfortably reach their destination, place of work.
Important steps will be taken this year in relation to social infrastructure. Dozens of schools and medical facilities will be built and renovated. The opening of two Olympic sports centers is planned on. Five "ASAN xidmət" centers will be commissioned this year, and thus their number will reach 21. But, of course, this process continues. I must inform you that five centers will be commissioned this year, the opening of six more is on the agenda. Two of them will be built in Baku, so the number of centers in Baku will reach seven, because people are queuing up in some centers. One will be built in Ganja. It will be the second center in Ganja. One will be built in Sumgayit, and it will also be a second one. One will be built in Lankaran and one in Salyan. This program should be completed no later than the end of 2021, perhaps even earlier. So the number of "ASAN xidmət" centers will reach 27.
The establishment of "DOST" centers will receive a further impetus. Two centers were commissioned last year. In general, there are plans to create more than 30 "DOST" centers.
Another social project is related to apartments that will be built for martyr families. Last year, apartments were provided to 934 martyr families. This year I asked to increase this figure, so the state will provide at least 1,500 martyr families with beautiful houses and apartments.
With regard to the living conditions of internally displaced persons, this will be another record year in this matter. This year we plan to provide apartments and houses to 7,000 IDP families. Last year, this figure was 5,000. So about 30,000-40,000 IDPs will be provided with new homes.
Other social projects include the introduction of paid public jobs. This issue was put forward on my initiative when unemployment in our country increased slightly. The reason was that oil prices dropped fourfold, and we were forced to cut down on investment. In my opening remarks, I already said that we managed to increase foreign exchange reserves even in the most difficult years for us. However, we reduced investment, so those who were expected to participate in these projects were left without work. Therefore, on my instruction, paid public jobs were created. But, unfortunately, violations were committed in this area in the regions and those who committed them were punished. If these shameful facts are repeated, no-one will escape punishment because it is absolutely disgraceful to embezzle the money intended for job creation for the poor. Therefore, strict control is in place. I am sure that such cases will not recur. But still there must be strict control. The Ministry of Labor and Social Protection of the Population has been tasked with registering all jobs and exercising strict control. The situation with unemployment last year improved significantly again. But the population is growing. We must take this into account. Therefore, this year about 40,000 jobs will also be created by the state.
Another important program is the one on self-employment. We launched it a few years ago, and there is a great need for that. This shows that it was the right step, and we are now expanding this program. The need is for about 40,000-50,000. Last year, we involved 7,000-8,000 people in the program. At least 10,000 people will be involved this year. The necessary funds, equipment and livestock will be provided. On our initiative, we are implementing this program together with the World Bank. So the funds for these 10,000 jobs that will be created are also provided by the World Bank. We need their experience and expertise more than the funding, because the World Bank has implemented such projects in many countries of the world. Therefore, both expertise and additional financial resources will be attracted. I would also like to appeal to private banks operating in Azerbaijan to join this program too, so that it gets wider. As I have already noted, there is a great interest and the needs are growing.
The recovery process in the banking sector is ongoing and should be continued. We have provided banks with tremendous support. All deposits are insured and we have extended this process. I believe and am absolutely sure that the crisis period is already in the past. However, in order t enhance public confidence in banks, the state is taking on this issue again. Azerbaijan is one of a handful of countries where all bank deposits are insured by the state. This is a great support given to banks, a privilege provided to them. At the same time, this increases their responsibility. If banks, private banks come up with some sort of surprise, they will only have themselves to blame. As part of the new powers granted to the Central Bank, stronger control is needed to ensure that the healing process is completed successfully.
As the economy grows and the economic situation improves, the discount rate also decreases. It has decreased this year as well, amounting to just over 7 percent. Of course, private banks should also lower their interest rates, because the Central Bank has already made a decision and discount rates were reduced last year and this year. This process continues.
In general, private banks should give an impetus to our economic development. They should not be engaged in making money only. They should be aware of their responsibility. The state provided them with the opportunity to operate, issued a license. If there are problems with these banks, the license will be canceled. Licenses of many banks have recently been revoked. They will be deprived of these opportunities. Therefore, they must be responsible. There should be no surprises. They should give preference to business loans. I said this at a meeting on the results of last year. The same trend is observed evident. Preference is being given to consumer loans. Of course, this is very easy. They provide a consumer loan and then receive interest. But bank loans are needed for the country's economy, for the real sector, for job creation. Therefore, I am asking the Central Bank and relevant ministries again, including the Cabinet of Ministers, to take this under control and regularly inform me about the percentage of business loans and consumer loans. Monitoring should be permanent.
I want to touch upon one more issue. The property offered in districts and rural areas is often not accepted by banks as collateral. They want mortgaged property in Baku. This must be stopped. No discrimination should be allowed here. Therefore, relevant agencies need to seriously address this issue.
The state has envisaged sufficiently large funds for the development of entrepreneurship this year. This is already happening at the expense of repaid loans. About 200 million manats of loans will be provided on preferential terms. I can say that more than 2 billion manats in loans were provided to entrepreneurs on preferential terms in recent years. However, it is necessary to tighten control over these loans, as well as review business projects, because analysis shows that quite a lot of money is spent to create each job. In previous years, preference was mainly given to large projects, which was natural because I think that the creation of these agricultural estates and other large industrial enterprises was necessary. But today, in the portfolio of preferential loans, preference should be given to small and medium-sized enterprises. We are well aware that the gross domestic product in developed countries is largely formed by small and medium-sized enterprises. We should follow this path as well, especially when we consider that the oil and gas industry is leading driver of our economy. Therefore, preference in low-interest business loans should be given to small and medium-sized enterprises this year.
As for the implementation of large projects, as I have already noted, agricultural estates occupy a special place among them. The creation of agricultural estates is associated with food security. Today, in the example of agricultural estates, we see that productivity is higher because new technologies are applied, equipment is imported, state support is provided. For example, last year the average yield in grain production was quite high –32 quintals per hectare. This is huge progress. But in large farms it is 50 quintals, in some places 60 quintals. This suggests that the creation of agricultural estates was a very right decision. However, I am told that the creation of agricultural estates is being delayed in some places or work is not going on there at all. Therefore, I am asking the Ministry of Economy and the Ministry of Agriculture to deal with this issue. The plan was to create more than 50 agricultural estates. Let them sort it out, analyze and let me know if these places were simply taken over by entrepreneurs and are not being used. If so, they should be returned and transferred to a working entrepreneur.
Entrepreneurs are provided with a great deal of comprehensive support. First, the support of the President. I have repeatedly said that the future of the Azerbaijani economy depends on the development of entrepreneurship. On the other hand, all infrastructure projects have been implemented. Just imagine that if there were no light or roads in the districts, what entrepreneur would ever work there? If there were no gas, what greenhouse would operate? Therefore, all of this has been done by the state – roads, electricity, gas, water. In addition, low-interest loans – as I have said, more than 2 billion manats were allocated at low interest rates. Subsidies are provided to farmers, they are exempt from taxes with the exception of land tax, which is insignificant. The creation of industrial estates, industrial parks and infrastructure by the state. An incentive mechanism has been put in place and other stimulating factors have been applied. So great opportunities have been created for entrepreneurs. Therefore, we require entrepreneurs to be conscientious, work honestly, not commit violations and not evade taxes. Let them pay taxes in full. Besides taxes, they shouldn't pay a single manat to anyone, no agency, no-one. After all, bribery has two sides: the taker and the giver.
I want to tell potential bribe givers: stop it! If someone groundlessly requires something from you, immediately inform the Presidential Administration, the Cabinet of Ministers and central executive authorities. This is completely unacceptable because quite often it is bureaucratic arbitrariness that inhibits the development of entrepreneurship. Seeing that work is about to start somewhere, officials sometimes immediately rush there, demand their share or try to snatch something. This must be stopped. Therefore, entrepreneurs must fully pay taxes. Because their taxes mean the life of our country, our people. Of course, the reforms carried out by tax authorities also provide great assistance to entrepreneurs because entrepreneurs know what the rules are. And they are very simple. It is necessary to build your work in accordance with law, conclude labor contracts and not exploit workers. I am told that workers are sometimes forced to work above the prescribed time. We have an eight-hour working day. No-one should work more than that. But in order to save more money, they are forced to work for 10, 12 or more hours. This must end and the Cabinet of Ministers must exercise control over that. It is necessary to hold a special meeting to discuss these issues. If such facts are committed, the entrepreneurs will be punished. I urge employees not to work without an employment contract. I know that sometimes you are forced to do so. But you should also know that without an employment contract you will not be able to receive a pension and medical insurance tomorrow. Therefore, entrepreneurs must pay tax, comply with all legal requirements and be responsible. Well-to-do entrepreneurs must be aware of their social responsibility, of course. At the same time, they should not commit unreasonable staff cuts because each redundancy leaves a whole family without a livelihood. This cannot be done. Please note that the state is increasing the number of recipients of targeted social assistance. Despite the fact that poverty is at 4.8 percent, poor people in Azerbaijan do not wander around the streets, as in some cities. Look at the cities of developed countries. There are thousands of homeless people living in the capitals of the largest countries. They sleep either in boxes, on benches or in make-shift tents they set up for themselves. We see it on TV. Do we have this too? No! Why? Because the state takes care of its citizens. Although the number of unemployed and poor people in Azerbaijan is getting smaller, I have instructed to increase the number of recipients of targeted social assistance. To do this, new criteria must be applied so that there are no poor people in our country. If an entrepreneur wants to earn 5 manats more, he fires a person. This is unacceptable. If there are such facts, do let me know and we will talk to these entrepreneurs the way they deserve. Therefore, there should be responsibility to the state, people and law. This includes the fight against the shadow economy which will continue to be carried out. There are also two sides to it. A government official turning a blind eye to it and an entrepreneur doing it. This conspiracy must be completely destroyed, and it is being destroyed. Today, the state does not turn a blind eye to this. Entrepreneur must fully withdraw their businesses from the shadows. The state, our central executive bodies, demonstrating a special understanding, are gradually implementing this process, because those who do this have worked this way for decades, both in Soviet times and in the period of independence, and are used to it. This must be stopped. There should be no shadow economy – that's all, it is very simple. True, it exists everywhere, in every country. Here it has reached an unacceptable level. To be honest, when I was presented with this analysis, I was horrified. So this is being stopped. How did tax and customs authorities collect more than 1 billion manats over the forecast last year? Previously, this money disappeared in someone's pockets and the people of Azerbaijan were deprived of it. Having ensured this transparency, we were able to implement the social initiative I mentioned. Every single gapik of this money was spent on salaries, pensions, scholarships and benefits. This being the case, can we turn a blind eye to the shadow economy? Absolutely not! I repeat that the shadow economy must end and state bodies have established a transition period because it would be wrong to take extremely tough measures immediately. People need to get used to it gradually. But we cannot drag out this period of concessions indefinitely. Therefore, the entire economy should come out of the shadows and all entrepreneurs must pay taxes this year. If someone still tries to work according to the old rules or rely on someone after my words, let them know this: this will not work. There will be no concessions for anyone. Everyone should know this. Everyone is equal. There is not a single untouchable entrepreneur, not a single untouchable official. Everyone will receive their own assessment, reward and punishment for their deeds. You must know this.
I should also note that this positive process continues this year too. I haven't been updated on the social and economic results of January yet. It takes some time. However, several figures have already been reported to me, including those related to the activities of tax and customs authorities in January. In particular, in January of this year, tax authorities collected 120 million manats and customs authorities 40 million manats in excess of the forecast. In other words, thanks to the fight against the shadow economy, 160 million manats were received in one month alone.
As I have already mentioned, preference in industrial production will be given to the non-oil sector. Last year, growth in this sector amounted to more than 14 percent and should be continued this year. I would like to touch upon a few questions here. I believe that the processing industry should be given priority. State bodies also need to pay more attention to this area. Low-interest loans should also be channeled in this area. Let entrepreneurs pay more attention to it themselves. We must do everything in a consistent manner. Of course, we procure and export our fruits and vegetables. Exports are growing, which is great. But processed goods are more expensive. We need to create a value chain. Therefore, I believe that special attention in agriculture should be given to the processing sector. I can cite a few examples. Today, viticulture is developing at a very high rate in Azerbaijan. Thousands of hectares of vineyards established in recent years are producing crops today. Last year alone, grape harvesting increased by 34,000 tons. This directly creates the wine-making industry and we are exporting our wines to many countries now. The same applies to tobacco growing. Thanks to the development of tobacco growing, a new cigarette factory has been set up in Sumgayit and the Baku cigarette factory has been reconstructed. We must fully provide and will provide for domestic needs. In previous years, the countries that did not procure tobacco used to sell cigarettes to us. This is nonsense. We have both tobacco and conditions. So this is a manifestation of the development of the processing sector. It also includes coconut production because a chain is also being created here – from coconut harvesters to the Sheki silk factory. There, too, hundreds of people are already provided with work. Thousands of people are provided with work in the villages. They receive large sums of money in 30-40 days and without doing much of the hard work.
Cotton-growing directly preconditions the processing sector. Growth in cotton production is 46 percent. Last year, exports totaled $158 million. However, we can process 50 percent of the cotton in our country. What is necessary to do this? New spinning and textile factories, and finished goods factories. This chain is interconnected, so entrepreneurs should pay attention to this area and government bodies should point entrepreneurs in these directions. Thus, the development of the light industry will be ensured, jobs will be created, finished products will be produced and we will not import them. It is clear that all this is interconnected. Money will stay here in our country.
The same holds true for vegetable growing. The vegetable processing industry is at a very low level. We collect vegetables, consume and export them. This is good, but they have to be processed too. For example, last year our exports in vegetable growing amounted to $243 million. Of these, $190 million worth were the exports of tomatoes, which grew by 7 percent. But if there is a sufficient number of tomato paste factories, then we can sell it at a higher price. Moreover, these products are in demand in all markets. Entrepreneurs should pay attention to this. I regularly voice these figures, Azerbaijan's self-sufficiency factor, so that local entrepreneurs could fill in these gaps. However, I see some passivity. Therefore, government agencies need to shake up entrepreneurs and take the initiative into their own hands. Especially when we consider that the state has created all the conditions, conducts all exhibitions and takes business people abroad. We have increased the exports of wine. Due to what? Due to the efforts of the state because it is through the state and at the expense of the state that people participate in international exhibitions where contracts are concluded. After all, the entrepreneur does not do this himself.
Unfortunately, we have major violations in the field of alcoholic beverages. The statistics were confusing. Why? Because entrepreneurs produce both vodka and wine! They write that they had produced such and such products in order to earn more. Of course, this is also being stopped and will be stopped. There should be transparency in every area, everyone should know this. Therefore, such tricks should stay in the past.
Fruit growing, for example. Fruits worth $240 million have been exported and an increase of 11 percent was registered. But among these fruits there are hazelnuts. Hazelnuts worth $125 million have been exported, an increase of 33 percent. Due to what? Thanks to the state again. At that time, I issued the instruction to set up hazelnut gardens. Hazelnut gardens in our country covered an area of 30,000 hectares. Now we have brought it to 80,000 hectares. Who did this? The state did! Why don't business people plant them themselves? The state has done everything – both in connection with cocoons and in connection with cotton. How long will this last? Let entrepreneur do the same. Today they receive a lot of money from cotton and hazelnuts. Fine, them him become even richer. But let them take the initiative as well.
We will carry out this work anyway because our state needs it and entrepreneurs are also our citizens. An entrepreneur pays salaries to dozens, hundreds or maybe even thousands of employees. Therefore, what is the purpose of such associations and conferences?! Some of those present here are heads of the executive authorities, heads of central executive bodies and entrepreneurs. There should be an open discussion in the second part of this conference. Slogans or statements are unnecessary. We need a candid conversation, let the entrepreneurs say what problems there are and where the solutions lie. And let representative of the state say where there are violations and say in a friendly manner: "correct this, this is the last warning, if you can't fix it, you will have only yourself to blame." These are the issues that should be discussed here today. We need to make sure that starting from 2020 all these tricks, manipulations, falsifications and payments bypassing the cash desk remain in the past. The delivery of undeclared goods, the declaration of one product while the cargo consists of completely different products – state bodies know and knew about all this. Some simply turned a blind eye to that and conspired. This time is over. I am telling you: it's over. Therefore, everyone should work the way I said and that's all.
At the same time, also on our agenda is the production of finished products in the industrial sector. For example, the SOCAR Polymer plant was commissioned and we export polymers now. We export it to countries that produce finished products from it and then sell them to us. Therefore, we should create clusters here ourselves. If necessary, the state will provide support so that polymer products are manufactured in Azerbaijan and the money stays in our country. Therefore, it is necessary to pay attention to this issue too.
Serious reforms are under way in the field of agriculture. I am sure that growth will continue to be rapid. I must inform you that farmers were granted subsidies in the amount of 380 million manats last year. These subsidies are now being paid through the E-Agriculture Information System. This is a very progressive system. At the same time, the development of an agricultural insurance mechanism began. I am sure that this issue will also be resolved this year.
I would like to voice some figures in connection with growth in agriculture. So, the production of cocoons has increased by 25, cotton by 26, eggs by 9, sunflower by 43, potatoes by 12, vegetables by 12, melons by 11, fruits and berries by 9, green tea leaf by 7, grapes 20 percent. Exports have also significantly increased. I have already said this but I want to say it again that I view tourism as a type of exports, because foreign tourists spent 4.3 billion manats in Azerbaijan last year. So if this is considered a type of exports, tourism is the second biggest sector after oil. This is why I made sure that comprehensive measures were taken to develop tourism. In recent years, the number of tourists in Azerbaijan has increased and is still growing. I am sure that this will continue to be the case in the future. But everything is good in its season. For example, if we thought about it 10 years ago, this would probably be wrong. Because where tourists would have come? There are no roads, is electricity, no hotels. Where would they come? But everything is available today. There is modern transport infrastructure. As I said, Heydar Aliyev International Airport is a five-star airport. In addition, there are five international airports in places most popular with tourists. There are also beautiful hotels. There are hotels of all the world's leading brands in Azerbaijan. Why did they come here? Why didn't they go to other countries? Because there is stability, trust, predictability, good investment environment and high credit ratings in our country. We have a good position in the Doing Business report. They see and look at reference data. Will the world's leading brand come and build a hotel here spontaneously? Of course not! The climate is wonderful, we have nine climatic zones, the hospitality of our people, historical monuments, cuisine and, of course, stability and security. Therefore, this work is carried out in the field of tourism. At a session of the UNESCO World Heritage Committee last year, the Sheki Khans Palace was included on the World Heritage List. This is yet another great success after Gobustan, Icherisheher, the Maiden's Tower, the Palace of the Shirvanshahs. Where there are gaps, we must mobilize our tourism opportunities. For example, Yanardag was completely reconstructed last year, excellent conditions were created there, and it is possible to say that the vast majority of visitors to Baku travel there as well. We have mud volcanoes but there are no roads. Even if there were a road, it is impossible to find a place to drink a cup of tea. Therefore, I have asked our tourism agency to tackle this issue this year. Just as people go to Yanardag or Gobustan today, they will also go to the mud volcanoes because we are in first place in the world for the number of mud volcanoes.
Tangible steps are being taken to turn our historical places, historical villages into a tourist zone. An instruction has been issued on the development of winter tourism, the Shahdag ski complex. I should also note, as I was informed today, that in January of this year the number of tourists increased by 18 percent in comparison with January 2019. In fact, this happened in January, which is not very attractive for tourists. Last year the increase was 11 percent, a year before that 4, earlier 24 and before that 22 percent. Now there is an increase of 18 percent only in January. Therefore, I believe that whereas 3,170,000 tourists visited our country last year, there will be even more this year.
Of course, the latest event reflecting the importance and role of our country and attitude towards us has been the creation within the framework of the Davos World Economic Forum of a regional center in Baku for the Fourth Industrial Revolution between the Davos Forum and Azerbaijan. This is a very significant event because the Davos World Economic Forum is the number one forum in the world. There is nothing higher than that. It is number one both in political and economic spheres, and the election of Azerbaijan as a center in the South Caucasus and Central Asia is a major event, of course. The President of the Forum and I signed a protocol of intent, work will begin and Azerbaijan should become a leader in the Fourth Industrial Revolution. As the Davos Forum considers us a leader, we must become a leader. After all, it means further development. We must ensure scientific progress and development, guide our country into the future and modernize it. So I see this event as yet another success and another victory. I am sure that many more victories are still ahead of us.
Thank you!
---
Follow us on Twitter @AzerNewsAz