20 April 2018 11:41 (UTC+04:00)
3 839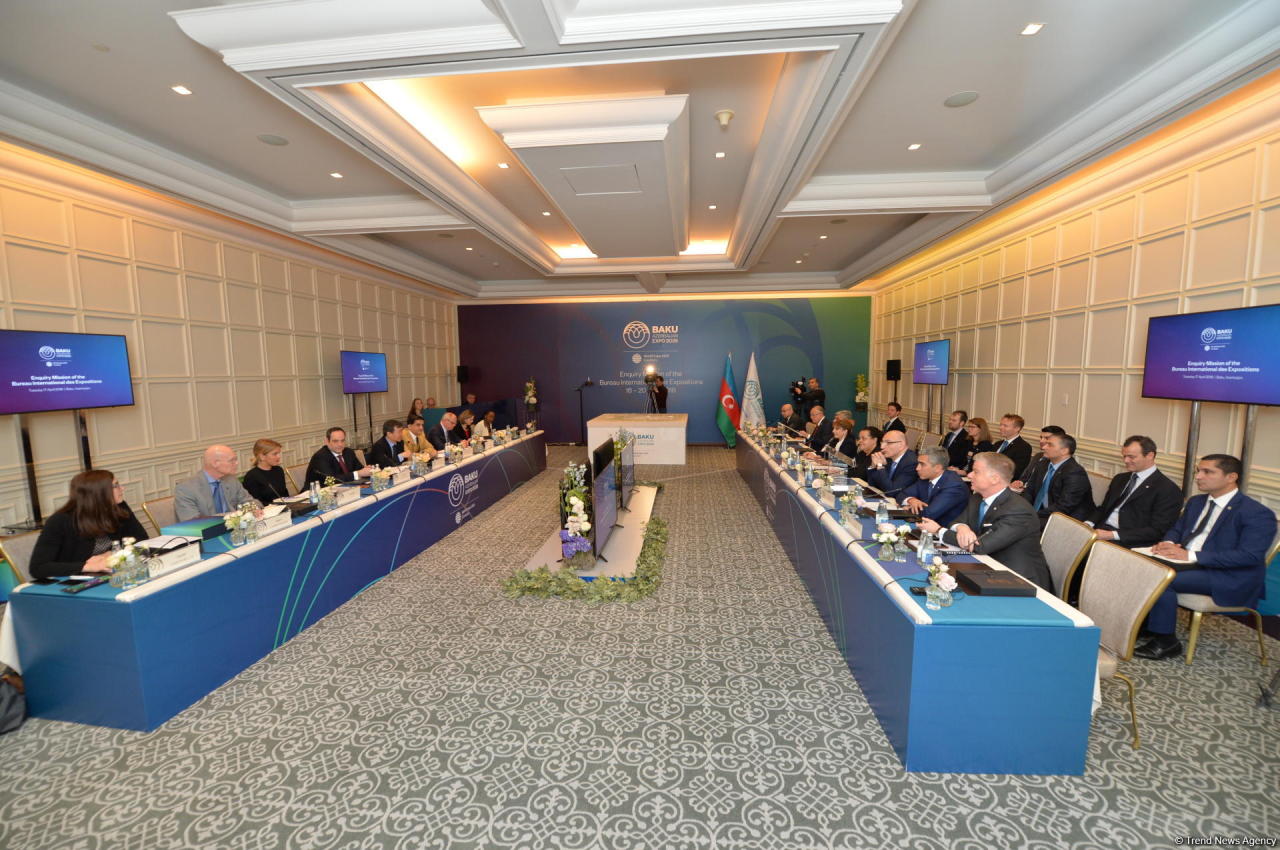 By Sara Israfilbayova
Azerbaijan has every opportunity to hold Expo 2025 and it will be another opportunity to show Azerbaijan's potential.
Deputy Secretary General of the Bureau International des Expositions (BIE) Dimitri Kerkentzes stressed at a press conference on the visit of the BIE appraisal mission to Baku on April 19.
"During the stay in Azerbaijan, we witnessed that this is a project of national importance for Azerbaijan," he noted, adding that they were impressed by the enthusiasm with which the possibility of holding Expo 2025 is regarded here.
Addressing the event Azerbaijan's Finance Minister Samir Sharifov said that the country's expenditures on holding the Expo 2025 will amount to 120 million euros a year in case Baku's candidacy as the host city for the Expo is approved, further adding that the total cost of preparation of the exhibition site during seven years will amount to 765 million euros.
Speaking about the importance of this event for Azerbaijan, Sharifov noted that holding the Expo will contribute to development of both Baku and the country as a whole.
"Holding the Expo 2025 will open up new opportunities for the development of the business environment, tourism, and the economy as a whole," Sharifov concluded.
The BIE mission arrived in Azerbaijan on April 16 to assess the country's application for Expo 2025.
During the three-day visit, the mission members familiarized with the possible territory for holding the Expo, held a number of meetings, including with representatives of the government, parliament and entrepreneurs.
The conclusion of the mission will be discussed in the Executive Committee of BIE in May, after which recommendations based on the compliance of each project with the requirements of BIE will be presented to the General Assembly of the Bureau.
Russia's Yekaterinburg and Japan's Osaka are also bidding to host the EXPO 2025.
The voting will be held and the host city of Expo 2025 will be announced in November.
The BIE is the intergovernmental organization created in 1928 and started its activity in 1931. Its mission is to guarantee the quality of Expos and protect the rights of their organizers and participants.
Over 50 Expos have been organized under the auspices of the BIE and their success attracts new Member States each year. Today, 170 countries are members of the BIE.
Currently, 4 main types of Expos are organized under its auspices: World Expos, Specialized Expos, Horticultural Expos and the Triennale di Milano.
---
Follow us on Twitter @AzerNewsAz