Azerbaijan takes major steps in fight against tuberculosis - Deputy Health Minister [PHOTOS]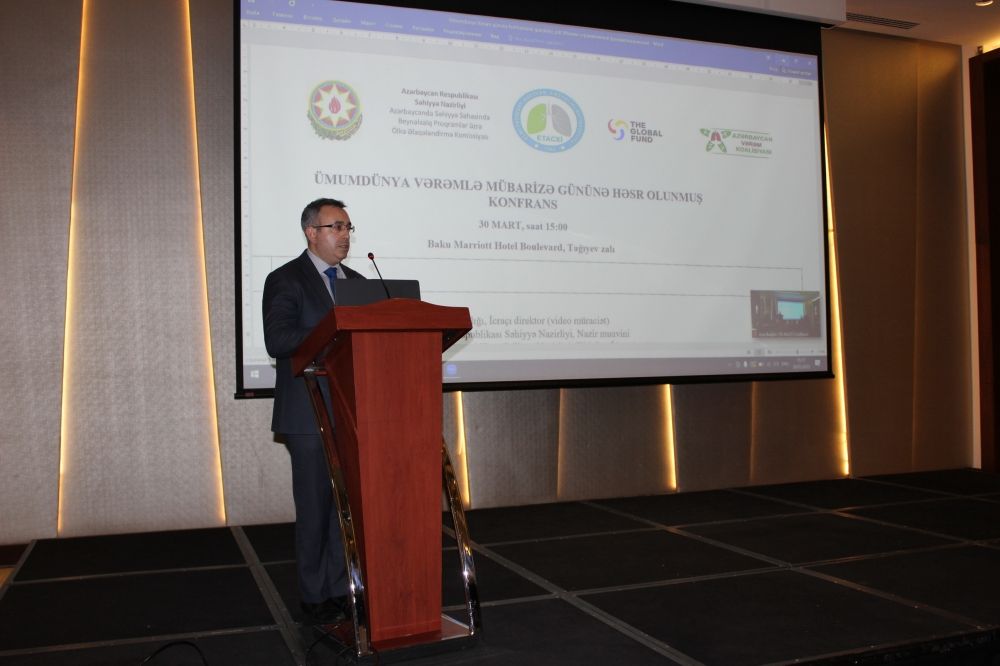 A conference dedicated to World Tuberculosis Day has been held in Baku.
World Tuberculosis Day raises public awareness about the devastating health, social and economic consequences of tuberculosis (TB) and to step up efforts to end the global TB epidemic.
The event was co-organized by the Ministry of Health, the Country Coordinating Commission (CCM), the Scientific-Research Institute of Lung Diseases and the Azerbaijan Anti-Tuberculosis NGO Coalition, Azernews reports.
Executive Director of Stop TB Partnership Lucica Ditiu addressed the conference participants through video message.
"Still, 4,000-4,500 people die of tuberculosis every day, 700 of them are children. Tuberculosis is an airborne disease. Although we will not be able to eliminate tuberculosis completely by 2030 by combining all our efforts, we can stop the infection. I am sure that Azerbaijan will be able to put an end to tuberculosis by mobilizing its human and financial resources by 2030," the video message said.
Deputy Health Minister Nadir Zeynalov touched upon Azerbaijan's latest achievements in healthcare.
He noted that a few days ago, the World Health Organization (WHO) certified Azerbaijan as a malaria-free country.
Recall that WHO certified Azerbaijan and Tajikistan for achieving elimination of malaria in their territories.
Certification of malaria elimination is the official recognition by WHO of a country's malaria-free status.
The certification is granted when a country has shown that the chain of indigenous malaria transmission by Anopheles mosquitoes has been interrupted nationwide for at least the past three consecutive years
In his speech, Nadir Zeynalov also highlighted major steps taken by Azerbaijan in the fight against tuberculosis. He said that Azerbaijan can serve as an example to many countries on international platforms.
Member of the Health Committee of the Azerbaijani Parliament, head of the International Relations Department at Heydar Aliyev Foundation Soltan Mammadov stressed that great success has been achieved in the fight against tuberculosis in the past ten years as a result of the joint efforts of both state and non-state organizations. He added that Azerbaijan is also successfully using international cooperation platforms to fight tuberculosis.
Note that, Tuberculosis (TB) is an infectious disease usually caused by Mycobacterium tuberculosis bacteria. Tuberculosis generally affects the lungs, but can also affect other parts of the body.
The classic symptoms of active TB are a chronic cough with blood-containing sputum, fever, night sweats, and weight loss.
In 2022,the number of patients newly infected with tuberculosis was 2,877 people. Around 2292 patients were re-infected with tuberculosis last year.
Ending the TB epidemic by 2030 is among the health targets of the United Nations Sustainable Development Goals (SDGs).
--
Follow us on Twitter @AzerNewsAz