26 February 2014 10:37 (UTC+04:00)
1 211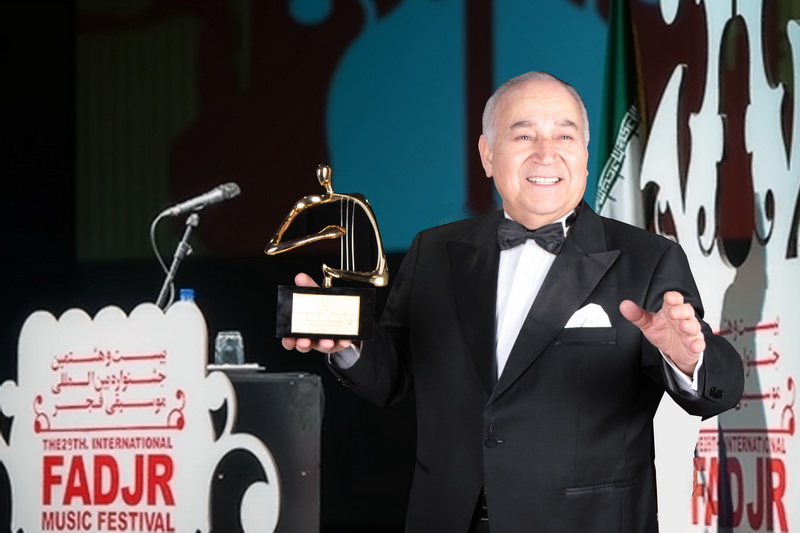 By Nazrin Gadimova
Azerbaijani tar virtuoso Ramiz Guliyev successfully performed at the 29th Fajr International Music Festival.
Held in Tehran on February 13-20, the festival brought together famous ensembles and orchestras from 16 countries, including "Volfert Brederode" from Denmark, Tunisian artist Anouar Brahem, Alexei Serginin from Russia, Margaret Babinsky from Austria, German's Anna Lehner, and "Payez" ensemble from Iraq.
Guliyev, People's Artist of Azerbaijan, winner of international competitions, professor of the Baku Music Academy, and chevalier of the "Glory" order, was accompanied by folk instrumental ensemble named "Khatira" and performed classical mugham and a broad range of works by Azerbaijani composers.
Soloist of the Azerbaijani State Academic Opera and Ballet Farid Aliyev and young talented khanende Ali Hajizadeh also performed at the concerts, which were held in the best concert halls of Tehran; the "Talar Vahdat" opera house and cultural centers "Gonar" and "Niavaran".
All the concerts of Azerbaijani musicians were held with a full house. Given the increased public interest, the festival organizers had to put monitors on the streets and squares of Tehran. After each musical number performed by Ramiz Guliyev, the audience gave a warm applause and did not let the musicians leave the stage.
After the concert, the organizers announced the decision of the organizing committee to award the highest prize of the festival, the "Golden Cheng", to Guliyev. The awarding ceremony was attended by Iranian Culture Minister Ali Janatti, prominent politicians, and public figures of Iran and Azerbaijan.
An exhibition devoted to Guliyev's works was also organized within the framework of the festival, held in the Iranian State Museum of Music and Art and supported by the Iranian Culture Ministry.
The Iranian press called the Azerbaijani master the "Father of Tar" and "The True Teacher." Some media reports also pointed to the recent achievements of the Azerbaijani national performing school, including tar, in the UNESCO list of "Intangible and spiritual heritage".
The tar, a long-necked plucked lute and one of the most important musical instruments in Iran and the Caucasus, was included in the UNESCO list in 2012. The tar is traditionally crafted and performed throughout Azerbaijan, and is depicted on the Azerbaijani national banknote of one manat nominal value.
Proffesor Guliyev, who truly is a virtuoso tar player, represented Azerbaijan at the Fajr festival for the 5th time.
A graduate of Azerbaijan Music Academy in 1969, Guliyev has won the Award of Caucasian Music Performers in Japan, and ranked first in the Fifth Competition of Moscow Artists Unity in 1974.
He was the Azerbaijan State Philharmonic Society's soloist in 1964-94, and the headmaster of the faculty of folk musical instruments of Baku Music Academy in 1990-2000.
The Azerbaijani virtuoso musician was awarded a special prize in the International Folklore Festival held in the USA by the UNESCO in 1988.
He has given successful concerts in Turkey, Afghanistan, Syria, India, Switzerland, Germany, Pakistan, Tunisia, Japan, the US, Canada, Denmark, Iran, Iraq, France, and Poland.
Related News