16 September 2013 18:21 (UTC+04:00)
2 473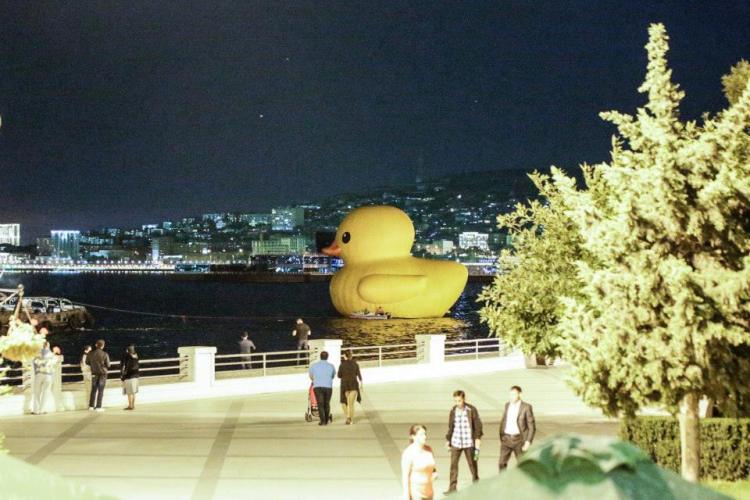 By Nigar Orujova
A cute giant creature and worldwide celebrity, 12-meter tall "Rubber Duck", finally appeared before the Baku public at the city boulevard on a sunny day, September 15.
The yellow Duck arrived in Azerbaijan in late August, but poor weather conditions delayed its presentation for about ten days.
"Rubber Ducky" art piece by Florentijn Hofman, a Dutch artist, was brought to the Azerbaijani capital as part of the Participate Baku Public Art Festival organized by YARAT Contemporary Art Space, an organization promoting Azerbaijani modern art worldwide.
The presentation ceremony was attended by prominent Azerbaijani public figures and well-known culture and art workers.
Baku residents with a smile watched one of the most attractive images selected by the emerging artist. Children and adults alike eagerly started taking pictures of the funny Duck as well as posing in front of it.
This incredibly adorable art piece managed to capture the hearts of the residents of a slew of countries across many continents.
The bird used to rock on the waves in the bays of the biggest cities of the globe like New York, Tokyo and Osaka, in which it hit the headlines.
The idea of creating Rubber Duck came to the artist's mind in 2007, in his native town of Rotterdam. Hofman has been blessed with the capacity of appreciating the beauty of regular stuff, and he derives inspiration from everyday experience rather than from the muses or philosophers.
Related News