Open day of Warhol's exhibition held at Heydar Aliyev Center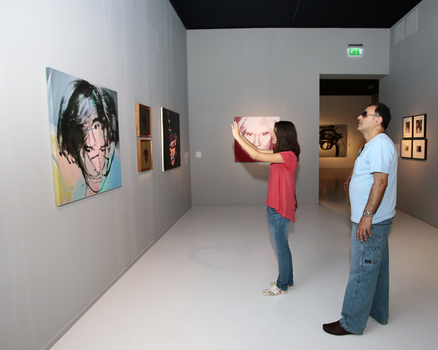 By Sabina Idayatova

An open day of "Life, Death and Beauty" exhibition of Andy Warhol, the famous artist of the 20th century, has been held at the Heydar Aliyev Center, Azertag state news agency reported.

The exhibition was organized with the support of the Heydar Aliyev Foundation and Andy Warhol Museum.
The exhibition is part of the Heydar Aliyev Center's support for the development of culture, efforts to introduce world culture to Azerbaijan and further expand the relations between countries and peoples through such projects.
The famous 20th century photographer, artist and stage manager Andy Warhol, who was born in 1928, passed away in 1987.
Warhol's art encompassed many forms of media, including hand drawing, painting, printmaking, photography, silk screening, sculpture, film, and music. He was also a pioneer in computer-generated art using Amiga computers that were introduced in 1984.
The pop-art Andy Warhol Museum, located in Pittsburg, Pennsylvania, was established in 1994. The single-artist museum exhibits 900 paintings, 100 statues, 400 photos, 60 feature films as well as other works of the artist.
The Heydar Aliyev Center was established on December 26, 2006. The complex was designed by Iraqi-British architect Zaha Hadid.
The Center houses a conference hall, a gallery hall and a museum. The project is intended to play an integral role in the intellectual life of the city. Located close to the city center, the site plays a pivotal role in the redevelopment of Baku.