Heydar Aliyev Center to stage national leader's favorite play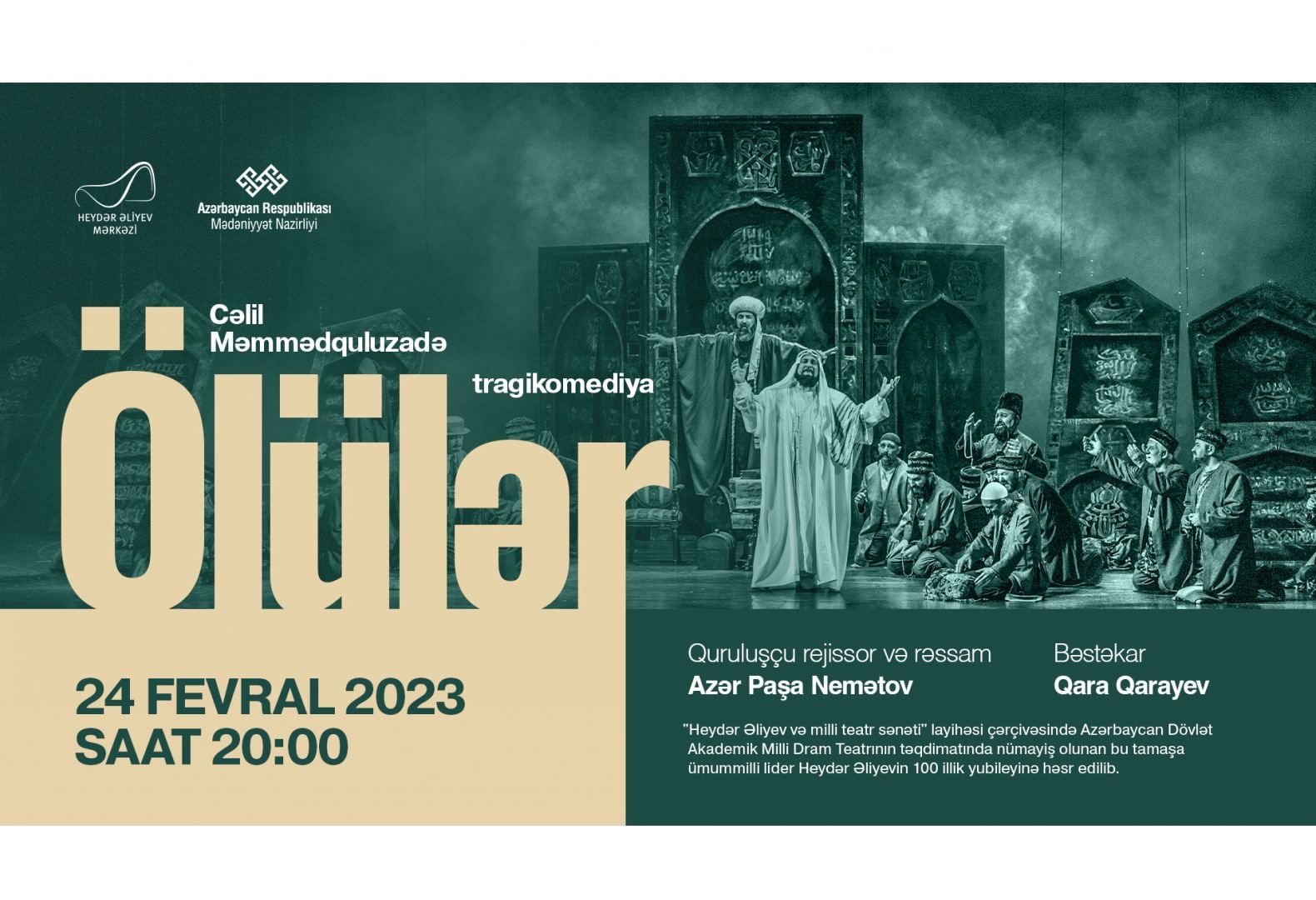 The Heydar Aliyev Center will stage a play "Ölülər" (The Corpses) by Azerbaijan's acclaimed satirist and writer Jalil Mammadguluzada on February 24, Azernews reports.
The play will be presented as part of the project "Heydar Aliyev and National Theater Art" dedicated to the 100th anniversary of the national leader.
The Azerbaijani State Academic National Drama Theater will perform the play in concert with the Heydar Aliyev Center and the Culture Ministry.
The stage director and artist of the play is People's Artist Azar Pasha Nematov.
The theater performance will involve the music of the People's Artist of the USSR Qara Qarayev.
The music will be performed by the Azerbaijan State Symphony Orchestra under the baton of People's Artist Rauf Abdullayev.
In the two-part play, People's Artist Nuraddin Mehdixanli will play Sheyx Nasrullah character, while Honored Artist Anar Geybatov will play the role of Iskandar.
People's Artists Ali Nur, Haji Ismayilov, Kazim Abdullayev, Lalazar Mustafayeva, Rafig Azimov, Sabir Mammadov, honored artists Aslan Shirin, Elkhan Guliyev, Elshan Rustamov, Alfida Jafarov, Kazim Hasanguliyev, Matlab Abdullayev, Mazahir Jalilov, Mirza Aghabayli, and other theater actors will also join the theater performance.
Mammadguluzada's tragicomedy was a favorite play of the national leader Heydar Aliyev.
In his interviews, Heydar Aliyev said that while at school, he showed great interest in the theater, and often went and watched performances of local drama theater.
The great leader noted that he watched "Ölülər" play with great pleasure several times.
As the great leader emphasized, the play is a very deep and philosophical work. With its philosophical content, "Ölülər" is considered one of the first dramatic works in the Azerbaijani literature.
At the same time, it is distinguished from other works by a deep national spirit, nationality, Heydar Aliyev noted.
"I'm familiar with all the dramatic works, starting with Shakespeare. I believe that no one has created such a work as "Ölülər", because finding such a topic itself is philosophy, genius..." said the great leader.
Heydar Aliyev was very attached to the theater from a young age. During his school and student years, he was very fond of the theater and performed in drama circles.
He called the Azerbaijan National Theater the national treasure of the Azerbaijani people. Regularly attending theatrical performances, the national leader met with the creative team and gave his advice and instructions.
The Heydar Aliyev Center will hold multiple projects and events to mark the Year of Heydar Aliyev as announced in Azerbaijan in 2023.
Moreover, the Heydar Aliyev Center plans to stage numerous projects under the "Heydar Aliyev and national theatrical art" project.
---
Follow us on Twitter @AzerNewsAz