Baku hosts captivating museum night [PHOTO]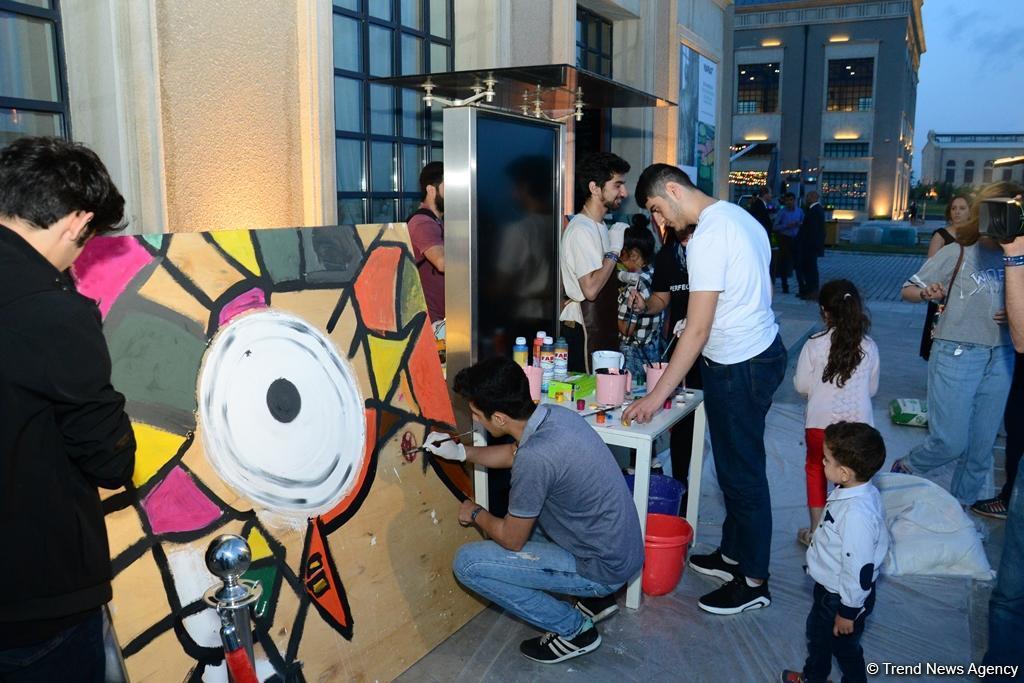 By Laman Ismayilova
To capture your interests and inspire your imaginations all YARAT related venues (including YARAT Centre, Azerbaijani Painting Museum and ARTIM Project Space) opened the doors on and abound with festive atmosphere on the Museum Night – "Night in the Museum-Conquer the Night" on May 26.
The event was attended by the founder of YARAT Contemporary Art Space Aida Mahmudova, representatives of culture and art, creative intelligentsia and youth, Trend Life reported.
Within the framework of the project "Night in the Museum - Conquer the Night!" - special entertaining programs, creative lessons, lectures, familiarization with expositions were presented.
Painting, music, theater, fashion, installation - the project "Night in the Museum - Conquer Night!" unites all kinds of art and creates a unique atmosphere.
The night was filled with exciting activities including "Be who you want to be" body art program and "Walking Etruscan sculptures".
In collaboration with "Azercosmos" company YARAT prepared a contest "Human or nature?".
With great enthusiasm, visitors created a collective work inspired by Aida Mahmudova's solo exhibition "Non-imagined perspectives".
Aida Mahmudova's exhibition based on the author's experiments with various materials, is presented on the second floor of YARAT Contemporary Art Space.
For the artist the process of destruction and re-creation, of building layers and tearing them apart, of mixing various materials, such as paper, clay, cement, stone and, for the first time in this show marble, becomes an exercise for material growth and emotional healing. The total installation of sculptures, resembling crumbling pillars, and monumental wall works create a feeling of a transient place, half ruined and half built, and one is reminded that entropy is an essential step of creation.
A collective work inspired by Miсhelangelo Pistoletto's solo exhibition "Do it" was also presented as part of the event.
"Terzo Paradiso" (Third Paradise) is a manifesto for a harmonious future where nature and society coexist. 'Third Paradise' states the social responsibility to seek a more sustainable world, leading everything that is artificial; that is science and technology together with art; to give back life to Earth'.
Later that night guests watched a mesmerizing fire performance, a surprise performance by ADO Collective.
The theater team showcased new forms of contemporary theatrical and performing arts. The production tells about the love of two homeless people
The cast included Elmin Badalov, Elsa Furtado and Sabir Mammadov.
Further, visitors took part in a master class on creating self-portraits from flowers, giving vent to their imagination
The event was held at the 20th-21st Century Azerbaijani Painting Museum.
One of the leaders of the master class, the florist Lala Safaraliyeva, told Trend Life that the project "Night in the Museum - Conquer Night!" - this is a wonderful initiative.
"It's wonderful that in the framework of" Night at the Museum - Conquer Night ", there are many different events - master classes, fashion shows, live music. The more people come and join art, the better. The idea of our master class is in the fact that its participants first draw a portrait or a self-portrait, and then decorate it with fresh flowers. "All participants enthusiastically approached the work," Safaralieva noted.
Further, participants of the night saw a fashion show by a local designer and collector Natavan Aliyeva, who also delivered a talk on the subject of "How does fashion reflect our personality?"
The designer believes that collection interpreted the theme and concept of how fashion affects our inner self.
Aliyeva stressed n that fashion plays a very big role in life. It is important that everyone should pay attention to what he puts on that affects our choices.
As Natavan Aliyeva noted, such events as "Nights in the Museum - Conquer Night!" provide a wonderful opportunity to create, see colors and develop.
YARAT Contemporary Art Space also invited art lovers to enjoy an exhibition of works by leading Azerbaijani artists at the 20th-21st Century Azerbaijani Painting Museum.
In addition, guests were delighted by musical performance of Kamran Rzayev (vocal), Nargiz Aliyeva (piano), Ibrahim Babayev (tar), Oya Ergun ( flute) and Mahammad Mammadli (accordion). The musicians performed magnificent music compositions and retro hits.
Then the participants of the event were surprised with the fiery show and the performance of DJs Nasa Mareena and Farhad Farzaliyev.
Moreover, guests immersed into the exhibition by "Mahalla" collective under the same title. After the opening, visitors enjoyed the rhythms of electronic music.
The partners of the Museum night "Conquer the Night" event included Seaside Boulevard Department, "Azercosmos" LLC, Enoteca Meydan, Natavan Apparel, ADO Collective, Fleuriste flower boutique. YARAT also expresses gratitude to Port Wine & Grill and Maya/La Vida restaurant for special offer on May 26.
---
Laman Ismayilova is AzerNews' staff journalist, follow her on Twitter: @Lam_Ismayilova
Follow us on Twitter @AzerNewsAz