Ukraine offers to use Trans-Caspian route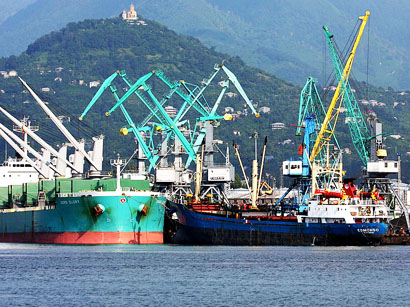 By Aynur Karimova
Ukraine has offered its cargo carrier companies to use the Trans-Caspian International Transport Route for transporting goods to Central Asia bypassing Russia.
The Ukrainian Infrastructure Ministry reported that a test container train will depart from Ilyichevsk on January 15on the Ukraine-Georgia-Azerbaijan-Kazakhstan-China route (via the Caspian Sea and the Black Sea).
"This route is a new direction of Silk Road and an alternative, which will allow redirecting cargo traffic in an easterly direction, bypassing the Russian territory. It includes ferry crossings of the Black Sea and the Caspian Sea (Ilyichevsk-Batumi and Alat-Aktau) and is designed to become competitive to the traditional overland route," the ministry said.
The opportunities of Trans-Caspian International Transport Route, which enjoys an opportunity to become attractive and profitable for consignors from European countries, were presented to the cargo carrier companies of Ukraine during a road show on November 16, 2015 and at the international forum "Bridging Europe and Asia: a new look at the formation of transcontinental routes" in Odessa on December 3.
"Technologies, accelerated delivery times and tariff conditions were agreed and its operators were defined to run the container train. The test container train will open up an alternative way to deliver cargo from Ukraine to the countries of Central Asia. The container train will include approximately 20 wagons," the ministry added.
The Trans-Caspian International Transport Route will transport approximately 300,000-400,000 containers by 2020, bringing hundreds of millions of manats in profit to Azerbaijan.
The first container train on this route arrived at Baku International Sea Trade Port from China in August. The train, consisting of 44 wagons, departed from the Alashankou export station of the Chinese Urumqi-Xinjiang province and arrived in Tbilisi in eight days transiting through the territory of Azerbaijan.
An agreement creating a coordinating committee to develop a Trans-Caspian International Transport Route was signed by Kazakh, Georgian, and Azerbaijani representatives in late 2013.
The project is being implemented by Kazakhstan Temyr Zholy, China Railways, Azerbaijan Railways, Azerbaijan Caspian Shipping Company and Baku International Sea Trade Port.
--
Aynur Karimova is AzerNews' staff journalist, follow her on Twitter: @Aynur_Karimova
Follow us on Twitter @AzerNewsAz