6 June 2013 16:41 (UTC+04:00)
624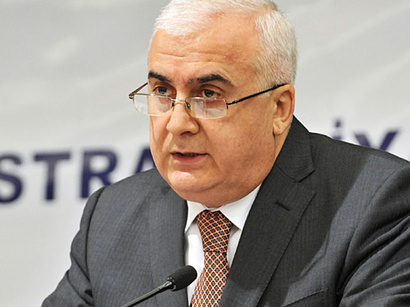 A delegation from the Ministry of Agriculture of Azerbaijan led by Minister Ismet Abbasov is visiting Romania to participate in the eleventh General Assembly of the International Organisation of Vine and Wine, the Ministry of Agriculture reported on June 6.
According to an earlier report, during his visit Abbasov met with the president of the Siveco Company which specialises in the field of electronic registration systems in Romania.
The sides exchanged views on the upcoming events on the use of an electronic registration system in Azerbaijan's agricultural sector.
According to Abbasov, the experience of the Romanian company in this sector attracts the interest of the Azerbaijani side, as this will allow facilitating and rationalising the implementation of agricultural policy and the management of public subsidies.
Moreover, implementation of an electronic system will facilitate the establishment of relationships between farmers and economic entities, the minister said.
Representatives from the Romanian company held a presentation on the use of electronic registration. The agriculture minister became acquainted with the principles of the system of electronic registration and control.
In addition, Abbasov's visits for a more detailed study with the operating of electronic registration systems in the agricultural field are planned as a part of the ongoing visit of the Azerbaijani delegation.
Earlier, the Azerbaijani Minister of Agriculture held a meeting with the Minister of Agriculture and Rural Development of Romania, Daniel Constantine. During the meeting the sides discussed specific areas of bilateral cooperation that arose from previously signed agreements.
Abbasov invited his Romanian counterpart to the second International Grape and Wine Festival, to be held in November 2013 in Ganja.
The Azerbaijani minister also held a meeting with the head of the Romanian Agency for payments in agriculture, Gheorghe Dorel Benu.
During the meeting both sides exchanged views on the use of an electronic registration system for animals and farms, as well as on the allocation of public agricultural subsidies.
Related News