Azerenergy power company urges for savings amid drop in water level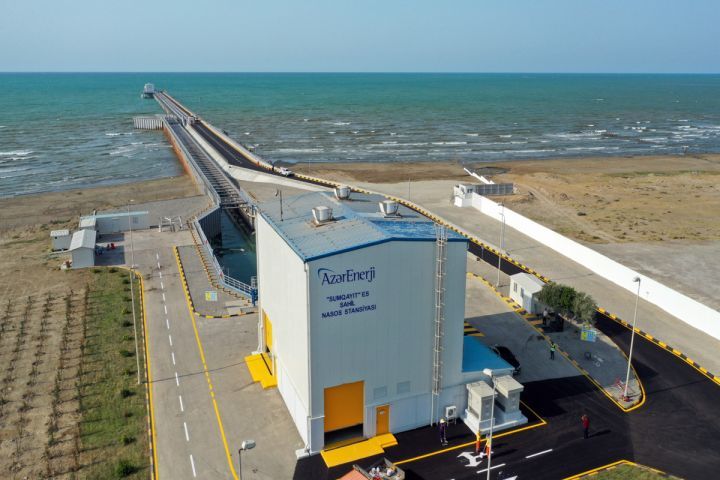 Over recent years, a drop in the water level in reservoirs, rivers, and in the Caspian Sea has had a serious impact on power production in hydropower plants of Azerenergy, and the operation of thermal power plants that use water for cooling purposes, Azernews reports per Azerenergy power company.
The company added that for this reason, the efficient and planned use of water resources is coordinated within the activities of the commission on efficient use of water resources.
Azerenergy said that preventive measures are being taken and comprehensive activities are being carried out at the largest power plants that are in danger of closure due to water shortages.
"Thus, due to the sharp drop in the water level in the Caspian Sea, the construction of a 540-meter-long pier and water pumping stations in two venues is underway at the 800MW Shimal (North) Power Station, the country's second-largest power plant, to allow cold water pumping from a depth of eight meters in the sea. Before that, a 750-meter-long pier and a water pumping station were built and put into operation by Azerenerji at the Sumgait Power Station. Due to the decrease in the water level in the Kura River, a water overflow device was built to provide the country's third largest power plant, Janub (South) Power Station, with cooling water. Besides causing water loss in the Shamkir reservoir, the 160-meter-long water thrower device consisting of three tunnels, which became a source of real danger, was completely rebuilt," Azerenergy added.
We should note that the peak periods of electricity demand in Azerbaijan coincide with the summer and winter seasons. Therefore, adapting the use of water for energy purposes to the use for irrigation and communal purposes allows both saving limited water resources in the non-irrigation period and increasing the production of hydroelectric power plants in the irrigation period.
---
Follow us on Twitter @AzerNewsAz