National GM speaks about his victories and dreams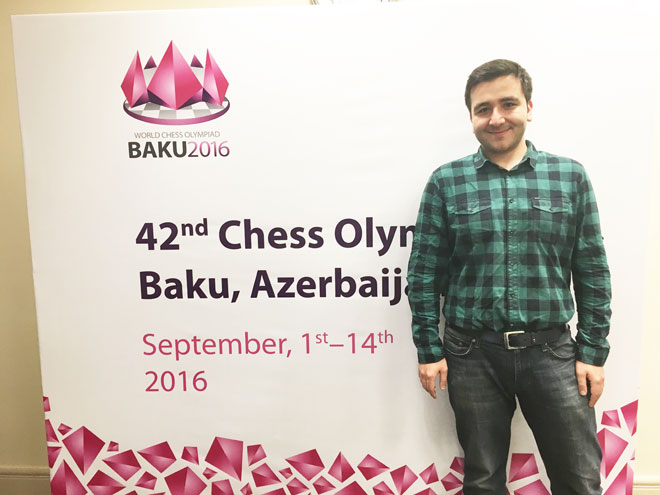 By Laman Ismayilova
Azerbaijan, one of the world's leading chess centers, will soon welcome chess fans and world grandmasters at the 2016 World Chess Olympiad.
The tournament scheduled for September 1-14 at the Crystal Hall will host about 2,000 chess masters from 175 countries, while the number of guests is expected to reach up to 3,000.
National chess grandmaster Eltaj Safarli spoke about his mood and expectations from the 42nd World Chess Olympiad.
Safarli pins high hopes on the national team at the upcoming chess festival. "I have represented Azerbaijan in various competitions and always dreamed that such a prestigious start, as the Olympiad, would be held in Baku. It goes without saying that the organization of such tournament comes with great responsibility. So, we should try to perform successfully in our native land," he told Trend.
The grandmaster believes that the national team will prove itself at the 42nd World Chess Olympiad.
"The Azerbaijani team twice won the championship of Europe, so we have experience. It's clear, that the Olympics level is higher than the championship of the continent, but we must struggle. Two years ago we were close to Olympic medals in Norway, while in Baku we must put more efforts to be among the winners," he said, adding that he doesn't see weak opponents among the participants.
"There won't be weak opponents. Russia, U.S., China and a number of other teams will certainly compete for medals. It is important to seriously struggle in each game. For example, Magnus Carlsen will play for the national team of Norway, so his presence will automatically enhance this team."
Safarli, who recently won the Azerbaijan Chess Championship, remembers this championship as one of the most challenging competitions of the past year.
"This championship was even more competitive than in past years. Young generation was able to fully show its ability, which made me happy. In each game, the young players struggled until the end, "Safarli said.
He also noted the difficulty levels of chess battles. "Each chess battle wasn't so easy. For instance, I had an interesting game with Nail Bashirli, who showed a good training.
Baku will host the World Chess Olympiad and as the host country it has the right to be represented with three teams in men's and women's groups. In this regard, the national championship opens a new perspective for young generation," he said.
Safarli further added that he needs to improve his own results.
"This year I need to improve my results. Maybe I will be able to do that. In future, we want to bring the rating up to 2,700. So, I'm going to work hard. I would like to mention help of grandmaster Jahangir Agaragimov, who supports me at competitions. My victory at the Azerbaijan Championship is also his merit.
The chess grandmaster also spoke about his chess tournaments in 2016.
"I think that I showed a good result at Tata Steel Chess Tournament 2016 in Wijk aan Zee, The Netherlands. Second place at such a prestigious tournament is a good indication. Unfortunately, I failed to get the result I desired at Aeroflot Open 2016. I'll try to prove myself in the next chess tournaments.
I will join the Dubai Open Chess Tournament in April, as well as the Shamkir International Chess Tournament dedicated to Azerbaijan's late chess grandmaster Vugar Gashimov. Finally, in September, we are going to see the 42nd World Chess Olympiad, which will be exciting for each participant."
---
Follow us on Twitter @AzerNewsAz