Ukrainian, Swiss riders win Baku 2015 test competition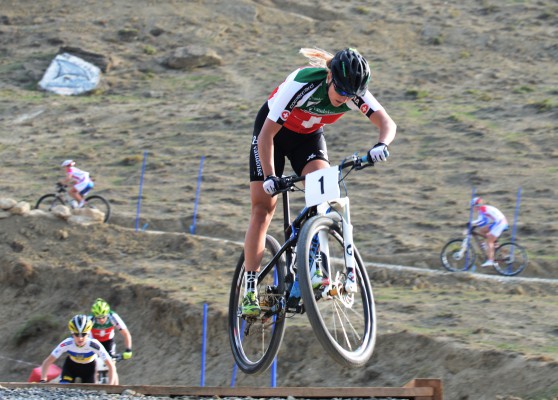 By Nigar Orujova
Baku hosted the Mountain Bike test event on October 18 as part of preparation to host the Baku 2015 European Games.
Cycling Mountain Bike event was one of the competition held as part of the Baku 2015, that will cover 20 games on June 12-28, 2015.
The race, registered on the Union Cycliste Internationale calendar as class C3, was organized by the Baku 2015 European Games Operations Committee (BEGOC) in cooperation with the Azerbaijan Cycling Federation.
Twenty-seven riders from 10 countries competed at the track of 4.1 kilometres long with several technical features, such as jumps, bridges, single-track, steep downhill and uphill sections, in the Mountain Bike Velopark.
In the female competition, the victory was celebrated by Ukrainian Yana Belomoyna who overcame six laps in 1 hour, 24 minutes, 46 seconds. The second place was split up by Swiss Kathrin Stirnemann and Linda Indergand.
"The track is good, and the organization has been carried out at a high level. I felt good, despite the windy weather. I will prepare even better for the European Games, as I already know the place and the climate too. Of course, the route may change slightly next year, but I'll be ready for anything," Belomoyna said.
In the male's competition, the first place winner was Martin Fanger from Switzerland, who covered seven laps in 1 hour, 37 minutes, 52 seconds. Just 42 seconds behind Fanger finished Swiss Mark Stutzmann, ant the third place went to Dimitrios Antoniadis from Greece.
"I am very happy to win the tournament in Baku. This event will remain in my memory with high organization and interesting routes," Fanger said.
Azerbaijan's representatives Agshin Ismayilov, Orkhan Mammadov and Murad Sultanov finished 14, 18, and 19, respectively.
Despite bad weather conditions, the athletes showed an interest in making the track a little harder.
At Baku 2015, ranking points will be available in all four Cycling disciplines for qualification towards the Rio 2016 Olympics Games.
Overall, the first European games will gather more than 6,000 athletes to compete over the 17 days of competition.