Pre-visit of chewed up and spat out diplomat to Azerbaijan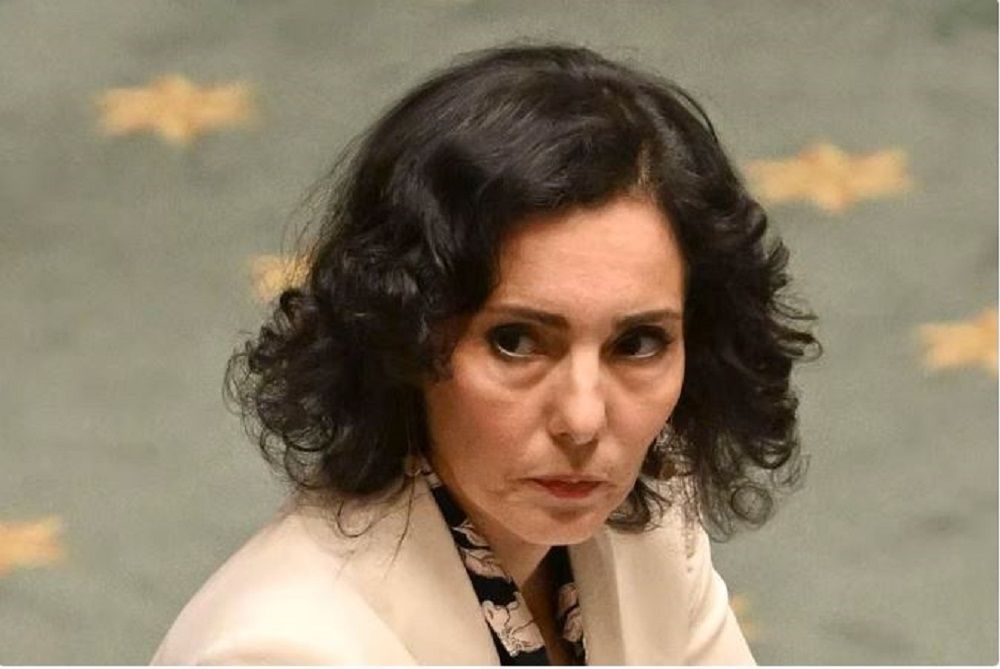 First they start on a positive note, then they start to reveal their true hypocritical nature. However, for the time being, we are not talking about France, or a group of pro-Armenian officials represented at the UN. This time we are talking about the Minister of Foreign Affairs of Belgium, Hadja Lahbib, who first identified himself as a diplomat and later revealed her true prejudice against Azerbaijan.
A couple of days ago, when the information about her visit was spread, the Belgian Minister of Foreign Affairs showed a more positive position regarding the resolution of the ongoing Armenian-Azerbaijani tension in the South Caucasus. However, Lahbib, who started her first trip from Armenia, somehow damaged the reputation of the European Union with her diplomatic illiteracy. It is likely that Hadja Lahbib did not even look at the agenda related to the region prior to her visit to the South Caucasus. After all, why look? Because everyone believes that Hadja Lahbib is successfully following the path of French diplomats.
A Belgian "diplomat" in Armenia meets with the soldiers of an occupying state crushed under the iron fist and presents them with flowers. Lahbib's French-style action presented her purpose and position to the public at the first moment.
Perhaps she has never asked herself the question on whose territory that soldier whom she hugged before fought and received the deserved punishment. Lahbib completely devoted herself to Armenia, stepping on the diplomatic behavior of Charles Michel, the President of the Council of Europe, in Brussels. Whatever the reason that made her to this request, it was not received unambiguously for Azerbaijan.
The Belgian Minister of Foreign Affairs, who participated in the briefing in Yerevan, demonstrated her insidious behavior and even attepted to send a note against the Azerbaijani Foreign Minister Jeyhun Bayramov: "The rights and security of the population of "Nagorno-Karabakh" must be respected, let me remind my Azerbaijani colleague about this ."
The next corrupt pro-Armenian example of Europe has astrayed so much that she did not even respect the opinion of the President of the Council of Europe Michel about recognizing the territorial integrity of Azerbaijan.
You probably won't take my criticism wrong. Indeed, Azerbaijan has no prejudice against Lahbib. We have never seen her contribution to conflict resolution before. But what we have seen is that Lahbib is indeed biased towards conflicts.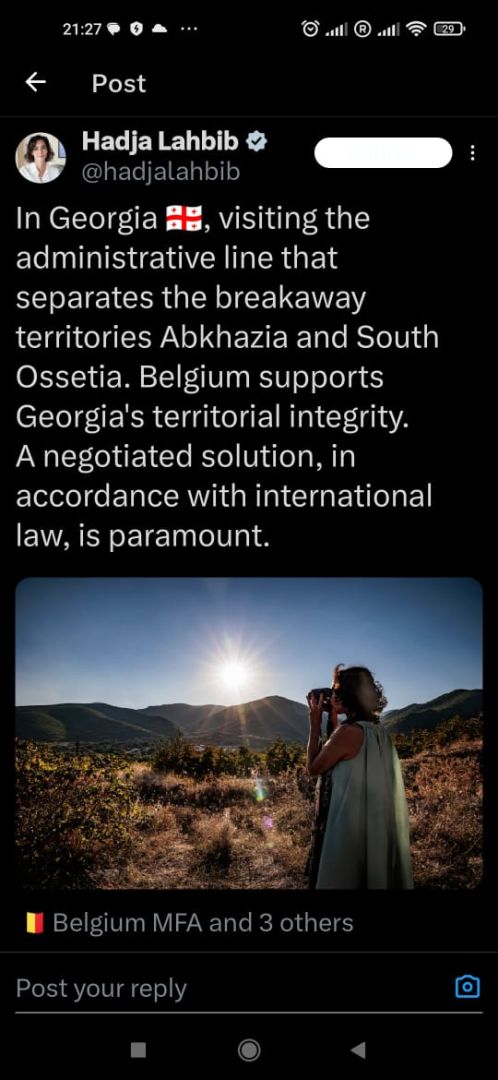 It would not be wrong to say that the issue of Georgia in the South Caucasus is at the same level as Garabagh. It is good that Hadja Lahbib one in her lifetime could express an honest and objective position on this issue. Following the European Union mission team, the so-called diplomat, who was watching the territories with binoculars in her hand, allegedly demanded the recognition of Georgia's territorial integrity within the framework of international laws. The question is, what is the problem with Azerbaijan, Mrs. Hadja? Why don't your binoculars show Garabagh correctly? We have no doubt that Abkhazia and South Ossetia are occupied territories, and so is it, according to your opinion; then why is Garabagh strange to your statement?
You say that there is no question of self-determination of peoples in Abkhazia and South Ossetia. But when it comes to Garabagh, your opinions change 180 degrees, and you are not ashamed to even express biased opinions. But we were ashamed for you. We are ashamed that you, as a diplomat, destroyed the image of the Council of Europe and the Parliament of the European Union and masterfully demonstrated your diplomatic illiteracy. At least you should be abashed to refuse to come to Azerbaijan after your rascal behavior. You deserve to bow only to the invading soldier. I am afraid to say that even though Azerbaijan remains true to its diplomatic culture while coming here, the spirits of our Martyrs over these lands will not leave you alone. So we strongly advise you not to come at all. Maybe this will calm your "honor" and "conscience" sold for some pennies...
---
Elnur Enveroglu is AzerNews' deputy editor-in-chief, follow him on @ElnurMammadli1
Follow us on Twitter @AzerNewsAz