Goychay hosts pomegranate festival jubilee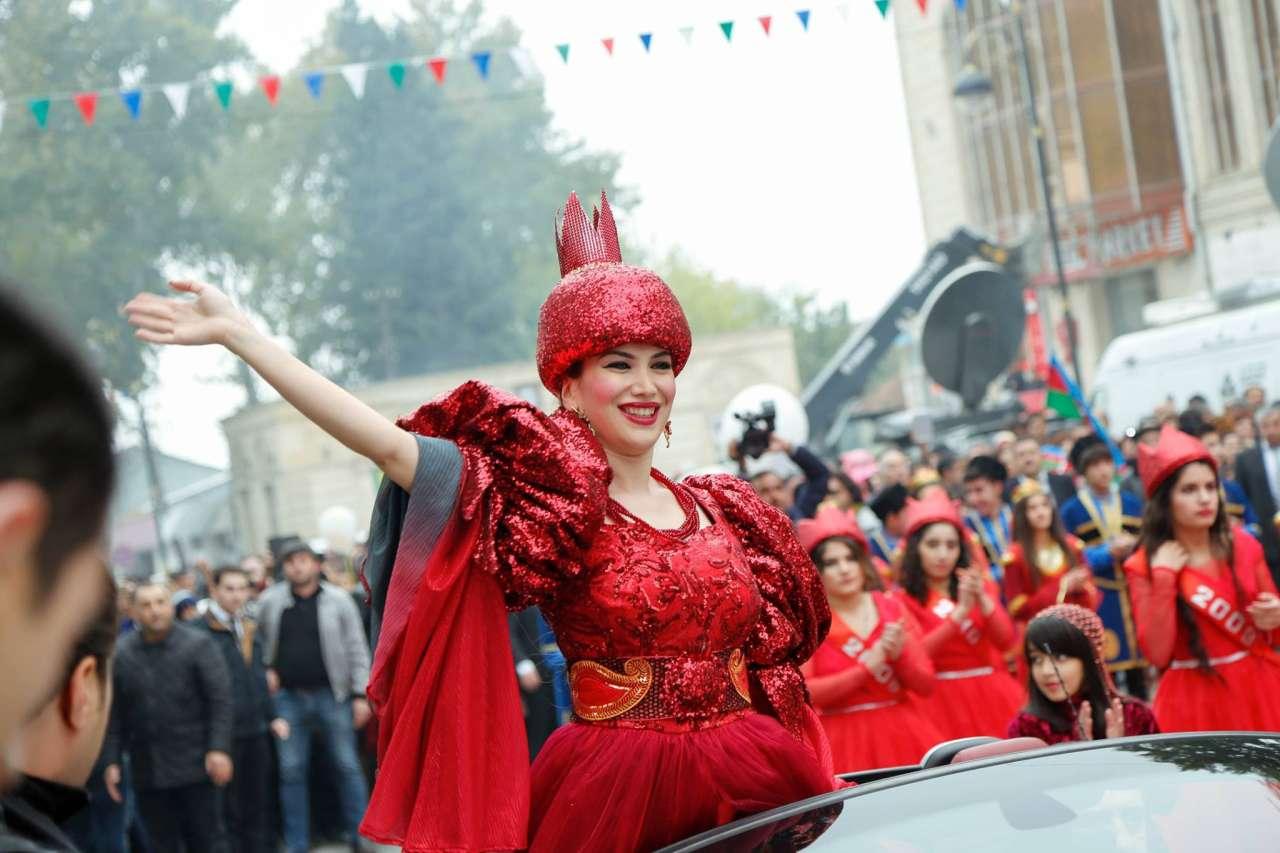 By Amina Nazarli
This year, the Goychay region of Azerbaijan celebrated the 10th anniversary of one of the country's most loved festivals, the Pomegranate Festival.
Attracting 15,000 visitors, the festival gathered several varieties of pomegranates grown in different villages across Goychay as well as products made of pomegranate, showcasing them at an exhibition in the town square.
The event was opened by a festive parade, headlined by the Pomegranate Princess, dressed in a scarlet outfit.
State representatives, MPs, foreign ambassadors, representatives of international organizations, and local and foreign businessmen were among the visitors.
Head of Goychay's executive authority Mubariz Agayev and Deputy Minister of Agriculture Ilham Guliyev addressed the event, underlining the importance of the festival in stimulating the growth of fruit cultivation. They said the festival had contributed to the development of the pomegranate industry in recent years.
During the festival, visitors enjoyed different kinds of pomegranates, such as white, red, shades of purple, and ruby-red fruit. Tastes ranged from wild and sour to sweet. These flavorful pomegranate seeds that shone like precious rubies attracted visitors from all over Goychay as well as foreigners.
Craftsmen, potters, millers, blacksmiths, artists, dancers, and athletes also thrilled the audience with their artistry. The performances by folklore groups, children's drawings, music, and song and dance routines surely lingered in the visitors' memories for a long time afterward.
Throughout the venue, the spectators found banquet tables crammed with different pomegranate dishes, including pies, desserts, jams, and salads.
Other popular events included the "biggest pomegranate" competition, the contest for the fastest consumer of pomegranates, and another contest involving squeezing out pomegranate juice.
Meanwhile, the largest pomegranate of the festival was chosen, with the award going to Zohrab Eldarov. The fruit weighed 1.165kg. Last year, the winning pomegranate had weighed 1.250kg.
The pomegranate has been considered the king of fruits from the earliest centuries in Azerbaijani culture.
Goychay's pomegranates have gained international recognition as the true Azerbaijani pomegranate. The secret of the taste and quality of the Goychay pomegranates lies in the region's unique microclimate and fertile soil.
A symbol of profusion, the pomegranate has been cultivated in different regions across the country. Goychay, which has developed some 70 variations of this delicious fruit, has long been considered its homeland.
Rich in vitamins, the most popular pomegranate variations found in Goychay are Guloysha, Bala mursal, Nazik gabig, Shah nar, Girmizi gabig, cross-bred Shelli, Girmizi valas Shahnaz, and Agshirin.
The juice of the pomegranate is not only tasty but also very healthy. It is helpful for diabetics and people who suffer from anemia.
--
Amina Nazarli is AzerNews' staff journalist. Follow her on Twitter: @amina_nazarli

Follow us on Twitter: @AzerNewsAz